Ski the Summit: the top 5
New flights into the mile-high city of Denver have made access into the snow-sure Colorado resorts easier than ever and from Denver the only way is up and along the I-70 to the aptly named Summit County comprising no less than 12 ski resorts.  At 2,926 metres, Breckenridge is the highest
ski resort
village: nearby Arapahoe Basin reaches 3,977 metres to claim the highest skiing record: however you will have to climb the last 180 metres from the top of the Zuma lift. The Peak 8 lift in Breck takes you all the way up to 3,962 metres.  As a little tip, I always try to spend a couple of days in Denver: not only is it a fun city, but it does help one's body adjust to the altitude and you can always try and time your visit with a hockey or NFL game.
Let's have a look at the options.
Breckenridge
You might have worked out from the above figures that there is a lot of skiing to be done in Breckenridge.  Indeed, there is!  The longest run is a thigh-burning 5,633 metres. Just as well that there are plenty of good comfortable beds to rest weary bodies and restaurants to refuel. 
For me, the best hotel in town is One Ski Hill Place just at the base of Peak 8. Like many of the US properties, it is a condo hotel which I love because it gives you the option to eat in, even if it is only for breakfast but of course, there is an excellent restaurant should you want it.  Indeed, the restaurant is an convenient place for lunch as it is so close to the lift. If you prefer a traditional hotel, then the DoubleTree Hilton is the place to go or for something a little less pricey, I like the Beaver Run resort.
Breckenridge is an authentic cowboy ex-mining town and many of its restaurants reflect this. The Briar Rose Restaurant & Bar, named after the old Briar Rose Silver Mine located on top of Peak 10, was once a boarding house that served hearty meals to tired miners and continues to serve succulent, slow roasted prime rib, savory steaks and  wild game. The Blue River is another favourite. Not only is the food good but their martini menu features 75 original martinis; for the best chips in town and loads of atmosphere head to the American sports bar Downstairs at Erics.
Vail
Just along the road from Breckenridge is Vail, the largest ski resort in Colorado and a much more sophisticated town. Unlike most resorts, Vail was planned as a ski town taking Zermatt as its model which can be seen in its pedestrian only village, heated streets linking a mind boggling selection of bars, world class restaurants and hotels as well as shops and après-ski hot spots.
The skiing is phenomenal especially in the famous back bowls and you are spoiled for wonderful places to stay.  In the heart of the village and the first hotel to be built in Vail is the Lodge at Vail just steps from the gondola.  For years, the Lodge was THE place to stay in Vail.   It is still my favourite as I love the atmosphere however, some young upstarts have arrived such as the Arabelle and the Sebastian which have overtaken the master in terms of comforts and facilities and I have to confess they are extremely comfortable.
Beaver Creek
A little further up the valley from Vail, Beaver Creek is the most luxurious of this group of resorts. Pretty as a picture, it regularly wins awards for its service, its wine and food and its lodging which includes the Ritz Carlton Bachelor Gulch and the Park Hyatt which is in the heart of the compact village. 
As I said, Beaver Creek is known for its service and this is particularly shown in its award winning ski school and in the dining options some of which are in cabins on the mountain accessible in the evening by a sleigh-ride from your hotel – beats a taxi any day!
Keystone Resort
If you are skiing with your family, Keystone is absolutely the place to go. It seems that everything revolves around children.  Nice for you is the fact that they can ski and stay for free.  Good for them are the weekly parades, scavenger hunts, fireworks and perhaps best of all is the daily cookie hour at the Dercum Square Ice Rink!  The ski school carries on the family theme with family private lessons taught by a specially trained instructor who some how manages to cope with the varying skill levels and temperaments of all the participants.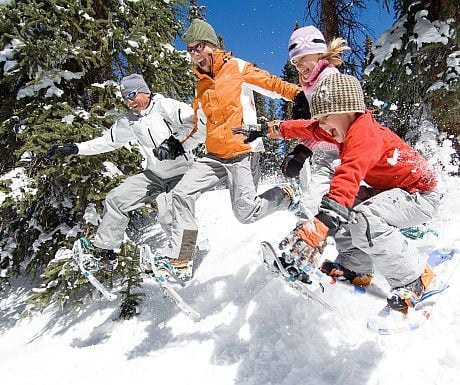 Keystone boasts the longest ski day in Colorado with lots of lighted trails after dark but eventually the day has to end and as you would expect of such a family resort there is lodging to match.  My favourite is the Timbers, a ski in/out property (essential with children in my view) with condos, a swimming pool and perhaps most important of all – a washing machine!
Copper Mountain
Another super-friendly family resort, the pedestrianised village of Copper Mountain has lots of family accommodation such as the Copper Mountain Inn but what makes Copper unique is the jaw droppingly cool Woodward Centre– a purpose built in-door training facility where they teach aerial tricks and jumps. Ever wondered how the hot dog dudes do 360 jumps, back flips and big air tricks? They start in places like Woodward and progress from there.
You can do the same as the Woodward Centre will start you off indoors and then take you out into the snow parks which are such a feature of Copper Mountain and teach you to transfer your new skills to the snow. New in 2018 is the Rocky Mountain Coaster: think gravity fed roller coaster and you get the idea.  At 5,800 ft long with a vertical drop of 430 feet, it's a thrilling ride for the whole family to enjoy.
These are five of the most popular resorts in Summit County but just in case you are interested the other seven are Arapahoe, Loveland, Sunlight Mountain, Echo Mountain, Powderhorn, Ski Cooper and last but by no means least, Winter Park. I find it hard to choose between them, so frequently visit two or even all three in one trip.  They are all easy to get to, just hire a 4×4 in Denver and head to the hills.
Sandra Potter is Founder of Frontier Travel.
If you would like to be a guest blogger on A Luxury Travel Blog in order to raise your profile, please contact us.
Did you enjoy this article?
Receive similar content direct to your inbox.