Traveling to Italy with children: 5 luxury resorts that are perfect for families
Are you a mother that enjoys the finer things in life? Do private jets, designer luggage, yachts, and luxury vacations excite you? Motherhood doesn't mean the end of enjoying luxury travel. With a little research and effort, you can discover luxury excursions that the whole family will love.
Italy is the perfect place to start your journey around the world. In addition to an amazing educational and cultural experience, your child will discover gorgeous beaches, delicious cuisine, and an abundance of activities. Choose from one of these five luxury resorts that are close to some of Italy's most popular sites, but provide an oasis of relaxation and family fun.
Appia Antica Resort
If you're looking for a warm and cozy villa close to Rome's amazing architecture and churches, look no further than the Appia Antica Resort.
The resort itself is comprised of three villas, with designs that incorporate both contemporary and ancient architecture. Because the villas feel more like an apartment than a hotel and offer all the luxuries and essentials, your family will feel instantly at home from the moment you arrive. Located in the ample greenery of one of the world's largest archaeological parks, this resort offers a little something for everyone. Do you and the kids enjoy spending time outdoors? Walk one of the resorts many footpaths lined with ancient stones. Make it an educational experience by inviting along one of the resort hosts to help you navigate and learn about the beautiful surroundings and rich history. The resort is also home to the Oscar garden where parents can take in some afternoon sun while children watch Koi fish swim in the Japanese pond. Bring along lunch and enjoy a picnic at the large outdoor eating area nearby. If you want to experience some of the nearby sites like the Colosseum or the Vatican Museums, you can. The Appia Antica Resort offers public transportation to all major attractions. When you aren't enjoying tourist sites or mother nature, there are ample activities available for both children and parents alike. You and your partner can indulge in Shiatsu massages designed to rejuvenate the body's energy, physiotherapy and osteopathy sessions aimed at treating muscular pain, or cooking lessons. And there's no need to worry about the children. The Appia Antica Resort offers babysitting services and workshops. Here youngsters will learn about the Italian culture and experience games, stories, and music.
Parco San Marco Beach Resort
If you and your family desire a beach setting, the Parco San Marco Beach Resort located in Cima is the ideal destination. This angelic resort has almost as many activities and attractions for the children as it does for the adults! Parco San Marco offers three age-oriented clubs, which allow children of all ages to get the most of their Italian holiday. Your child will have the opportunity to try yoga and secured climbing. Movies, lunch and dinner trips are also part of their day. When the kids aren't busy with planned activities, they can enjoy the resort's spacious fun pool equipped with water slides, fountains, and even a kiddie pool. With the little ones entertained, mom and dad can have a little fun of their own. Parco San Marco is home to a wellness center that will meet and exceed your every need. If relaxation is what you're after, find comfort in the Brine-Light relaxing room or the center's sauna. For a total body oasis, treat yourself to a massage or find inner peace at the meditation pavilion. True to its name, the Beach Resort is home to the largest private beach on Lago di Lugano. Here you can bask in the sun or participate in water skiing, wake boarding, boating and jet skiing on the lake. For some time outside the resort, there are countless day trips available including horseback riding in the forests of Porlezza or botanical gardens at Villa Carlotta.
Hotel Adler Thermae Spa and Relax Resort
With words like "spa" and "relax" in the name how can you go wrong when staying at this family-friendly paradise?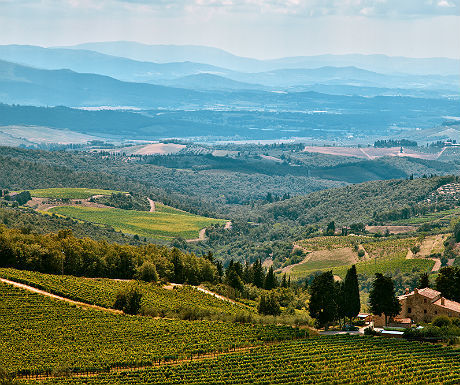 This 5 star hotel is located in Tuscany's rolling hills. The view is matched only by the resort's accommodations. If you desire a relaxing oasis set in an enchanting atmosphere, then the Hotel Adler will not disappoint. Tuscany evokes thoughts of wine tasting and vineyards and there's no shortage of opportunities to sip on some of the areas most delicious and decadent creations. A newly established winery, Tenuta Sanoner is just a short walk up the hill from the hotel. Here you'll find extraordinary views and the highest quality wines. Hotel Adler offers countless other outdoor experiences for couples from hiking and biking trails to golf and horseback riding. When you're ready to unwind from your active day, you can visit the hotel's spa and wellness center. Couples treatments are offered beside thermal water treatments and vinotherapy. The resort has it's own Adler exclusive treatments as well. While you and your partner are indulging in all that Adler has to offer, your children ages four and older will be having their own authentic experience. The AKI Kid's Club offers a full-day program for children. Activities include sports, games, and wellness. Meals are included in your child's day and the Adler Hotel places great importance on healthy nutrition, which means all meals include fresh local produce. Kids end each night with a farewell party.
Belmond Hotel Splendido
Both romantic and family-friendly, this waterfront hotel was a favorite destination for the late Richard Burton and Elizabeth Taylor. The Belmond Hotel Splendido, located in Portofino is just one of 49 hotels, trains and river cruises located in 24 different countries.
This resort offers breathtaking views of the Mediterranean, aquatic adventures, and opportunities to experience local culture. Your family can enjoy a gourmet tasting tour while you travel the hotel's surrounding hills. If you're feeling adventurous,
scuba diving
is available for both beginner and advanced divers in the Portofino Protected Marine Area. Traveling with younger children? No problem! The Aquarium of Genoa is one of the largest aquariums in Europe. As a guest at the Belmond Hotel, you'll have access to exclusive experiences like feeding penguins, meeting dolphins, and dining beside the shark or dolphin tank. In need of a little exercise? Bike tours and kayaking in the Riviera are also available. When you aren't busy exploring, parents can visit the spa for a botanical massage or spend some time in the sauna. Planning a night out at one of the hotel's decadent restaurants? Treat yourself to a manicure or a glamorous new hairstyle.
Villaggio Club Albatros
The Villaggio Club Albatros is every young traveler's dream. Located inside the Albatros Village of Lesina Marina FG, guests have access to the Aquafantasy Aquapark, sports activities, and large sandy beaches.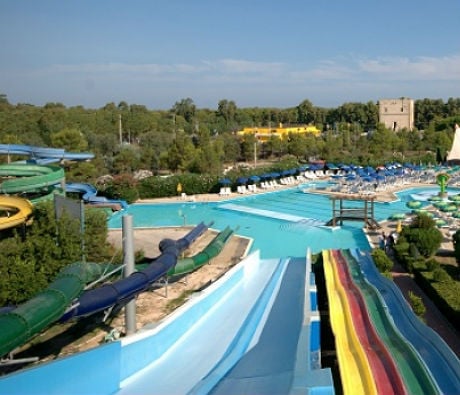 One of the Club's main attractions for youngsters is it's Mr. Wippo Club. Children ages 3 to 17 will have hours of fun in either the Mini Club, Junior Club or Teen Club. Kids can take swimming lessons at the pool or visit the nearby Aquapark with water slides, water games, animation, and music. But don't worry parents, this club isn't just for kids. The Village is located in the Gargano Gate, just minutes away from excursions to the Tremiti Islands and the Urban Forest. Villaggio Club Albatros offers a unique experience where guests reside in bungalows, all located on the ground floor. While the kids are busy swimming and socializing, parents can enjoy the Club's restaurant, water sport activities, and beach. Traveling to Italy with children is all about the location. Choosing one of these luxury resorts will ensure both you and your little ones have a once in a lifetime experience.
April Sutphen is the Creator and Editor of Honest Mom.
If you would like to be a guest blogger on A Luxury Travel Blog in order to raise your profile, please contact us.
Did you enjoy this article?
Receive similar content direct to your inbox.