5 of the best places to see wildlife in Canada
It's no secret that Canada is a destination for all types of traveller. It's got cosmopolitan cities, towering mountains, verdant forests, crystal-clear lakes and more opportunities for adventure than you could imagine.
But another string to Canada's bow, and one that's sometimes overlooked, is its wildlife. From orca whale off the coast of British Columbia to giant polar bear in Manitoba, here's some suggestions for the best places to see wildlife in Canada.
1. The Great Bear Rainforest, British Columbia
On Canada's remote west coast, where British Columbia meets the Pacific Ocean, the Great Bear Rainforest lies untamed and relatively undisturbed. Part of the largest coastal temperate rainforest in the world, this lush, pristine wilderness is home to countless species of plant and animal.
Giant trees, such as western red cedar and Sitka spruce, can grow as tall as 100m here. The forest also offers the chance to see cougar, wolf and the mysterious Kermode bear. Referred to locally as the Spirit Bear, this rare subspecies of the American black bear has a unique cream-coloured coat. At a distance, you'd be forgiven for thinking you'd spotted a polar bear among the trees. Your best chances of seeing them are between September and October.
2. Northwest Passage, Nunavut
The Northwest Territories and province of Nunavut spread from Canada's centre to the icy archipelago of islands to the west of Greenland. In addition to a healthy population of polar bear, the tundra here is home to a variety of hardy species. Arctic fox, caribou, lynx and wolf all manage to survive the brutal climate of Canada's frozen north.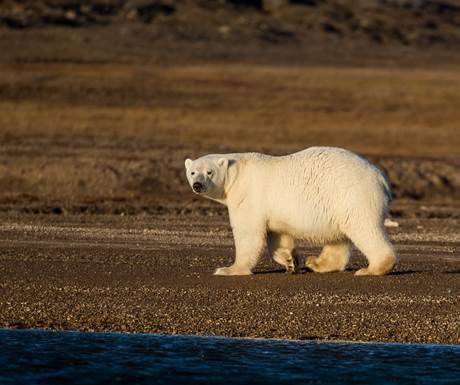 The prehistoric-looking musk ox can be found across much of the high Arctic and Greenland. These woolly haired mammals have evolved unique characteristics to help them deal with the extreme weather. Each August, juvenile bulls will challenge the older males to breeding rights of the herd, resulting in spectacular charging fights and mating displays.
3. Churchill, Manitoba
Due south of Nunavut, on the eastern shore of Manitoba, the Churchill River spills into the Hudson Bay. This is polar bear country. One of the largest species of bear on the planet, these giants can weigh close to 700kg and stand almost 3 metres tall. Each year, individuals head toward the shore to feed, converging in surprisingly large numbers in the area surrounding the remote town of Churchill.
From Churchill, you can take a boat out on the Hudson Bay to see beluga whale. In the summer months, the Seal River Heritage Lodge, a 30-minute flight from Churchill, will even organise excursions to swim with these inquisitive marine mammals.
4. Gulf of Saint Lawrence, Quebec
To Canada's east, where the Saint Lawrence River drains into the ocean, the Gaspé Peninsula points out toward Newfoundland and the vast Atlantic beyond. The water here is filed with life, attracted by the mineral-and nutrient-rich rivers and streams that carry sediment from inland.
A boat cruise here might bring you alongside whale species such as minke, humpback, beluga, sperm whale and the occasional giant blue whale. Dolphin, harbour seal and porpoise are also to be found here, not to mention a diverse variety of fish and bottom-dwelling crustaceans.
5. Aboard the Rocky Mountaineer
For an entirely different wildlife viewing experience then sit back, relax and let the train take the strain as you glide through the majestic Rocky Mountains aboard the famous Rocky Mountaineer.
Pass through some awe inspiring scenery and stop off along the way to get up close and personal with wildlife including bear, elk and beaver. Just make sure you as the driver to make a stop at Jasper National Park.
Travel throughout the summer to experience this region at its best and the wildlife as its most active.
Claire Powell is Digital Marketing Manager at Abercrombie & Kent.
If you would like to be a guest blogger on A Luxury Travel Blog in order to raise your profile, please contact us.
Did you enjoy this article?
Receive similar content direct to your inbox.