Cunard Grill experience on board Queen Mary 2
Cunard is steeped in history and tradition, frills and formality, and yet offers every single guest the opportunity to create their very own story. Famed for offering iconic voyages, including an annual world voyage, but possibly one of the most iconic is the transatlantic crossing between New York and Southampton, allowing guests to spend a full 6 days at sea and enjoy the incredible facilities on board.
We recently returned from an eastbound transatlantic crossing on Cunard's flagship vessel, the Queen Mary 2. Completely overhauled in 2016, she is both spacious and gracious, and her Grill Suites offer guests the Ultimate Cunard experience, taking luxury at sea to a new level. As a Grill Guest, you are made to feel special before you even step foot on the ship, with priority boarding through a private and exclusive boarding area. Once on board you have plenty time to explore this incredible ship and be inspired by all the activities and facilities she has to offer, but more about that another time, for now, I want to focus on the benefits of being a Grill guest. There are 2 levels of Grill suites on board, Princess and Queens, with the latter being the epitome of luxury and offering the most spacious suites at sea with butler service, as well as a fully stocked and replenished mini bar, pre-dinner canapés each evening, served by your butler. All Grill suites offer guests an extra level of luxury, style, sophistication – Contemporary décor, sumptuous beds and the finest linens and of course the discreet White Star service which Cunard is famous for. Other things which come as standard are 24 hour room service, fresh fruit bowl, replenished daily, Penhaligons toiletries, luxurious soft bathrobes and slippers, pillow concierge menu and even personalised stationary. You also get priority embarkation and disembarkation. We were staying in a P1 category Princess Grill suite and felt instantly at home in our beautiful spacious stateroom, on deck 10, with seating area, bar area, large furnished balcony, spacious bathroom with full bath and a large walk in wardrobe – more than enough space to accommodate all of our luggage (even all that extra shopping we bought in new York)
All guests are greeted with a welcome letter, champagne chilling on ice and luxurious Godiva chocolates, and no sooner had we settled in, our suite steward had visited to make sure we were comfortable enough and check if there was anything we needed. Grill suites are all on decks 9 & 10. There is a concierge lounge on deck 9 where you can book tours and excursions, make speciality dining reservations, or make any other arrangements you so desire while on board. It also saves you a trip to the purser's office on deck 3. You can choose to sit in there and read a book, watch television, enjoy a tea/coffee and a snack, and meet fellow Grill guests. One other thing which truly sets Grill suite guests apart, is the dining experience. Depending on your suite category, you are allocated either the Queens or the Princess Grill restaurant – a much more intimate affair, where you have an allocated table and waiting staff for your voyage and you can choose your table size – there are even plenty tables just for 2.  You can dine here for breakfast, lunch and dinner every day, with set hours for each meal, but with the option to dine at any time of your choosing during the dining hours – so no fixed dining times, giving you much more freedom to explore everything the ship has to offer, at your own pace. Your table is set with the finest linens, silverware and Wedgwood china, and your every wish is catered for, with a sommelier on hand to pair wines with your dinner choices.
As well as the daily changing menu, you have the regular a la carte to choose from, but Grill guests also have the option to pre-order one of the speciality meals for 2 – a chateaubriand, whole duck or rack of lamb maybe? Incredible top quality produce, lovingly prepared and served as you wish. Nothing is too much trouble for the fabulous staff and chefs on board. There is the Grill lounge, opposite the Queens Grill restaurant – a great place to meet for an aperitif or after dinner liqueurs. You can even enjoy private performances by the on board musicians, or indulge in something else Cunard is famous for, traditional afternoon tea, served by white-gloved waiters (I recommend you skip lunch for this!).
Outside, for finer weather, there is a private Grills terrace, with comfortable deck chairs, lounge furniture and a hot tub.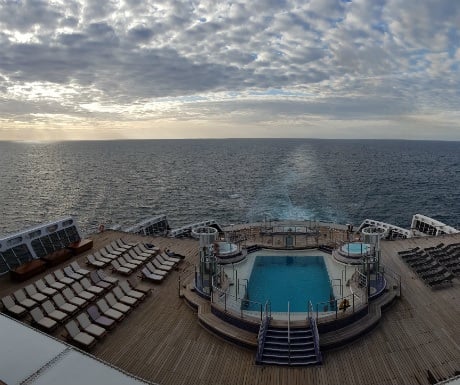 Before embarking, I had some pre conceived ideas of what to expect, I thought it would be too formal, a bit stuffy, too posh and that there would never be enough to keep me occupied for 6 days at sea. I couldn't have been more wrong about any of these points. Yes, there were 3 formal nights, which are not compulsory (certain areas of the ship are out of bounds if you chose not to attend the formal evenings) but we loved getting dressed up as it is not something we do often enough. We found that 90% of guests on board entered into the spirit and the formal evenings were the best ones we had. I didn't find the experience in the least but stuffy, quite the opposite in fact, fellow guests were extremely friendly and loved sharing their stories and experiences with you, and although the average age is 55+ I was surprised at the amount of younger guests on board too. Although more than half of the guests were British, there were none less than 42 nationalities on board. Formal nights can certainly be a very posh affair, with everyone doing their finest, but otherwise, everything was very casual and relaxed on board with no strict daytime dress-code. I was blown away by the amount of activities available on board, more than enough to keep even the most active person occupied for their full 6 days at sea. In fact, there were too many activities available to allow us to fit everything in on one crossing, so it means we will just have to go back again another time!
The week passed by in a flash and we had made new friends, experienced and learned lots new things, witnessed some great performances, including the several pods of dolphins and orcas we saw dipping and diving alongside the ship on our last full day at sea, and we had eaten way too much good food (visiting the gym to work off the extra calories was one of the activities we didn't get a chance to do!) We had slept very well, in plush, comfortable surroundings and felt completely refreshed, with no jet lag in sight. We can't wait to do it all again, although, the World Voyage is what is on my own bucket list. Thank you Cunard for a wonderful experience.
Kim Robertson is Director at Your Way (Travel) Ltd.
If you would like to be a guest blogger onA Luxury Travel Blogin order to raise your profile, pleasecontact us.
Did you enjoy this article?
Receive similar content direct to your inbox.