On 24th November in Tenerife, Canary Islands, the Michelin guide announced the Spanish restaurants honoured with stars for 2018. In a gala event at the Ritz-Carlton it was revealed that two restaurants in Spain can newly boast the three star accolade, the highest award offered, bringing the total to an impressive 11 three star establishments across the country. Add to this five new two star chefs and 17 restaurants awarded their first Michelin star, and Spanish gastronomy reaffirms its status as a powerhouse of contemporary cuisine.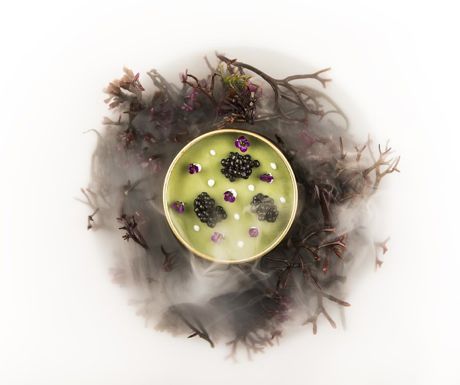 Spain now holds 242 Michelin stars in total, maintaining the nation's firm position in the company of the worlds most decorated countries. Not one Spanish restaurant lost a star from last year, apart from three that closed, indicating that the caliber of cuisine is still on the rise.
A new double-triple
The biggest praise goes to the two new three star chefs: Angel Leon of Aponiente near Cadiz in Andalusia, and Jordi Cruz of ABaC in Barcelona. Neither came as a surprise. Leon, known as "chef del mar" (the seafood chef), doesn't just prepare fish and seafood, but uses plankton, all manner of seaweed, and every part of the sea creatures that grace the plate to deliver the sea in its purist state. He's a mariner, and a vanguard of modern technique. Leon and Aponiente now also hold the distinction of earning Andalusia's first three star award.
In Barcelona, Jordi Cruz is in good company with his third Michelin star. In Catalonia, the province that is home to Barcelona, ABaC joins three other existing three star restaurants: Lasarte and Sant Pau, also in the city of Barcelona, and El Celler de Can Roca in nearby Girona, a restaurant named best in the world in previous years. Cruz earned his first Michelin star at just 24 years of age, the youngest such chef in Spain, and only one other chef in the world has earned the recognition at a younger age. Since then his accomplishments number too many to list but no one would have doubted his rise. Now, at nearly 40, he has earned the culinary world's top prize.
The starriest of skies over Spain
Now that Catalonia holds a fourth three star restaurant, the region joins the Basque Country on equal footing. The Basque area near San Sebastian and Bilbao has long been a bastion of the finest dining and one of the most Michelin rich regions, per capita, in the world. The prestige of the Spanish city with the most Michelin stars belongs to Madrid, with a total of 21, making it tied for sixteenth place in the global standings. Dabiz Muñoz leads the charge in Madrid, with his exciting three-starred restaurant DiverXO. Here Muñoz creates a cuisine as unconventional as it is delicious, best but inadequately described as Asian fusion. Muñoz refers to his plates as "canvasses", where every dish truly is a work of art.
With the addition of the third star for Aponiente, Angel Leon helps continue the ascendance of Andalusian gastronomy, previously considered a sort of poorer cousin of the northern Basque and Catalan regions. Dani Garcia retains two stars at his self-named restaurant in Marbella, while two Andalusian restaurants earned a first star for 2018: Alevante in Cadiz (also by Angel Leon), and Bardal in Ronda. Within Andalusia, the province of Malaga has far more stars than any other region with a new total of ten, including five stars in Marbella and Jose Carlos Garcia in the city of Malaga itself. A total of 19 Michelin stars now shine over 16 different restaurants in this southernmost region of Spain.
Hungry yet?
If you would like to investigate any of these restaurants more closely, or better yet, make your reservation now, please see below for a list of all restaurants mentioned above, or see the full list on the Michelin Guide website.
Three stars
Two stars
One star
Alan Hazel is Owner and Director of Cortijo El Carligto.
If you would like to be a guest blogger on A Luxury Travel Blog in order to raise your profile, please contact us.