By
Courtney Myers
on Dec 18, 2017 in
Accommodation
,
Attractions
,
Bars
,
Europe
,
Going Out
,
Hotels
,
Italy
,
Regions
,
Restaurants
,
Western Europe
Few locales exude romance, glamour, and luxury quite like the coast of southern Italy. One of the most lavish and opulent places to unwind, recharge, and take in the sights with your significant other? The Amalfi Coast.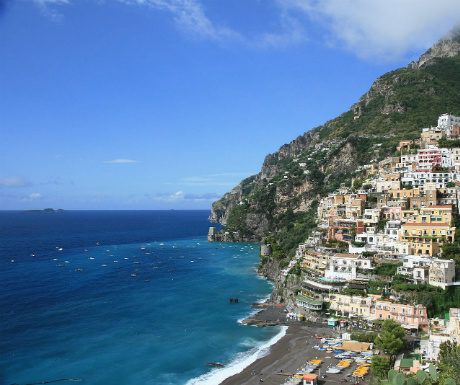 Overlooking the Salerno Gulf region of the Tyrrhenian Sea, the picturesque location is a beloved tourist destination that's managed to maintain its old-world charm and intrigue while integrating top-notch touches, such as luxe nightclubs and world-class fare, that bring it beautifully into the 21st century.
Along the Gulf, a few of the major towns to visit include Amalfi, Positano, Salerno, and Maiori. While all offer their fair share of excitement and entertainment, arguably none shines as brilliantly as Positano. If you're planning a journey to the land of art, ancient culture, and incredible wine, make this one stop on your can't-miss list.
Then, take your beloved by the hand and head toward any of these five posh spots for a date night you'll never forget.
1. Check in at Le Sirenuse
Start your night by checking into this plush, adults-only resort nestled on the hillside.
From the moment you step into the lobby, you'll begin to realize the attention to detail and craftsmanship that Le Sirenuse has become known for across the region. From the hand-painted floor tiles to the antique, upscale furnishings, every turn offers something unique.
Indulge in an ocean-view suite and wake up to gorgeous vistas of the Tyrrhenian Sea outside your bedroom window. Once on-site, you may just decide to stay in for the night.
The resort's acclaimed, Michelin-starred La Sponda Restaurant serves up authentic Mediterranean dishes inspired by Naples and the surrounding coastal region. In the evening, the staff light 400 candles in the dining room, transforming it from unbelievable to unforgettable.
2. Dine at Eolo
If you decide to save La Sponda for the next evening, you can't go wrong by booking a table at the nearby exclusive and ultra-romantic Eolo.
Tucked into a gorgeous corner of the coast, this restaurant features a dining terrace that overlooks the sea, making it a prime date-night spot for both sightseeing and savoring. Nosh on fresh seafood with a vintage Dom Perignon straight from the cellar, while the stars swirl above you and the waters lap beneath.
From delectable prawns and steamed mussels to local favorites like the lemon squid and strawberry sorbet, you're sure to find something you love.
To go the extra mile, consider booking a class at the restaurant's cooking school. Here, you'll learn firsthand from the expert chefs in charge of Eolo's prime menu, and will even get to try your hand at a few dishes.
3. Take in the Liquid Art System
If you do decide to wander away from your hotel and discover all that Positano has to offer, you'll quickly find that the town is home to an array of talented artists. A simple stroll down the well-lit, winding roads will reveal more than one art gallery brimming with one-of-a-kind artwork that you simply can't buy or replicate back home.
One example? The Liquid Art System. Put simply, this is a network of art galleries around Europe showcasing contemporary artists producing works that are global in theme and context, yet also maintain a spirit of local flair. In Positano, you'll find a Liquid Art gallery on Via Dei Mulini.
Stop in and take a look at some of the most innovative and inspired works by the region's top artists. If you're lucky, you may just catch an artist at work in the gallery's Lab Space, where you'll be invited to join in the creative process itself.
4. Shop at D'Anna Positano
It would be a crime to return from your Italy vacation without splurging on at least one authentic designer handbag or a pair of shoes. As a country, Italy is known for producing some of the world's finest leather goods, with a softness and subtleness impossible to duplicate.
To that end, D'Anno Positano is a date night must-stop. Stroll the wares hand-in-hand while browsing a shoulder satchel for her, or a pair of loafers for him. In addition to offering one of the most varied and well-stocked inventories along the coast, the shop is also well-known for its attentive and helpful staff.
Fall in love with a dress, but don't want to lug it around for the rest of your trip? They'll easily ship it to your destination. That way, you can get back to exploring the rest of the town with your hands free. Unless, of course, you want to wrap them around a delectable, first-class cocktail, in which case, there's only one thing to do next:
5. Sip your cares away at Franco's Bar
Does the idea of staring out onto the ocean, with the sun setting on the Amalfi Coast behind you, sound appealing? If so, Franco's Bar is the perfect spot for a nightcap.
There's a reason the line starts wrapping around this establishment hours before it even opens. Once inside, you'll rub elbows with some of the region's most elite residents and visitors alike. Made from top-shelf ingredients, the cocktails are both impressive and inventive, like the Hugo Spritz, which blends elderflower, soda, fresh mint, and Prosecco for a delectable aperitif you can't find anywhere else.
Special touches like the neo-Baroque fountain, Venetian glass-bead curtain, and hand-painted tables and chairs created by a designer in Milan elevate this hotspot to a bucket-list locale you'll be glad you added to the itinerary.
Making the Most of Your Positano Adventure
Whether you have an entire week to savor in Positano or are only there on a quick weekend getaway, there's no shortage of places for you and your loved one to explore, indulge, and entertain. From distinguished dining to premier shopping, the city's treasures await. The hardest part will be returning from paradise, though there's always the hope of a return trip. While you're there, delight in all it has to offer and take plenty of photographs to reminisce upon your moments captured and memories made.
Courtney Myers is the Founder of Vintch.
If you would like to be a guest blogger on A Luxury Travel Blog in order to raise your profile, please contact us.