You've waited all year, the snow has started to fall, the resorts are opening, one by one, it won't be long before you arrive at your chosen destination. If you're an old hand and you've been going to the Alps for several seasons you'll already have your preferred choices, however if you're new to the delights of skiing it pays to choose your resort carefully. You don't want to turn up at a purpose built resort lacking in charm and ambience. Ugly concrete buildings and higgeldy piggeldy infrastructure do nothing for the feel good factor. When you're not on the slopes, a resort with civic pride, that is geared up for more than just skiing can make or break the overall feel of your well earned break. With all that in mind I suggest the five resorts below. They all have the quintessential alpine charm in abundance, they are good for the non-skiers in your party and they posses the good looks that make you want to return season after season.
Meribel, France
Meribel was founded by a Scotsman, Colonel Peter Lindsay. Concerned about the growing strength of the Nazi regime, he was looking for a new site for winter sports away from the ski resorts of Austria and Germany. In 1936, he visited the town of Les Allues for the first time and imagined how the town could become a ski resort. Firstly, he decided to create a property company in order to develop finances strong enough to build the resort. He wasted little time, in 1938, the first lift was placed above Les Allues. A year later, he began the construction of the first chalets and hotels in the hamlet of Méribel. Three years later, WWII put a stop to the development of the resort, but when it was over, it was full steam ahead. Lindsay used specialized architects to create his vision of a tasteful and sensitive development. He called on Paul Grillo, Grand Prix de Rome (1937), and his partner Christian Durupt. He proscribed wood and stone for the walls, with slanted slate roofs so that all the buildings would be in harmony with the Savoyard style. In 1950, the Burgin-Saulire gondola was built to link the resort to Courchevel. The seal was set for the resort to become a success, his initial vision of a resort in sympathy with its surroundings paid off and his legacy today is a thriving and beautiful ski resort.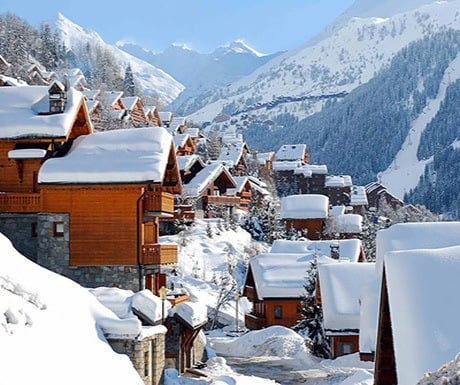 Lindsay's family continue to hold a financial stake in the resort and his grandchildren still ski in the resort to this day. Meribel is part of the Trois Vallees ski area. The Three Valleys area comprises 180 lifts, 335 marked runs (over 600 kilometres) and over 130 km of cross-country tracks. The Three Valleys expanded a decade ago to incorporate a fourth valley, though the area kept the name Trois Vallées. The area comprises the resorts of Courchevel, La Tania, Méribel, Les Menuires-Saint Martin, Val Thorens and Orelle. The good news is, you can buy a lift pass in Meribel that allows you to ski the whole domain. That should keep the most ardent skier busy and is a compelling reason to return to explore the whole region, year after year.
Zermatt, Switzerland
My favourite resort in the whole of the Alps. Most visitors to this chocolate box village arrive by train from Visp, way down in the valley. The rack and pinion railway is a fabulous introduction to the resort and great way to arrive. The journey is a thrilling ascent and an civil engineering wonder. Alighting at the station, you spill straight out into the village itself and are immediately struck by the peaceful ambience. Cars are banned, the electric taxis that replaced them go busily about their business and will whisk you to your accommodation with the minimum of fuss. The heart of the village is compact and very pretty. There are examples of original structures, preserved from centuries ago, before skiing became a pastime, mixed in with more modern developments.
On the mountain flanks you'll find some of the most luxurious ski chalets in the world, the clusters of beautiful buildings in sympathy with their surrounds are very pleasing to the eye. It's easy to fall in love with Zermatt and many do, to return year after year. Zermatt's allure has attracted a large ex-pat community. You can ski in Zermatt the year round which is a further attraction and a boon to the success and wealth of this beautiful resort. Edward Whymper will have had no idea what he kicked off when he came here to conquer the Matterhorn in his ill fated expedition in 1865. Since then Zermatt has gone from strength to strength to become arguably the premier resort in the Alps if not the world. The geography of Zermatt ensures it can never become more than a village which will preserve its delightful charm for generations to come.
Megeve, France
Megeve is very pretty, I mean VERY pretty. The civic pride here is evident in every well trimmed hedge and verge, the signage and road furniture is further evidence of the pride that is taken in presenting Megeve's best face to the world. Conceived in the 1920s as a French alternative to St Moritz by the Rothchilds it was the first purpose-built resort in the Alps. It remains one of the most famous and fanciest ski resorts in the world. The town started its development as a ski resort in the 1910s, when the French aristocracy started to spend their winter vacations there after becoming disenchanted with the Swiss resort, St Moritz, which was becoming far to popular for their liking.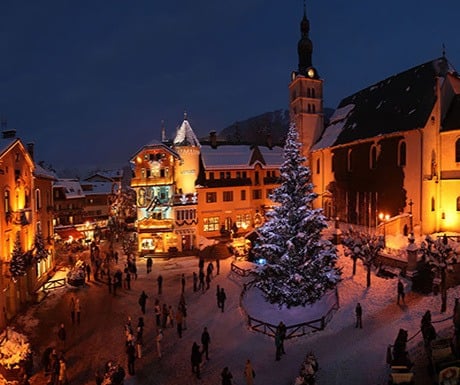 In 1921, Baroness Noemie de Rothchild opened the Domaine du Mont d'Arbois, a luxury hotel which boosted the resort's development. By the 1950s Megève was one of the most popular ski resorts in Europe and attracted many wealthy individuals and celebrities. Nowadays it is still visited largely by affluent people  as is evidenced by the real estate prices. There are many high end label flagship stores in the town which lends a certain air of exclusivity. Even the McDonalds restaurant on the main drag is worth a visit if only to check out the luxurious shop fittings and fixtures.
Lech, Austria
Lech, in common with Zermatt, has a river running through it and is set in a natural bowl surrounded by mountains, giving a cosy feel and ambience to this delightful Austrian resort. In recent years Lech has grown to become one of the world's premier ski destinations and the home of a number of world and Olympic ski champions. It's a pretty little village redolent of a bye gone era, with it's traditional Heidi Chalets and winning charm. There are many premier hotels in Lech, as well as numerous top class restaurants. Lady Di used to holiday here and the likes of Tom Cruise and a host of A list celebs have been seen in and around the village.
Lech is best known for its skiing, both on-piste and off-piste. It is well connected via mechanical lifts and groomed pistes with the neighbouring villages of Zurs, St Christof, St Anton, Stuben, Warth and Schröcken, not least as a result of new lifts introduced for a couple of years ago, creating the largest connected ski area in Austria and one of the largest in Europe.
Verbier, Switzerland
Verbier is a quite a large village with an identity crisis, is it a town? or is it just a village? It vies with Zermatt for the title of Switzerland's premier resort. Verbier is recognised as one of the premiere "off-piste" resorts in the world. Some areas are covered with snow all year. Many top skiers have settled in the Verbier area in order to take advantage of the steep slopes, varied conditions and resort culture. There is a vibrant community of photographers and artists in Verbier, most born out of winter sports action photography. Verbier is also a popular holiday destination for celebrities and royalty, including a smattering of British royals. James Blunt, Diana Ross holiday here and Richard Branson owns a luxury ski chalet. The Swedish and Belgian Royal Families also come here.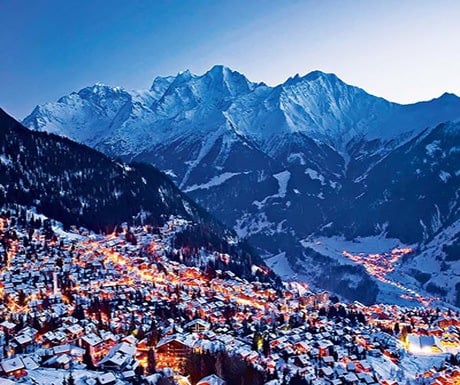 It caters for British customers, but also receives many visitors from Germany, Norway, Sweden, the Netherlands, Italy, Belgium, France, Austria, the United States of America and South Africa. It's cosmopolitan nature is testament to its attractive aspect. The heart of the village is a shoppers paradise and you could easily max out your credit card in any of the many flag ship stores that populate the centre. There are some fine art galleries where the prices will give you a nose bleed. Having said all that, its a beautiful resort and a place that people are very loyal too once bitten by the Verbier bug.
Dan Frith is Director at SkiBoutique.
If you would like to be a guest blogger on A Luxury Travel Blog in order to raise your profile, please contact us.