Nestling alongside Tuscany, Umbria is a region that sits in the middle of Italy, characterised by rolling hills and green fields. Whilst Umbria may be less well known than its more famous neighbour, its towns and cities offer an abundance of sights for holidaymakers to enjoy. Here's our 10 favourite places to visit in Umbria!
Assisi
Assisi is arguably the most popular destination in Umbria, with holidaymakers flocking to see the Basilica of St Francesco. This is an absolutely vast church set over two levels and home to 13th century frescoes by Giotto and Cimabue amongst others. These frescoes portray the life of St Francis, the patron saint of animals and ecology. Assisi has plenty of other things to offer visitors too including the Medieval palazzi, the wonderfully preserved Temple of Minerva and the excavated Roman forum. Narrow streets which lead from the central Piazza del Comune are lined with small souvenir shops and boutiques. But be warned, Assisi can get busy during the Summer months. It is best to try and come early to avoid the peak of the crowds, or alternatively, stay late into the evening when most people have gone home!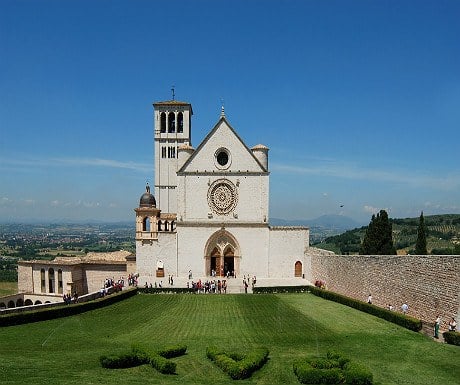 Perugia
Perugia is the capital city of the Umbrian region. It is a vibrant university town which revolves around its main street – the Corso Vannucci. Visitors can park below the centre and use the network of escalators to make their way to the heart of the city where you will find a maze of narrow streets to explore as well as the site of the Galleria Nazionale dell' Umbria, home to the greatest Umbrian art collection anywhere in the world. The city also plays host to an annual chocolate festival held every October since its inception in 1994. Every year, the town is filled with stalls devoted to all things chocolate, with stalls selling their chocolate wares, plentiful free tastings and even artwork as artists create statues made entirely of chocolate. With such a focus in Perugia on chocolate, what is there not to like about the town?!!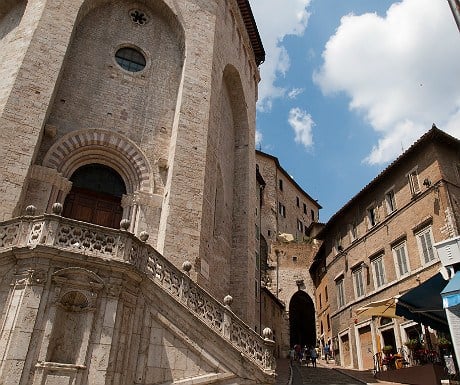 Spello
Spello seems to have avoided the mass crowds of Assisi and yet in so many ways has just as much to offer. It may not have the impressive cathedral that Asissi can boast, but what Spello lacks in architecture, it more than makes up for in charm. The town is also home to some absolutely superb restaurants, amongst them La Cantina and La Bastiglia. The latter enjoys the most wonderful views from an extensive outdoor terrace. If you can, try and visit Spello during the Infiorata in May and June when locals literally pave the streets with flowers.
Orvieto
Whilst much of the lower town will have little interest to holidaymakers, re-constructed as it was post WW2 due to the damage it sustained during the war, the upper part of the town is truly enchanting. Here you will find the most beautiful facade you will ever see on a cathedral. The building was constructed in the 14th century and is a wonderful example of fusing both the Romanesque and Gothic styles of architecture. For those visiting during the Summer months who are looking to escape from the heat, make sure you head underground to explore the tunnels built underneath the city. There are over 440 caves in total to explore and their history is fascinating. In more recent times, these tunnels were used as bomb shelters during WW2.
Foligno
Foligno is a large town which boasts an extensive list of events for holidaymakers to enjoy throughout the year. Most famous amongst these is the Palio della Quintana featuring jousting knights on horseback but the town also holds an annual jazz festival each June as well as a celebration of pasta each Autumn. It's very much a town where holidaymakers can get a feel of authentic Italian life taking place before them.
Bevagna
Like so many of the towns in Umbria, Bevagna has a Medieval appearance whilst very much retaining its Roman history in the layout of its streets and the glimpses of the Roman walls. It's a lovely place to explore but don't expect anything to happen quickly here…. Bevagna is a sleepy little town and this is half of its charm!
Montefalco
This town is most famous for its wine production and this is celebrated all year round. The cultivation of vines and production of wine in this region dates back to Roman times. Try and visit during the Terre di Sagrantino held every Easter. During this annual event, you will be able to try all the amazing wines as well as sample the other local produce including the area's honey and olive oil. Or alternatively, visit on the last Sunday in May when you will experience 'Cantine Aperte' when the cellar doors are flung wide open to allow guests to taste the wines directly from where they are produced. 'Montefalco August' is another popular event with 3 weeks of celebrations in the height of the Summer as is the Festival Calici in December. The latter is a series of events revolving around the region's raisin wines (Italian passiti).
Trevi
This picturesque hilltop town enjoys some of the best views you will find in Umbria and, like Montefalco, is passionate about its local produce. Instead of focusing on wine though, Trevi views itself very much as the 'oil capital' of Umbria and is home to a museum devoted to educating visitors about the cultivation, production and preservation of olive oil.
Spoleto
Spoleto can quite fairly claim to be the region's cultural capital, home as it is to one of Europe's most prestigious classical music festivals held annually for 3 weeks across June and July. It is also home to numerous historic buildings of interest including a Roman theatre, a cathedral, a fortress and a number of important churches.
Todi
Todi is an elegant Umbrian hilltop town with a host of historic gems to discover. Centred around its main piazza – the Piazza del Popolo – like so many Umbria towns, it is a fusion of historic eras. Its Romanesque-Gothic Cathedral blends in with its Roman history in the form of the basilica and forum which are still visible. It's also possible to still walk on the flagstones of the Roman road – the Via Flaminia – which in ancient times connect Rome with the Adriatic Coast.
Jo Mackay is Director of Bookings For You.
If you would like to be a guest blogger on A Luxury Travel Blog in order to raise your profile, please contact us.