By
Tom Marchant
on Dec 21, 2017 in
Africa
,
Asia
,
Brazil
,
Cambodia
,
Canada
,
Europe
,
Kenya
,
New York
,
North America
,
Regions
,
Rwanda
,
South America
,
Sweden
,
USA
,
Western Europe
,
Worldwide
Sometimes when we travel, it's easy to forget about the world around us and the communities we impact along the way. Although we love ultra-luxe villas, powder white sands and first class-service, we love it even more when we find resorts that give a little something extra back – not just to us but to their surroundings. With the Christmas holidays nearly upon us, we felt it was a great time to show you retreats that not only promise some serious levels of luxury, but are deeply committed to making a difference to their local communities and environment or are supporting global causes. Who knew doing good could be so relaxing…
Camp Mara Ngenche, Kenya
Nestled deep in the heart of the wildlife-rich Masai Mara, this intimate camp is luxury that's truly gone wild. It is well hidden under the lush greenery of its surrounding riverine forest, where ten deluxe en-suite tents offer views of the Mala or Talek rivers. Unfenced from the African bush, expect to hear hippos and hyenas grumbling and whooping as you take your outdoor showers, soak in standalone bathtubs, and fall asleep in beautiful four-poster beds. You'll sleep soundly knowing you're protected by a Masai guard and supporting the local community—the camp funds an impressive number of village-based projects, in particular local schools and building wells and clinics, all with their own profits.
Song Saa Private Island Resort, Cambodia
On the surface, this island retreat is all contemporary villas on pristine sands; but an ethos of sustainability and preservation is at its core. Their 'luxury treading lightly' approach promises an escape crafted with love and inspired by beautiful surroundings. Villas are built with sustainable materials and coral nurseries have been built to protect its ocean habitats – so expect topaz blue waters filled with colourful fish and vibrant reefs. Not to mention Song Saa funds a number of sustainability projects and delivers medical aid to nearby villages.
Treehotel, Sweden
You'd be forgiven for not spotting the 'Mirrorcube' – a room camouflaged by its mirrored walls deep within the silent woods and snowbanks of Swedish Lapland—it's one of six stylish branch-hung dens that hover hidden in the forest canopy of the Treehotel. Here, not only is electricity supplied through hydroelectric power, but the hotel supports the local village with Sami-led experiences. Whether you're strolling past the Lule River valley, taking a husky-drawn sled ride, or simply relaxing in your den – there's no denying Treehotel's deep commitment to nature.
Bisate Lodge, Rwanda
Discover the true wilderness of Africa when you stay at Bisate Lodge. Six en-suite rooms offer dramatic views of volcano peaks and the leafy canopy of the African rainforest. Don't be misled by the thatched roofs and volcanic stone exteriors – inside you'll find contemporary décor paired with deluxe touches. Sustainability and conservation are the core values of this property, working closely with the local community to ensure profits are felt in the wider area. Guests are even invited to join in the Lodge's many conservation efforts and learn about the area's endangered species.
Clayoquot Wilderness Resort, British Columbia
Set on its own private lake, Clayoquot combines extravagance with a deep commitment to protecting the wild. The 25 canvas tents are filled with luxe touches like rich oak floors and antique furnishings. Add into the mix a beautiful waterfront spa and private helicopter flights, and you've got British Columbia luxury at its finest. Their 20-year plan to repair and restore surrounding habitats is completely funded by guests and profits – so you can take pride knowing your stay will help create salmon spawning habitats or impact local research projects.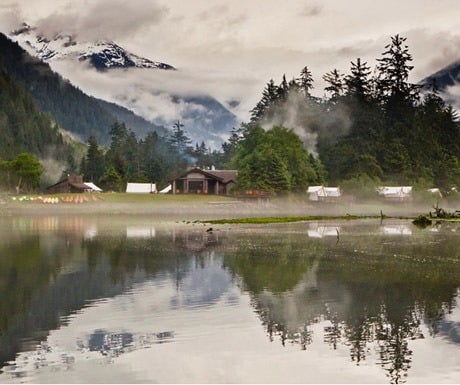 11 Howard Hotel, New York
Located in the fashionable SoHo district, 11 Howard combines modern Danish design with 'socially conscious hyper-localism' so that space is an art spectacle and hub for creative minds. Under the glossy exterior however is a strong community involvement. Purchase a minibar item and you'll support global food initiative 'Feed'. Book online and part of the profit supports the Global Poverty project. With a bold 12-story tall mural by local activism group 'Groundswell' on the hotel's south face, this Nordic-cool hotel proudly wears its civic involvement and you can too when you stay.
Caiman Ecological Refuge, Brazil
A pioneer in ecotourism, the Caiman Ecological Refuge is considered a treasure of the Southern Pantanal. Both the Baiazinha and Cordilheira Lodge offer luxury built upon a strong focus on conservation (think gorgeous pools, private en-suites and contemporary guestrooms). Whether you're perched next to the gin-clear lake or peeking out of the forest canopy– there's a magical, cosy ambience here. And as if spending the day trailing through the local flora and fauna, canoeing through bays and embarking on night safaris isn't enough, guests can join in on the many conservation projects supported by the ecolodges. Embark on the Onçafari Project and you could be spotting wild jaguars and helping the researchers protect these endangered species.
Tom Marchant is Co-founder of Black Tomato.
If you would like to be a guest blogger on A Luxury Travel Blog in order to raise your profile, please contact us.