Florence is an absolutely stunning city. However, it's not always apparent how family friendly it can be. Take a look at our top 10 list of things to do in Florence with children to ensure that all members of the family can equally enjoy their city break!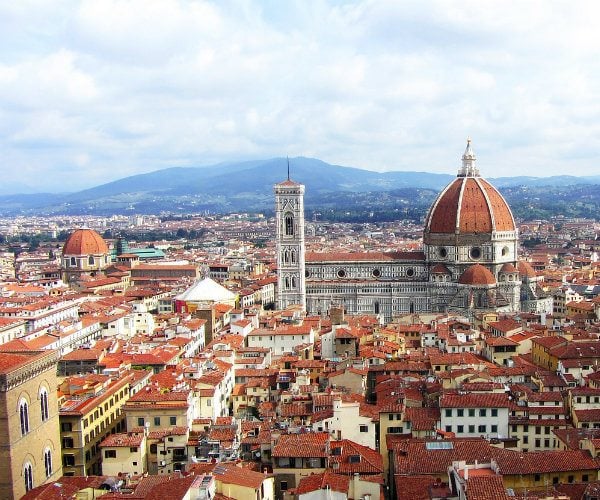 Museo dei Ragazzi (Children's Museum)
This is a 'hands on' museum situated in the Palazzo Vecchio, where children have the chance, among other things, to have an attempt at making their own fresco to take home with them. The museum is also home to 2 theatres, one aimed at children aged 3 upwards nicknamed 'Bia and Garcia's story telling room', whilst the other is aimed for anyone aged 8 and over and has the slightly more grown-up but dull sounding name 'Renaissance and Civilisation in Florence'. Throughout the year the museum plays host to a number of 'hands on' workshops and it's always possible to book an interactive tour of the museum. Here, actors will dress up as famous characters such as Vasari or Galileo, literally bringing history to life in front of you and your little ones.
Leonardo da Vinci Museum
This is another museum that can appeal to youngsters, allowing as it does the opportunity for children to get hands on with many of Leonardo's creative ideas. The museum's aim is to bring the famous artist's drawings to life. And the result is plenty of models, from machine guns to cranes, all of which have moving parts that children can get their hands on.
Hop-on, hop-off bus tour
These bus tours can be found in pretty much every major city in the world now but remain a great option for kids. Complimentary headsets are provided so that you enjoy listening to a constant running commentary along the 16 kilometre route. It's a great way of learning about and exploring the city without having complaints of 'tired feet'! And now, as well as the larger bus tours, there are also smaller, more personal tour options.
Climb the Duomo
With 463 steps from start to finish up steep and narrow corridors, this is perhaps not suited to very young children. However, those children who do have the stamina will love the views from the top of the lantern. It's also a great way to view Vasari's 'Last Judgement' up close. You will need to pre-book and get in line as tickets are for set time slots and non transferrable. If you don't manage to get a slot for the Duomo, another option which will also provide a great view over the city is to climb the slightly fewer 414 steps of Giotto's Bell Tower.
Boboli Gardens
Whilst the grown-ups will, no doubt, enjoy the beauty and splendour of the Boboli Gardens, the younger members of the family will find it the perfect outside space to burn off some energy! With 111 acres to explore, filled with mazes, lawns, forests, paths, fountains and grottoes, it can take hours to explore properly.
Cookery class
There are plenty of companies in Central Florence offering cookery lessons, some of which are aimed exclusively at children. So, whilst the children are busy cooking up a feast, Mum and Dad can roam around the city to the heart's content, returning back in a few hours to taste the fruits of their little one's labours!
Uffizi Gallery
Some may be surprised to see the Uffizi featuring on our list of family friendly activities in Florence however we think it is possible to explore the Uffizi with children in tow. However, it does involve a bit of extra planning. Certainly, don't just turn up and join the queues for tickets hoping that your little ones will retain enough patience to enjoy the internal exhibits once you reach the front of the line. Instead, book in advance and employ the services of a family friendly guide to take you round. If you explain that you have little ones, your tour guide should be able to adapt the tour to bring the works of art more to life for little minds. And, don't try to see every single room within the gallery or every single artwork. Pick and choose those that will appeal most to a younger audience.
Eating gelato!
No visit to any Italian city is complete without numerous trips to the nearest gelataria! Florence is full of the most fantastic ice cream shops and children will never tire of visiting the nearest ice cream shop!
Ride the carousel
Families will find an antique carousel in the Piazza della Repubblica all year round and it never fails to delight little ones. After enjoying a ride, why not head to the nearby toy shop – Bartolucci – where the Bartolucci family have been making Pinocchio souvenirs for generations.
Fiesole
Whilst not strictly in the centre of Florence, we thought that Fiesole deserved a mention. Located in the hills above the city, there is plenty of entertain little ones here, including the Etruscan tombs. Believe it or not, their small size is perfect for younger family members who can actually climb in an out. You'll also find a Roman amphitheatre and the remains of a Roman temple and baths here, allowing you to bring to life some of what they may have learned at school. Ahead of your trip, why not read some books about Roman history with your children. There are some great options, not least the Horrible Histories series of books.
Jo Mackay is Owner of Bookings For You. Bookings For You is a company offering apartment and villa rentals in Italy and France.
If you would like to be a guest blogger on A Luxury Travel Blog in order to raise your profile, please contact us.