By
Courtney Myers
on Jan 17, 2018 in
Accommodation
,
Europe
,
Honeymoons
,
Hotels
,
Leisure Travel
,
Regions
,
Resorts
,
Speciality Travel
,
Switzerland
,
Western Europe
While tropical locales have long been the conventional honeymoon choice for newlyweds looking to celebrate, there's something to be said about eschewing tradition and jet-setting to a mountainous terrain instead. A backdrop of snow-capped peaks and ski lifts offers the ideal place to snuggle up and begin a new life together.
Arguably nowhere is this truer than in the charming country of Switzerland. With its famous Swiss Alps mountain range, temperate climate, and endless list of things to do and see, a trip here is the ideal way to celebrate your new union. If you're traveling from a nearby country in the Schengen zone, you won't even need a passport to enter, so take advantage of the effortless opportunity to experience the country up close for yourself. Otherwise, pack your identification along with your bags and sit back. You're about to be transformed into a storybook land that's nothing short of breathtaking. Let's check it out.
Hotel Des Trois Couronnes at Lake Geneva
Step one foot onto the property of the famed Hotel Des Trois Couronnes and you'll understand why so many of the world's most elite have chosen to stay there. From literature greats Tchaikovsky and Henry Miller to Hollywood great Charlie Chaplin and esteemed composer Camille Saint-Saëns, many have chosen this resort for its privacy, opulence, and sweeping views.
Overlooking gorgeous Lake Geneva, the hotel is located in the center of Vevey, nestled between Lausanne and Montreux. From your room, it's only a five-minute walk to the city's historic center, where you'll find fantastic local wine and lively, local shops and restaurants.
Yet, it's unlikely you'll ever want to leave your suite. Choose one of the 35 rooms that offer unobstructed views of Lake Geneva and the Alps, and spend the hours gazing at the scenery before you, preferably while sipping an espresso on your private terrace. For a truly luxurious stay, book the anniversary package. You'll enjoy a three-course meal at the on-site Restaurant Les Trois Couronnes, a bottle of celebratory champagne, a decadent anniversary cake, and unlimited access to the resort's Puressens Spa, where you can indulge in a steam bath and sauna visit every chance you get.
The Park Hotel Vitznau at Lake Lucerne
Recently renovated, this 100-year-old gem of a resort sits on the shore of Lake Lucerne, the fourth largest lake in the country. During the process, the contractors took great care to preserve the historical, regal feel while also integrating modern technology to offer guests a once-in-a-lifetime stay.
Creatively, the hotel is divided into three portions, including Wine and Dine, Health and Wealth and Art and Culture. Depending on your preferences, you can experience one or all of these sections at your leisure.
In the mood for world-class fare in an elegant dining atmosphere? Head over to the Wine and Dine portion, where you'll have access to all of the best local flavors, courtesy of the resort's two restaurants and six on-site wine cellars. Following Health and Wealth will lead you to the resort's wellness spa. Enjoy the 12 meter long, floor-to-ceiling saltwater aquarium on your way to unwind in the Finnish sauna or take a cool reprieve in the invigorating dip pool. The Art and Culture portion includes art galleries and exhibits, curated to feature local artists.
At the end of your day, unwind with a cigar in the hotel's opulent Living Room, then retreat to your suite. Fashioned in one of six themed styles ranging from "New World" to "Nobel Prize Winner," each is decked out in fine linens, sleek furniture, and of course, those unbelievable lakeside views.
Hotel Firefly at Zermatt
When you think of curling up in the Swiss mountainside, you may picture doing so in cozy, yet chic cabin-style lodging. While the wooden and stone exterior of the Hotel Firefly might give off that rustic aesthetic, the inside is nothing short of spectacular. A traditional alpine lodge at its finest, it's centrally and conveniently located right at the foot of the Matterhorn, offering you a front-row seat to some of the best skiing in the world.
This family-owned resort spares no attention to detail, as is evidenced by their plush and personal suites. See for yourself when you and your betrothed book the Skylight Loft, the hotel's largest suite featuring 250 sqm of living space. Overlooking the Matterhorn with intimate private access, it's equipped with a state-of-the-art luxury kitchen, open fireplace, and even a Finnish sauna to start or end your day off right.
As a guest, you'll enjoy free access to both the spa and on-site gym. Enjoy a few laps together in the stainless steel pool, relax in the salt grotto, or indulge in a couples massage before retreating to the adjacent conservatory, where you'll drift off into dreamland surrounded by 360-degree views of the gorgeous land and water around you.
Le Grand Bellevue at Gstaad
Foodies will especially adore this recently refinished luxury hotel in the resort town of Gstaad. Le Grand Bellevue's flagship establishment is Leonard's, a Michelin-starred restaurant that's equal parts laid-back charm and first-rate dining. Book a dinner or two during your honeymoon stay and discover why the country is known for its impeccable culinary taste.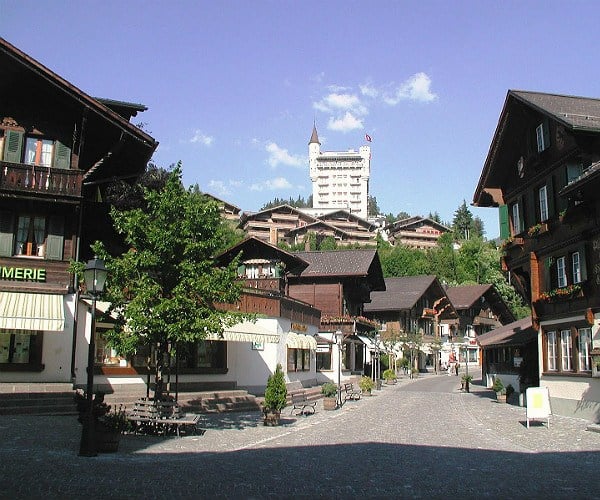 Unwind in your elegant suite, where you'll have access to panoramic views of nearby parklands and mountain ranges. The Suite Le Grand Bellevue is the most prestigious, featuring floor-to-ceiling windows of the scenery outside, along with two luxurious bathrooms and two floors of versatile, stylish living spaces.
For a truly romantic trip, you can work with the hotel staff to arrange a private movie showing in the resort's 18-seat, on-site cinema. You can also treat your new spouse to a chauffeured ride in the resort's vintage Bentley S3 to the nearby destination of your choice. There's no better place to explore than the nearby town of Gstaad, which is rich with year-round festivals, fine dining, and designer shopping spots.
Of course, a night on the town might leave you craving some spa time the next morning. Luckily, the hotel's on-site wellness center is a world-class gem, featuring treatments such as an infrared sauna, goat's milk foot soaks, and a Rhassoul steam bath perfect for detoxing and destressing.
LeCrans Hotel and Spa at Crans-Montana
This ski lodge allows visitors to ski in and ski out, making it ideal for couples who want to experience the top-notch skiing that this country has to offer. Located at the pinnacle of the Crans-Montana ski resort, it's the perfect oasis for travelers looking to relax, rejuvenate, and recharge after a day out on the slopes.
Take in the panoramic views from your private terrace, then retreat back inside for a soak in your whirlpool. For a truly luxurious experience, book a honeymoon stay in the Deluxe Suite Les Alpes, where you'll have an uninterrupted view of the Valais peaks. The pine walls are more than 150 years old, yet the style is unabashedly modern with touches of traditional flare. Retreat to the upper mezzanine bedroom to feel as though you're sleeping among the stars.
When hunger hits, travel downstairs to the Le MontBlac Restaurant, where the rich, brasserie dishes served on the heated terrace are not to be missed. After dinner cigars can be enjoyed in the Cigar Lounge, or you can use the remaining hours to indulge in the heated outdoor swimming pool. Nestled between the sky above and towering mountains below, you'll truly feel as though you're a part of paradise, and that's a pretty sweet way to set off on a newlywed journey to remember.
A can't-miss mountainside honeymoon
Perhaps your idea of a romantic honeymoon is cozying up with your significant other in a plush, decked-out hotel room with all the amenities you can dream of at your fingertips and world-class dining on-site. Or, maybe you crave the adrenaline rush of an outdoor adventure, or a day on the town indulging in a little retail therapy.
Regardless of your shared notion of romance, Switzerland offers it all. Visit for the mountain ranges, the lakes, and the fields, but stay for the little touches and luxuries that make it a resort destination you'll want to return to anniversary after anniversary to recreate that magic.
Courtney Myers is the Founder of Vintch. Vintch is a lifestyle blog where she shares the ins and outs of small-town life and motherhood, as well as how to find beauty in the simple everyday.
If you would like to be a guest blogger on A Luxury Travel Blog in order to raise your profile, please contact us.