10 of the most exciting new luxury hotel openings of 2018
The luxury travel industry is booming, with surveys suggesting that travellers are keen to explore more and willing to pay a little extra when indulging on their travel experiences. This growing demand is reflected by a number of exciting new
luxury hotel
openings across the globe. Here are just 10 of the many to look out for.
January to March
Hotel X, Toronto, Canada
One of the most anticipated openings in Toronto for 2018 is
Hotel X Toronto
(by Library Hotel Collection), bringing a cutting edge mix of luxury, hospitality, sports and entertainment to downtown Toronto in March of 2018 – what will be one of North America's largest urban resorts. Located just a stone's throw away from Billy Bishop Toronto City Airport and very close to the amphitheater, the property will be the only hotel on the historic grounds of Exhibition Place, overlooking the Lake Ontario waterfront. With three towers, the hotel will have 404 rooms including 39 suites and 2 penthouses with amazing lake views. Guests can take advantage of all-day dining restaurant and 24-hour room service.
The new Hotel X Toronto is more than just a hotel. The resort will have innovative offerings encompassing entertainment, athletics and dining. For the culinary minded, guests can check out the high-end dining concept Petros 82, a two level Mediterranean restaurant with seasonal patio, a=t three story SkyBar and Lounge, and a beer garden. If you'd like to break a sweat, find yourself in the spinning studio, one of the rooftop pools, golf simulator or on the squash and tennis courts. Vsitors will also find stadium style movie theaters, and elegant ballrooms and event spaces for sophisticated celebrations of all kinds. For the families who travel together, the property also features a 3,000 square foot Play Centre for children with trained babysitters for kids of all ages.The property is surrounded by Stanley Square with lush gardens and fountains to walk through or catch live outdoor events. Just down the road is the brand new outdoor community project, The Bentway, filled with amazing markets, chidlren's programing and beautiful art projects as well as featuring an ice skating trail in the winter and an amphitheater to be completed this spring.
Pechanga Resort & Casino, Temecula, California, USA
The Pechanga Band of Luiseno Indians broke ground on the tribe's $300 million expansion in December 2015. The slightly longer than two-year project will be completed in March 2018, when the Pechanga tribe, elected officials, dignitaries, celebrities, and
Pechanga Resort & Casino
team members will celebrate the grand opening of this major milestone. The newly expanded property will make Pechanga the largest resort/casino property on the West Coast. It is comparable to Las Vegas' style and experience, minus the hustle, bustle and crowds and expensive resort fees of the Strip. Pechanga Resort & Casino's expansion includes a new, AAA Four Diamond, 568-room and suite hotel wing; a stand-alone luxury two-story spa and salon with 17 treatment rooms, a fitness center and hydrotherapy pool terrace; a 4.5-acre resort-style pool complex; two new restaurants; and an additional 67,000 square feet of event space. Economists from Beacon Economics estimate Pechanga's expansion created a more than $550 million economic benefit to the region. The respected economics firm said the area's local economy has benefited from the creation of an additional 560 jobs per year as a result of the Temecula resort/casino's expanded operations. Perhaps one of the most exciting new luxury amenities is the 25,000-square foot day spa, which is the largest in the Temecula Valley. At two stories, Spa Pechanga features two hydrotherapy pools, 17 treatment rooms, a full-service nail, hair and makeup salon, a full suite of barbering services, a menu serving fresh herbal teas and juices, a fitness center with group or private fitness/wellness classes and its very own yoga instructor/wellness coach.
Another new luxury amenity is the high-end retail shops. Pechanga now offers three retail shops and one Swarovski boutique. Two of the retail spaces are high-end women's boutiques featuring name-brand apparel, handbags, fine jewelry, home décor, watches, and much more from such brands as Versace, Frank Lyman, Burberry, Prada, Michael Kors, Dooney & Bourke, Gucci, and Waterford Crystal. The 4.5-acre pool complex, named "The Cove," is nearly the size of four football fields and will fully open to guests at the end of March. The pool area consists of five pools and four whirlpool spas, one with a natural rock waterfall feature. The center pool encompasses 7,600 square feet and features a swim-up bar with underwater seating and a Baja ledge for chaises and daybeds that skim the water. Another large pool at 2,400 square feet features a family friendly setting with two twisty waterslides that splash guests into a beach-entry pool. Next to the pool, kids can run through sprinkling water at the splash pad. A third pool is a 1,200-square foot VIP pool. Two smaller pools (520 and 650 square feet) offer more spots for guests to soak. Thirty-two comfortable cabanas will be available through the entire pool and spa complex. Encompassed within The Cove is a large grassy field available as an outdoor concert venue, a beautiful space for outdoor parties, and more. Within the new pool lagoon area, Pechanga also will open an indoor/outdoor restaurant and bar serving a variety of appetizers, salads and choice sandwiches and burgers either in the restaurant or poolside. This will be Pechanga's 13th property restaurant and its 20th restaurant or bar venue. After a trip to the spa, some boutique shopping and an afternoon at the pool with signature The Cove drinks featuring fresh fruit and locally grown ingredients, relax in one of Pechanga's 1,090 rooms and suites. The expansion added an entirely new hotel wing, which doubled the size of the resort. While those rooms are brand new, the existing hotel wing has undergone an extensive renovation to its suites. Rooms are designed to be plush, contemporary, warm, and inviting. Along with those rooms and suites, Pechanga features luxurious spa suites and two palatial executive suites resembling Las Vegas' presidential suites.
Sheldon Chalet, Denali National Park, Alaska, USA
The
Sheldon Chalet
is a true five star Alaskan wilderness experience. The longtime dream of Don and Roberta Sheldon, homesteaders who claimed the land in the mid-50s, this five bedroom property is nestled on five private acres within Denali National Park. Perfect for experiencing the northern lights, heli-skiing, snowshoeing and hosting feasts of the finest Alaskan seafood, this property is designed for ultimate seclusion. Perched 6,000 feet above the wilderness and overlooking some of the most dramatic vistas in the Alaska Range, it is only accessible by air from Anchorage or Talkeetna and is the only private land in the national park. JG Black Book will work with the property to increase travelers' aspirations to explore the destination and ultimately raise the profile for the resort.
Located on five private acres, the Sheldon Chalet sleeps up to ten guests in five bedrooms featuring unique panoramas of the Alaska Range from every angle. The vision of Alaskan pioneers, Don and Roberta Sheldon, the Sheldon Chalet is a platform for the adventure of a lifetime and offers guests guides, gear, a chef and a concierge to experience this exclusive destination on the flanks of North America's highest mountain. Robert Sheldon, his wife Marne and sister Kate have made the Sheldon family dream become a reality. Serving delicious Alaskan fare, Sheldon Chalet provides a crown-jewel Alaskan experience with activities including heli-picnics, guided glacier trekking, heli-skiing and aurora borealis viewing.
Headlands Coastal Lodge & Spa, Pacific City, Oregon, USA
After two decades of planning and more than a year of construction,
Headlands Coastal Lodge & Spa
in Pacific City, Oregon, opened its doors to guests in January 2018. The lodge celebrates hospitality, Oregon-style, offering visitors luxury amenities against the backdrop of Oregon's beautiful North Coast. It's the first property of its kind to open on the Oregon Coast in over a decade. The main lodge comprises of 33 king and two-queen rooms, and there are 18 adjacent cottages. The guestrooms are oceanfront, and have views of the Pacific Ocean and iconic Haystack Rock, with private balconies to get even closer to the sand, surf and fresh ocean air. All rooms have pillow-top mattresses and include an HD flat-screen TV, mini fridge, Bonavita brewing system with freshly-ground coffee, Smith tea and kettle, Bluetooth lantern speaker, in-room safe, in-room iPad, gas fireplace and custom bike and surfboard racks. Select rooms have cast-iron soaking tubs. Serving breakfast, lunch and dinner daily is Headlands' restaurant and bar, Meridian. Customers can savor their food in the stylish oceanview dining room surrounded by exposed beams, Oregon hardwoods and sky-high windows. Meridian's menu focuses on Northwest coastal cuisine, with ingredients sourced from the ocean, local purveyors and Headlands' own Mary's Herb Garden. A full vegan and vegetarian menu is also offered. An extensive wine list focuses on Oregon wines with featured selects from Washington and beyond. On tap are beers from Pelican Brewing Company, located just down the beach.
At Tidepools guests will find a full menu of spa treatments and an innovative indoor and outdoor wellness program. In the serene setting, guests can enjoy their treatments, steam room and an outdoor hot tub with ocean view and fireplace. The Tidepools wellness offerings include an airy fitness studio with free weights, treadmill, elliptical, Peloton bikes and Precor equipment. Complimentary exercise classes range from beach yoga to meditation to Pilates. Additionally, guests at Headlands can pursue unique outdoor adventures, organized through the Adventure Coach program. The on-staff Adventure Coaches are experts in everything North Coast. They are available to plan a personalized itinerary for any experience, from food, beer and wine to biking, hiking and crabbing, or any mix of activities a visitor could desire. At Headlands, visitors are invited to "Stay In" and immerse themselves in all the lodge has to offer, and "Head Out" to explore the rugged, breathtaking beauty of the Oregon Coast.
April to June
The Source Hotel, Denver, Colorado, USA
Anticipation is building for
The Source Hotel
, Denver. In January, The New York Times' Elaine Glusac named the forthcoming 100-room property as one of the new hotels to check out in 2018. Opening in May, The Source Hotel, Denver takes the luxury boutique hotel experience to the next level. A key ingredient is location. You'll find The Source Hotel in what is perhaps The Mile High City's most exciting neighborhood – the River North Art District (RiNo, for short). This formerly industrial part of Denver is just moments from downtown, and in recent years has seen an explosion of activity, including art studios, restaurants, creative businesses and craft beverage makers. The hotel's sister property, The Source opened in 2013 and quickly became a must-visit RiNo destination for locals and visitors alike, offering a carefully curated collection of artisans and retailers. The Source Hotel will complement the adjacent market hall, showcasing independent local vendors and artisans, who will give guests a taste of Denver's vibrant creative community. The lobby check in experience will be home to craft beer pioneer New
Belgium
Brewing Co.'s first Denver small-batch brewery, which will feature a 10-barrel system that produces a constantly rotating tap list (with an emphasis on sour, wild and experimental beers) for the Woods bar and restaurant. As if that's not enough for beer lovers, the local favorite Crooked Stave Artisan Beer Project is right next-door at The Source, and the beloved Great Divide Brewing Co. is across the street. Woods is located on the hotel's rooftop terrace, upon which guests will enjoy spectacular city and mountain views (stretching from 14,000-foot Pikes Peak to the south to Long's Peak to the north), as well as a cantilevered pool and hot tub. The hotel is the RiNo neighborhood's only high-rise structure – so its rooftop offers a whole new perspective on the Denver skyline and the Front Range panorama.
The Source Hotel, Denver's look – the work of Stephen Dynia of Dynia Architects – is a powerful blend of historic and forward-thinking design, paying tribute to RiNo's rich past. Dynia's design complements the existing Source's galvanized metal and brick with concrete and light birch, offset by touches of the brand's signature – vivid blue represented in the neon market hall sign, custom wallpaper, and subtle details that reveal themselves as guests become immersed in the property. The hotel's industrial sensibility is offset by warmth, with added touches of wood and other natural elements. The Source Hotel, Denver and The Source are not simply adjacent – an oasis-like courtyard, with a bridge that takes guests seamlessly from the hotel to the marketplace, links them. Overlooking the courtyard is another restaurant option at The Source Hotel, Denver: Smök, the brick and mortar opening of cult favorite BBQ concept helmed by acclaimed chef Bill Espiricueta. Hailing from The Source's celebrated Acorn Restaurant and a protégé of Executive Chef Steve Redzikowski (the only James Beard-nominated chef from Colorado in 2017). In its guestrooms, The Source Hotel, Denver brings the outdoors in. Floor-to-ceiling windows deliver copious natural light and rooms feature raise-able garage doors so guests can enjoy Denver's fresh mountain air and private views of the hopping RiNo scene. Further solidifying the hotel's essential connection to its thriving neighborhood, the city of Denver has invested more than $29 million in the installation of new bike lanes, native landscaping, and pedestrian-friendly infrastructure on Brighton Boulevard, ensuring that eco-friendly human-powered transport in the area will flourish.
Monkey Island, Bray-on-Thames, Berkshire, UK
In May 2018, YTL Hotels' newest UK property, Monkey Island Estate, will open in the historic village of Bray-on-Thames, Berkshire. The island has an intriguing history that dates back 800 years, and has been frequented by monarchs, aristocrats and artists, along with writers, famous performers and Berkshire locals. The restored Monkey Island Estate is set across seven acres and will consist of 27 bedrooms and three deluxe suites, all designed by the award-winning New York-based Champalimaud Design, who additionally worked on interior design projects for YTL Hotels' first British property, The Gainsborough Bath Spa. The white bricked Pavilion and Temple buildings make up the main areas of the hotel, surrounded by perfectly manicured gardens and beautiful views of the River Thames.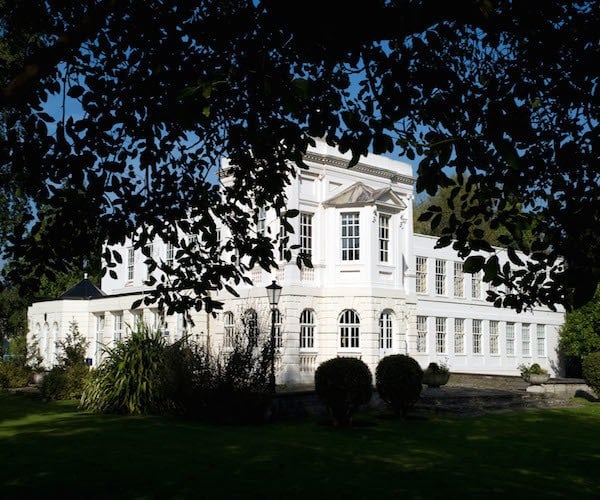 Monkey Island has a unique history, with early 18th century fishing retreats built by the Duke of Marlborough and famous monkey artworks, and also having been immortalized through a great work of early 20th century literature. Monkey Island has provided British hospitality for the last 180 years. Monkey Island will be the perfect countryside retreat for visitors from London and all around the world, for weekend trips, weddings, romantic escapes and more. The hotel is ideal for those wanting to take a foodie pilgrimage to Bray, a destination for culinary-enthusiasts that is the only village in the world that lays claim to two three Michelin-starred restaurants, including Heston Blumenthal's The Fat Duck and The Waterside Inn by Alain Roux.
Vista Palazzo Lago di Como, Italy
Family-owned Italian hotel brand Lario Hotels is readying their latest project in the center of Lake Como, Italy. Vista Palazzo Lago di Como, set to open this coming June 2018, will be the fourth luxury property for the group in and around the lakeside celebrity hotspot and the only five-star to be open all year round. The new project, born our of a restored centuries' old Palazzo, will boast 18 individually designed luxury suites, including a unique 60+ sq m Corner Suite complete with a private Turkish bath. As the name implies, Vista will offer guests unparalleled views of the lake, especially from the rooftop restaurant, bar and lounge. Guests don't just have to admire the view from a distance. The hotel offers guests transport to Bellaggio by either seaplane or by Riva speedboat.
For the unique design, Lario Hotels has called upon Italian designer Maurizio Maggi who places special attention on celebrating Italian excellence in design and decor. As such, Maggi has chosen to incorporate Dedar fabrics, prized marble and woods, and insists on only Italian craftsmanship throughout Situated in the heart of "downtown" Como, Vista is just a stone's throw from the lakefront and Como's top attractions.
July to September
Lanai Tower, JW Marriott Marco Island Beach Resort, Marco Island, Florida, USA
The JW Marriott Marco Island Beach Resort, a luxurious Florida resort located along the sparkling Gulf of Mexico on three miles of private, pristine white sand beach, underwent a three-phase, $320 million renovation project to enhance and refine every aspect of the property. The first and second phases are complete and the third phase is poised to be completed when the Balinese-inspired resort opens the doors of its lavish 94-room adult-exclusive
Lanai Tower
. Designed by a Florida-based design and architecture firm, Edge of Architecture, Inc., the new Lanai Tower is the pinnacle of luxury on Marco Island, boasting gorgeous and unparalleled views of the Gulf of Mexico and establishing a harmonious relationship between the building and its tropical environment – an experiential symbiosis of interior and exterior spaces. The tower features an exclusive rooftop pool, a deluxe gourmet rooftop restaurant, and a 12,000 square foot indoor entertainment center. With the addition of this upscale Lanai Tower, the JW Marriott Marco Island resort now offers its guests 100,000 square feet of innovative and flexible event space – fully equipped with cutting edge technology – and 810 magnificently appointed rooms and suites.
Beyond the new adult-exclusive Lanai Tower, the property boasts a range of signature culinary offerings as well as one of only three SPA by JW concept spas in the United States. Located on the northern end of the resort, SPA by JW gives guests a relaxing and personal spa experience with a range of renewing, calming, invigorating and indulgent treatments designed by world-renowned experts. The Balinese-style spa, with its elegant yet laid back setting, features a mineral tub overlooking the Gulf of Mexico, state-of-the-art fitness facilities, salon services and a Spa Shop. The resort also provides premium outdoor activities, including a guided Wave Runner Tour through the Ten Thousand Islands, a Sailing and Shelling Tour to uninhabited islands, world-class golf at the Rookery and Hammock Bay championship courses, and more. After partaking of exciting outdoor activities and sumptuous spa treatments, resort guests are invited to lounge on the sand in a private chickee hut or unwind in one of the secluded poolside cabanas. In the evenings, enjoy stunning views of Floridian sunsets during the nightly fire-dancer sunset celebrations at Quinn's on the Beach before strolling over to the trendy Kane Tiki Bar & Grill for a cocktail — Kane has one of Marco Island's most extensive collections of rums. Those seeking an elegant dining experience should reserve a table at ARIO, the property's signature restaurant, and try the in-house dry aged steaks and chops or the exquisite local seafood – all beautifully prepared by Gerald Sombright, Chef de Cuisine and Season 14 Top Chef contestant. ARIO even boasts its very own dry-aging room and invites guests to the back of the house for viewings, giving them the opportunity to learn about the dry-aging process and make their dining experience both delectable and immersive.
Vista Collina Resort, Napa, California, USA
Vista Collina Resort
is nestled amongst the rolling hills of the Napa Valley and will usher in a new way to discover
California
's most celebrated Wine Country. With the resort's thoughtful, Tuscan-style décor, tasting Village, artisanal market, and a spacious community lawn for picnicking and private concerts, Vista Collina isn't simply a resort in Napa. It is Napa at its finest. The 145 guestrooms and suites offer a tranquil escape with Frette linens and robes, natural stone bathrooms, Fresh bath amenities and easy connectivity to WiFi and streaming services. 39 one-bedroom suites provide an even more luxurious experience with spacious living rooms, full kitchens equipped with the Hestan Cue Smart Cooking System, and dining areas. A separate king-bedded guestroom includes a private bathroom with deep soaking tub. The in-suite culinary experience in partnership with Hestan Cue allows guests to select the seasonal, farm-fresh ingredients they'd like, have it delivered to their door, then inside their suite, the Hestan Cue Smart Cooking System will help to bring their ingredients—and Napa Valley experience—to life in a delicious meal. All guestrooms and suites feature beautiful views of vineyard lined hillsides, making memorable moments from sunrise to sunset. Additional guest amenities include a sparkling new pool with full bar service, both fitness and movement studios, 24-hour in-room dining and a welcome bottle of wine for every guestroom. The resort is located in the shadow of Napa's Grape Crusher Statue and just one hour from San Francisco, Oakland and Sacramento. Its convenient location provides easy access to explore both Sonoma and the Napa Valley.
Located onsite, The Village at Vista Collina Resort curates the best of Napa into a unique Wine Country experience. The centerpiece of the Village will be its nine tasting rooms featuring boutique wineries from the Napa Valley, creating a convenient way to taste wines without getting in their car between tastings. Beyond the tasting rooms, The Village includes Fivetown Grocery, a market with farm-fresh, seasonal and local items for guests to enjoy with their favorite wines, while picnicking or in the comfort of their suite. Fivetown Grocery features a variety of fresh-made pastries, gourmet coffees, sandwiches with preservative-free meat smoked onsite, artisanal breads, and packaged pastas and sauces, all made from scratch in small batches by acclaimed chef, Vincent Lesage. The Food & Wine Center is a professional cooking school offering cooking classes for up to 20 or baking and wine tasting classes for up to 40, all led by a member of the resort's executive culinary team. Outside, the 16,000 square foot Village Lawn is the perfect location for an afternoon picnic, wines by the bottle, concerts and other local events. The Village is a destination all its own. And with a robust, curated calendar that's always changing, you'll want to visit often to experience all the Napa Valley has to offer, all in one place.
October to December
Limelight Hotel, Snowmass Village, Colorado, USA
Scheduled to open in November 2018, the
Limelight Hotel Snowmass
is located in the heart of Snowmass Village and at the bottom of Snowmass Ski Area — the resort's epicenter. The front door is just steps away from two lifts that serve the mountain, the Elk Camp Gondola and the Village Express Chairlift, ensuring year round access to skiing and snowboarding, on-mountain dining, an alpine coaster that shushes you down through the woods, and a host of summer activities in The Lost Forest located at the top of the gondola. The hotel features a five-story climbing wall in the lobby and an ice skating rink and summer events lawn just outside — all of which is open to the public. Many longtime community members and visitors envision the ice rink/events lawn will become the town square for Snowmass Village. The lobby is designed to be a community living room, with food and beverage service and live music that is open guests and residents alike. The hotel will have 99 rooms and 11 luxury two- and three-bedroom condominiums, ranging in size from 1,367 square feet to 2,627 square feet. The condominiums have lofty, open floor plans with large windows that highlight the most impressive design detail of all — views of the peaks of the surrounding Rocky Mountains. The condominiums are also designed so that bedrooms can be locked off, allowing owners to participate — if they choose — in the hotel's rental management program. Condominium owners will have privileges at the exclusive Snowmass Mountain Club, which will also be located in the Limelight Hotel Snowmass. Club members will have access to parking, a lounge, lockers and member services at the base of the ski area. The Limelight Hotel Snowmass is the third Limelight Hotel, with the other two located in Aspen and Sun Valley, Idaho.
Limelight Hotel Snowmass is part of the Snowmass Base Village project, a $600 million, 10-building development that is currently being constructed by Vail-based East West Partners in partnership with the Aspen Skiing Company and KSL Capital Partners. The development includes residential, commercial, hospitality and public amenities that will be built over the next 10 years. Three buildings, including the Limelight Hotel Snowmass, are currently under construction and two more are slated to begin construction in early 2018. Snowmass Base Village and the Limelight Hotel Snowmass are located in Snowmass Village, Colo., a 50-year-old community that opened for business in 1967, the same year that the ski lifts went into operation at Snowmass Ski Area. Snowmass Village is a tranquil community located just seven miles from Aspen, Colo., surrounded by some of the most beautiful peaks in the central Rocky Mountains. In the summer it is a destination for hikers, mountain bikers, fly fishers, kayakers and rafters, horseback riders, hot air balloon aficionados and music lovers who can attend free weekly concerts on the hill and the Jazz Aspen Snowmass Labor Day Festival which draws some of the biggest acts in the country. In the winter, Snowmass Village is the base of Snowmass Ski Area, one of the largest and most family-friendly resorts in North America. With skiing and snowboarding on one of the largest and most highly regarded mountains in North America, it includes expert runs, long blue groomers and multiple beginner areas, boasting vast terrain for every ability, an abundance of deep snow and one of the longest vertical descents (1,343m or 4,406 ft.) of any
ski resort
in North America.
Did you enjoy this article?
Receive similar content direct to your inbox.