Home to vibrant cities, picturesque seaside towns, miles of beaches and of course fantastic weather, it comes as no surprise that Spain was named the 2nd most visited tourist destination of 2017!
Although Barcelona undeniably comes under the 'vibrant cities' category, its surrounding areas are in fact very tranquil in comparison to the Catalan capital. A weekend trip to the Costa Brava north of Barcelona is most certainly worth your time – you will discover small fishermen's villages with beautiful creeks offering pebble beaches and crisp turquoise-blue sea. Situated right on the Cap de Creus peninsula lies Cadaqués, a small fishing town known to many as one of the most symbolic places in the province of Girona.
The picturesque town became a popular retreat for some of the most famous European artists like Luís Buñel, Marcel Duchamp and of course, Salvador Dalí, who famously declared his hometown Cadaqués the most beautiful village in the world.
Situated on the north of the Costa Brava, Cadaqués is approximately two and a half hours' drive from Barcelona, but can also be reached via train and bus. Travelling by car is the easiest option, however if you prefer to use public transport, trains run frequently from Barcelona and Girona to Figueres, from where you can take a 1 hour bus for just €6. If you have time, you can also combine your visit to Cadaqués with stops in Púbol and Figueres, making up the so-called 'Dalí triangle'.
Things to do
Although the town is small in size, there are plenty of things to see and discover in Cadaqués. Characterised by its cobbled streets and white buildings, simply walking around the town is a treat for the eyes. It also boasts a picture-perfect seafront with stunning views of the Mediterranean, making for the perfect spot to grab an ice-cream and explore the charming buildings that line the coast. Whilst exploring, be sure to check out the Casa Serinyana (Sa Casa Blaua) or 'Blue House', a modernist house built in the 20th century.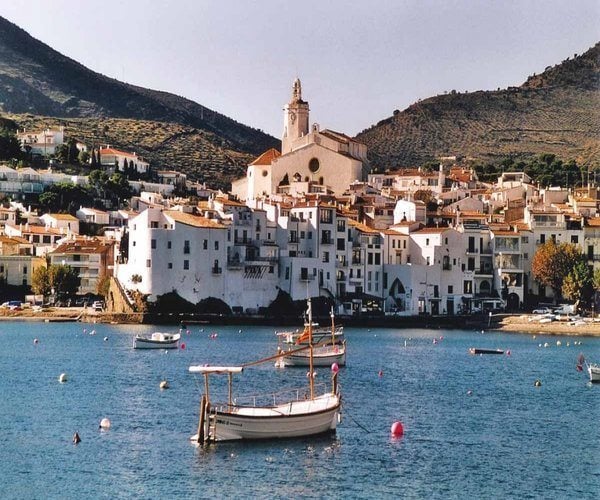 Located at the highest point of the Old Town, the centre-piece is the Santa Maria de Cadaqués church. Built in the late Gothic style of the mid-16th century, the cathedral stands out amid the winding, narrow streets that surround it. The pure white facade is typical of Costa Brava architecture, and features a grand iron door bearing symbols of the town and the sea. With a wonderful view over the bay, it's the perfect spot to see Cadaqués in all its glory.
If you're looking to venture out slightly further, a scenic 15-20 minute walk from Cadaqués you can find a neighbouring village called Portlligat, which is home to Casa Salvador Dalí. The surrealist painter lived and worked in the house for around five decades, until the death of his beloved wife in 1962. Today it's presented as a beautiful and truly unique museum open to the public – a must-see for art lovers and an essential Cadaqués experience!
The Cap de Creus Natural Park should also be on your list of things to do! Home to an endless amount of beautiful landscape, this natural park will be sure to amaze any visitor. Due to the effects of erosion, its structures and outcrops make up a whimsical landscape that you won't find anywhere else. These extraordinary forms were a source of inspiration and subject matter for works by no other than Salvador Dalí! The breathtaking views of the rocky cliffs and hidden coves of the wild coastline will most certainly remain in your memory after you leave. You can access the Cap de Creus either by car or walking – but we do recommend that you make the journey on foot as you'll find some beautiful hidden beaches where you can enjoy the afternoon sun and work up an appetite for a delicious dinner!
A couple of companies rent out boats in Cadaqués for a unique way to explore the bay and beyond. Enjoy the beautiful Cap de Creus waters like never before by hiring a boat and using it for activities such as fishing, diving or going for a quick dip. Alternatively, hire a skipper to do the work for you so you can simply sit back, relax and take in the views!
Where to eat
If you're looking for a bite to eat whilst in Cadaqués, look no further than Xiringuito de la Mei. Situated on the Ses Oliveres beach, this gem is in a truly idyllic location. Enjoy fresh seafood, pasta, rice and traditional dishes as you take in the sea views, with a glass of wine in hand of course! This lovely establishment has built up a strong following over the years in Cadaqués, and often attracts the same hungry diners year after year – true proof of excellent food and service.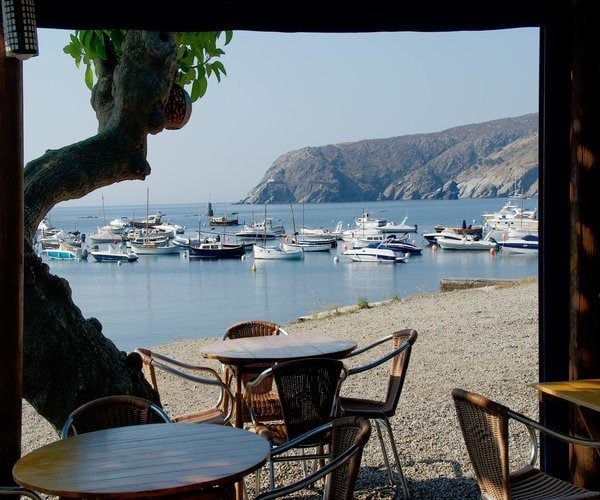 On the other side of the harbour you will find Talla Restaurant. From there you can enjoy the sunset and savour some delicious Spanish food prepared using ingredients fresh from the local market. A favourite of locals and tourists alike, each dish is simple but exquisitely tasty. The knowledgeable staff are eager to assist you in choosing from the small but varied menu, to ensure that your lunch or dinner is sure to satisfy.
However, if fine dining is on the agenda during your visit to Cadaqués, make a reservation at Compartir restaurant. 'Compartir' translates to English as 'to share', and the menu is based around just that! This restaurant emphasises smaller plates of traditional Catalan cuisine with modern twists. Expect dishes such as caramelised onion salad with parmesan cream, or tuna cannelloni packed full of Mediterranean flavours. Currently, Compartir is recognised in the most important gastronomic guides, featured in the Repsol Guide as well as the Michelin Guide – certainly an establishment worth visiting if heading this picturesque seaside town!
Explore the peninsula
If you have more time and don't feel like leaving just yet, explore the peninsula around Cadaqués – it's absolutely breathtaking. The bay of Roses, south of Cadaqués, has perfect conditions for windsurfing (if you fancy giving it a go!) and a beautiful citadel that you can visit. On the other side of the peninsula lies Selva del Mar, a small fisherman's town, equally as beautiful as Cadaqués. The Monastery of Sant Pere de Rodes, hidden between the sea and the mountains, is also worth a visit!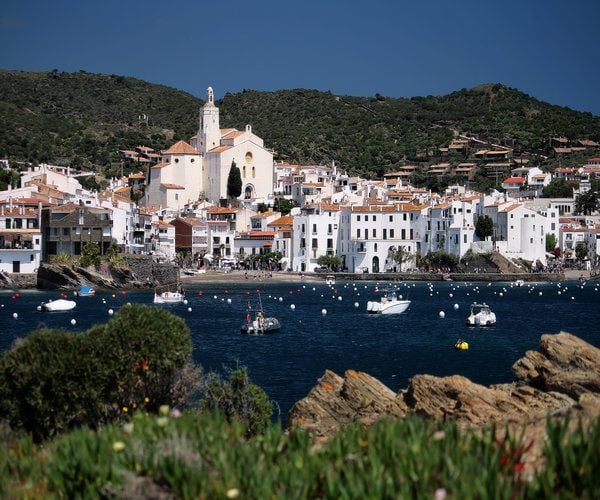 With so much to pack in, Cadaqués is a fantastic destination for a day trip or weekend adventure during your stay in Barcelona. History, architecture, scenery and great cuisine, this small fishing town has it all. Make the visit and fall in love with Cadaqués, just like Salvador Dalí.
Sandra Roig is Marketing Director at AB Apartment Barcelona. AB Apartment Barcelona is an apartment rental agency offering over one thousand short and long term apartments across Barcelona.
If you would like to be a guest blogger onA Luxury Travel Blogin order to raise your profile, pleasecontact us.