Sri Lanka's most famous architect, the late, great and talented Geoffrey Bawa (1919-2003), was at the heart of Sri Lanka's often overlooked modern design and architectural history. He helped give Sri Lanka the individual and sophisticated sense of style that it exudes today, and created sustainable architecture long before it became a fashionable trend.
Since the 1990s Bawa's legacy has been managed and protected by the small and heroic group, the Geoffrey Bawa Trust, who maintain both the Lunuganga Estate and Number 11 as living museums to Bawa. Throughout the tear-drop island, one can trace his trail of architectural wonders; places he lived in, designed and drew inspiration from. Here is our round-up of his most inspirational architectural creations…
Heritance Kandalama, Kandalama 
In the beating heart of Sri Lanka's rich cultural centre, home to such heritage sites as the ruined citadel of Sigiriya, the great temple cave complex of Dambulla and the ancient lost city of Anuradhapura, lies perhaps Bawa's most dramatic and iconic architectural creation. Built into a cliff face and overlooking the ancient man-made Kandalama reservoir, this hotel encompasses all that is sustainable in a hotel.
With multiple layers stretching about a kilometre in length, over the years the hotel has been enveloped by the jungle, peering out from under a canopy of lush vegetation, as if it has always been part of the landscape. The rooftop gardens and bedroom balconies provide mile upon mile of stunning views across the surrounding landscape, including Sigiriya Rock in the distance.
The Gallery Café, Colombo 
Sri Lanka's capital city of Colombo, often described as the 'Garden City of the East', is well known for its charming lakes, canals and tree-lined boulevards, busy open-air markets, temples and colonial buildings. Contemporary Colombo has vibrant upmarket shopping, excellent restaurants and a thriving art scene, which brings us to The Gallery Café, Colombo's most loved restaurant and once Bawa's architectural studio.
His beloved former offices were converted into a gallery and restaurant by Paradise Road designer, and local style arbiter, Shanth Fernando, but Bawa's signature architectural style has been kept much as it was during its heyday; patios, open courtyards, reflecting pool and alcoves. The art gallery exhibits the works of local artists, and there is also a branch of Paradise Road, the popular lifestyle and design store.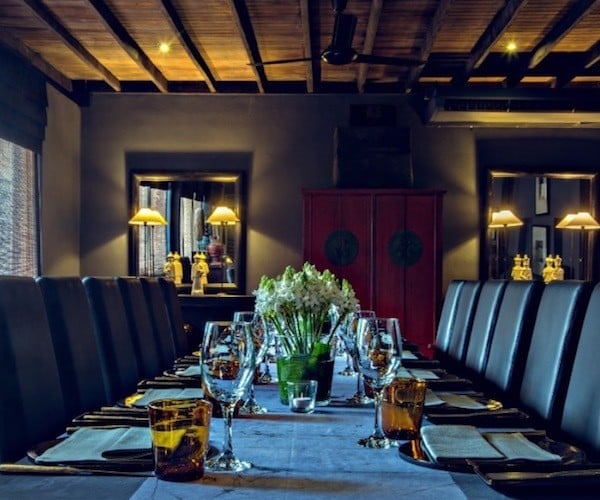 Number 11, Colombo
Number 11, a compact, three-storey villa, was Bawa's private Colombo home. He bought the property in 1958 and lived between here and his beloved garden retreat at Lunuganga, for forty years. The residence is considered an architectural marvel, and today, much of the house remains unchanged in his memory. Dotted throughout the property are Bawa's signature architectural features of courtyards and verandas, and his personally designed furniture and light fittings are all still in place. The house, open for private tours and managed by the Geoffrey Bawa Trust, is perfect for those enthusiasts of architecture and art.
Lunuganga, Bentota
Lunuganga Estate, close to the beach resort of Bentota, was Bawa's country home and is one of Sri Lanka's greatest masterpieces. A true expression of his unique style, the gardens were his experimental laboratory; a place where he could constantly change and develop his ideas, experiment with its spaces and structures and turn them into a cultivated vision.
The 50-year project was a true labour of love, and a documentation of Bawa's ability to tame the wild tropics and turn them into a cultured pristine garden. He lived here until his final illness in 1998, all the while trialling his ideas. Today, the house and gardens are now looked after the by the Trust; the gardens open to the public and the buildings on the estate run as a country house hotel.
Club Villa, Bentota
Bawa also focussed his architectural attentions to the fast-growing luxury travel scene; from 1965 to 1997 he designed 35 hotels, thirteen of which were built in Sri Lanka, including the iconic Club Villa. Possibly one of Sri Lanka's most sophisticated and charming boutique hotels, Club Villa sits on a former coconut plantation, just a stone's throw from a dazzling beach, and a narrow-gauge railway lazily runs through the bottom of the garden. The hotel radiates Bawa's characteristic simple yet elegant style, and dotted with lily ponds and open courtyards, the hotel creates an ideal home away from home living.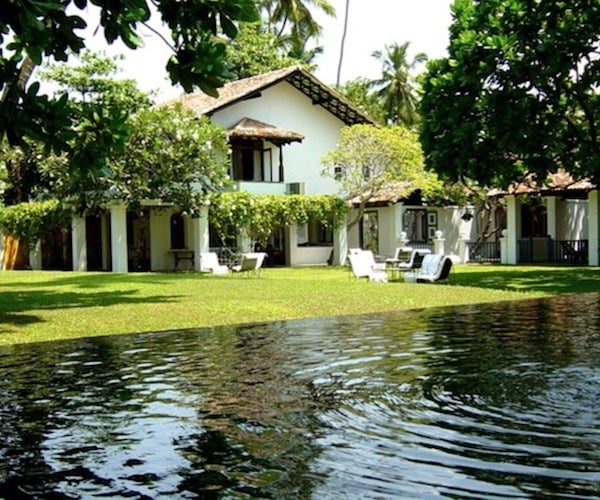 The Last House, Tangalle 
The Last House, as the name indicates, was Bawa's final architectural creation, and arguably his ultimate commission. The luxury seaside escape, located on a private crescent of beach and nestled within two acres of gardens, is a true representation of his work; airy interiors, adorned with antique furnishings, flow effortlessly into open-air spaces, blurring the boundaries of outdoor and indoor. Guests of this of this boutique hotel can lie by the pool, listening to the sounds of the sea, whilst the in-house staff tend to your every need ensuring one instantly feels at home.  It takes just seconds to be seduced by the chic and charming seaside villa.
James Jayasundera is Founder and Managing Director of Ampersand Travel. Ampersand Travel create bespoke and luxurious travel experiences to Asia, the British Isles and Southern Africa.
If you would like to be a guest blogger on A Luxury Travel Blog in order to raise your profile, please contact us.