By
Julian Carter-Manning
on Mar 14, 2018 in
Accommodation
,
Adventure Travel
,
Africa
,
Botswana
,
Camping
,
Regions
,
Resorts
,
Speciality Travel
,
Tanzania
,
Zambia
,
Zimbabwe
Walking safaris are often considered the purest and most exciting way to experience safari – they allow you to get closer to the wildlife and take you off the beaten track, away from the noise and rush of other people and vehicles. Walking safaris are available in most safari areas, but the experience can vary significantly from camp to camp so it's worth doing some research to find out which properties would be best suited to you. Below is a list of ten lodges that offer some of the finest walking safaris in Africa.
Selinda Adventure Trail, Botswana
This is a 4-days and 3-nights' canoe-and-walking safari along Botswana's Selinda Spillway. Days are spent walking or paddling along this beautiful ancient waterway and into the remote woodlands of the vast Selinda Reserve. The area is well known for some of Botswana's largest herds of buffalo, elephant, roan antelope, and African wild dog, and it's home to more than 300 species of bird. All three nights are spent in comfortable fly camps and the trip begins with a thrilling helicopter transfer into the Selinda Reserve.
Kichaka Lodge, Tanzania

Located in the northern sector of Ruaha National Park, Kichaka Lodge provides one of the finest and most personal safari experiences anywhere in Africa. The main focus of the camp is on walking safaris and exploring the hidden wonders of Ruaha that are only accessible on foot. Your base is a comfortable back-to-basics main camp, and a mobile walking camp is available for those wishing to brave a night in the bush.
Mwaleshi Camp, Zambia

Mwaleshi is a family-run bush camp situated in the walking-only zone of Zambia's North Luangwa National Park. It is one of the most remote camps in the Luangwa Valley and accommodates a maximum of six guests at a time, ensuring an intimate safari experience and a genuine feeling of solitude and seclusion. Mwaleshi is known for its big game viewings and excellent guiding, making it one of Africa's truly exceptional walking camps. Following existing trails that can only be accessed on foot, guests can expect to come up close to buffalo, lion, and elephant.
Alex Walker's Serian, Tanzania

Serian's Serengeti South Camp is a fantastic mobile camp located in the southernmost part of Tanzania's Serengeti National Park. Made up of just six luxurious tents, all with en-suite facilities, South Camp strikes the perfect balance between homely and opulent. The camp offers walking safaris with Hadzabe hunter–gatherers, giving guests a rare opportunity to learn about the region and observe the Hadzabe way of life first hand. Open from mid-December to May, Serian's South Camp brings you the best of the wildebeest calving season, making it an ideal choice for travellers whose focus is the wildlife.
Tena Tena, Zambia

Tena Tena is situated in the Nsefu sector of Zambia's South Luangwa National Park, one of the last remaining unspoiled areas and arguably the finest wildlife sanctuary in Africa. The camp is run by Robin Pope Safaris, a family business and one of the park's most famous operators. It is particularly good for walking safaris led by professional guides, whose passion and knowledge ensure the very best wildlife experiences for the camp's guests.
Chiawa Camp, Zambia

Located on the banks of the Zambezi river, Chiawa Camp is the most luxurious lodge in the Lower Zambezi National Park, and possibly in the whole of Zambia. The camp offers an authentic safari experience where the focus is on three things – the bush, the river, and the local wildlife. A variety of activities is on offer, with bush walks providing an interesting and unique way to see the Zambian wildlife up close. The guides are trained naturalists who can identify the track or scent of any animal, and their knowledge of the ecosystem adds a fascinating dimension to the safari experience.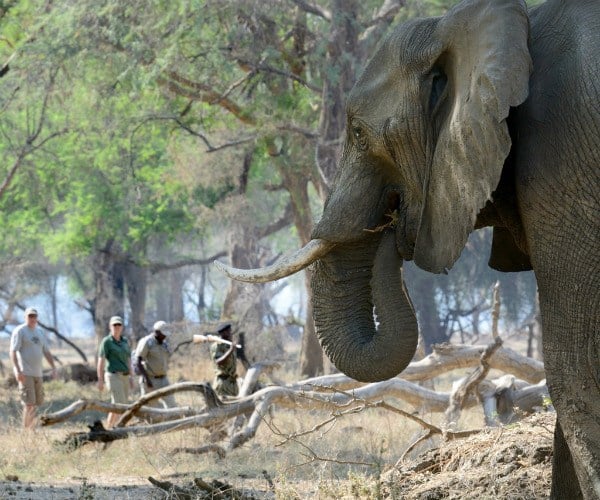 Luwi Bush Camp, Zambia

This is one of the finest and most authentic bush camps in the South Luangwa. Luwi consists of just four rooms, which are dismantled and rebuilt every year. Due to its remote location the camp has a strong focus on walking safaris, making it perfect for travellers looking for the 'real' bush experience. The area is famous for its lions and tracking them on foot is a rare and unforgettable activity.
Goliath Safaris Tented Camp, Zimbabwe
Owned by famous guide Stretch Ferreira, this is a luxury tented camp situated in the north region of Mana Pools, alongside the spectacular Zambezi river. The camp combines features of a permanent lodge and a mobile camp, sleeping a maximum of 12 guests at one time. Goliath offers a great range of activities including game drives, canoeing, and fishing, but when it comes to walking safaris, it is hard to beat.
Vundu Camp, Zimbabwe
Vundu is situated on the banks of the River Zambezi, at the heart of Mana Pools National Park. The camp is owned and operated by Nick Murray, a Pro-Zim guide with almost thirty years' experience of guiding in the country. Mana Pools is one of Africa's best parks for walking, and Vundu Camp provides superb walking safaris. Located on a little piece of wildlife paradise, Vundu offers a lot to see, even from camp.
Chikoko Tree Camp, Zambia
One of the satellite camps of the fantastic Remote Africa Safaris, Chikoko Tree offers one of the purest safari experiences out there. Family owned and family run, this property is pretty special. Set in one of the best walking areas in the whole of the South Luangwa Valley, it specialises in walking and nothing else. No vehicles, no other people, just diverse game and exceptional guiding.
Julian Carter-Manning is a Co-founder and MD at Yellow Zebra Safaris. Yellow Zebra Safaris is an award-winning luxury and adventure travel company specialising in 'Safari Africa'.
If you would like to be a guest blogger on A Luxury Travel Blog in order to raise your profile, please contact us.