Known as the Jewel of Southeast Asia, Thailand is a tropical island ripe for a once in a lifetime travel experience. Whether you're looking for an off-the-beaten path adventure or a comfortable getaway from the daily grind, Thailand has got the best to offer. From serene beaches and islands to mountain villages located in the northern parts of Thailand, there's something for everyone. In this article, I will tell you all about Thailand's top-rated tourist attractions and why you should visit them.
Railay Beach
Home to world-class beaches, the Krabi province of Thailand is truly a sight for sore eyes. Railay Beach is one of the many beaches in Krabi that offers the ultimate summer beach experience. In all honesty, words cannot do justice to the scenic beauty of Railay Beach. Imagine wading out in the azure blue waters or sipping a mojito while you rest on the white ashy sands, Railay is indeed a little slice of paradise on earth.
While this little beach sounds like a perfect spot for honeymooners and couples, it is also an ideal spot for novice and experienced rock climbers alike. Railay's karst limestone cliffs are frequented by hundreds of adventure loving tourists each year. That's not all – there are tons of activities to do at Railay Beach including elephant trekking, kayaking, white-water rafting and snorkelling. The tourist-friendly Diamond Cave is also an attraction for sightseers and explorers.
Koh Phi Phi
Another popular tourist resort in the Karabi province is Koh Phi Phi. The Phi Phi islands are immensely popular among tourists and locals alike for many reasons. It is home to the Monkey Beach where you'll get the opportunity to get up close and personal with the curious creatures. It is the perfect place to go with your kids and family in the day.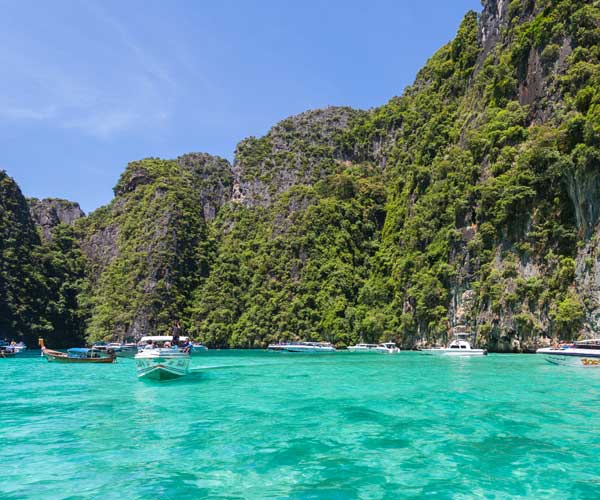 You can rent your own kayak or simple find a secluded spot to enjoy snacks from nearby local vendors. Long Beach is yet another tourist attraction where you'll get to see the sun go down and take a beautiful walk down the island if the tide is out.
Each year, Koh Phi Phi is overcrowded with tourists and locals so you'll have to arrange your stay at a hotel or a guest house well before time. There are many tour operators that offer packages for diving and snorkelling trips. The 2004 tsunami reduced Phi Phi Don to ruins but it is amazing how the resort has been completely revamped with a great new look.
The Grand Palace in Bangkok
Your trip to Thailand won't be complete without a short stay in Bangkok. The capital city is the main hub for international travel and an ideal starting point for excursions throughout the country. The number one sightseeing attraction in Bangkok is The Grand Palace.
The awe-inspiring architecture and exceptional craftsmanship dates back to 150 years when it was the official residence of the Thai King, royal court and administrative seat of the government. Built in 1782, The Grand Palace is located in the old part of Bangkok and is home to various ancient relics and temples.
The Temple of the Emerald Buddha called Wat Phra Kaeo holds utmost importance within the complex. It is believed that a relic within this temple is a piece of bone or hair from the Enlightened Buddha himself.
If you plan to visit The Grand Palace, keep the rest of your day free to do justice to this beautiful landmark. This is indeed, a great tourist attraction for history enthusiasts because you'll learn about Thailand's cultural and historical background in depth.
Erawan Falls
Just an hour's drive from Kanchanaburi, Erawan National Park is one of the most popular tourist spots in Thailand. The huge influx of tourists to this recreational park is attributed to the highest waterfall 'Erawan Falls' located within its boundaries. This waterfall is said to resemble an ancient mythical creature – a three-headed elephant. The blue azure waters and lush green forests will mesmerise you.
Even though there are several picnic spots at the resort, the authorities do not allow visitors to enter with edible items to avoid littering. When visiting Kanchanaburi, don't miss out on visiting natural sanctuary.
Pai
Thailand is undoubtedly, famous for its tropical beaches and ancient Buddhist temples but what most tourists don't know about this beautiful country is that its northern part, especially the western region close to the Burmese is perfect for trekking. Take the road less travelled and prepare to be amazed.
The breathtakingly beautiful little town called Pai located in the Mae Hong Son province is surrounded by mountainous jungle terrain, a Mecca for adventure seekers and backpackers as well as the natives.
That's not all – Pai Canyon, also known as Kong Lan is another great place to visit. A walk through the Pai Canyon is highly recommended but it's definitely not for the faint hearted. The narrow, elevated paths have a steep 30 meter drop on either side so you must be careful where you tread, especially if you are petrified of heights. The ideal time to visit Pai Canyon is early morning or the end of the afternoon before the sun sets.
At other times, the temperature may be too hot and humid to stay outdoors. If you want to take it easy and just go for sightseeing, visit the local street market, temples and local vendors selling authentic Thai cuisine.
Thailand is full of surprises. Every city or town has its own top rated tourist attractions including tropical beaches, parks, historical sites and restaurants. These six incredibly amazing tourist attractions are definitely worth experiencing during your stay in Thailand.
Mark Tulloch is Co-Founder at Asia Holiday Retreats. Asia Holiday Retreats a 5-star travel booking agency offering luxury villa rentals across Bali, Thailand, and Sri Lanka.
If you would like to be a guest blogger on A Luxury Travel Blog in order to raise your profile, please contact us.