Summertime on the Amalfi Coast conjures memories of sunny seaside lunches of spaghetti allo scoglio by the plateful, sipping floral Falanghina al fresco, and taking refreshing afternoon dips in calm coves of turquoise. Winding along the ridiculously scenic serpentine of coastal road that is the SS 163 Amalfitana, is a pleasure that every traveler to Italy's vibrant south must experience at least one, or really, several times. Feeling golden rays on your face as the aroma of crisp sea air whispers to you is inspiration enough for meandering along a coastline studded with pastel Mediterranean villages and dramatic cliffs of green tumbling to the sea. An exploration of the Costiera and its exquisite towns is ideally a leisurely pursuit, where languid moments of bliss are sure to be found when getting lost amongst its picture perfect majesty and unhurried sweet life.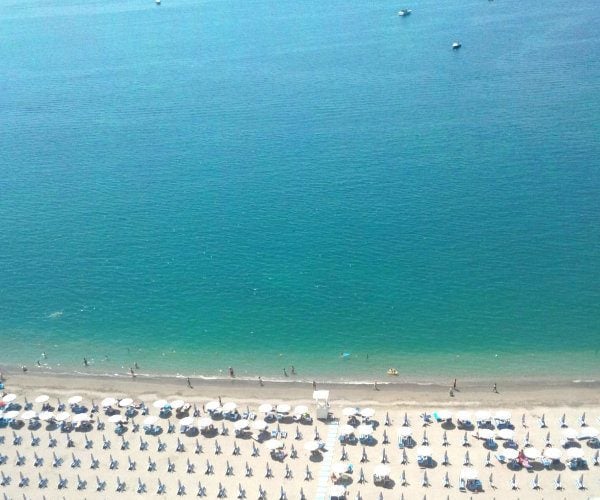 Vietri sul Mare
Uniquely positioned as the first of the Amalfi Coast towns, the colorful village of Vietri sul Mare can be found welcoming visitors to its iconic stretch of coastline from just outside Salerno. Significant since Roman times for its strategic location, the town came to prominence through its tradition of crafting fine, hand-painted ceramics, dating back to the middle ages. An inspired reflection of the bold Mediterranean hues distinct to the region, the ceramics of Vietri are renowned for their intricate designs and vivid use of color, particularly shades of blue, green, and yellow. A labyrinth of whimsical narrow lanes adorned with splendid tile flourishes typify the town's centro storico, where artisan ceramics shops with beautifully tiled facades proudly showcase their artistic flair, and church fronts and civic spaces echo a chorus of brilliantly painted porcelain. Antica Ceramica Avallone owned by the charismatic Signora Irene, sells some of the most compelling ceramics in town, from bijou treasures to works of immense grandeur. Take a break from shopping to sample the tempting local confection Delizia al Limone at Pasticceria Sandra. Made from airy sponge cake burnished with Limoncello, filled with lemon cream and frosted with a sugary lemon glaze, the Delizia is the perfect gastronomic accompaniment to a hand painted Vietri plate.
Maiori
To experience an authentic taste of the Amalfi Coast like a local, make haste to the town of Maiori. Where Italians go for an extended summer vacation by the sea, the town has been attracting sun worshippers to its grand, seemingly endless swath of lido (shore) since ancient Roman times. A favored film location for Neorealist director Roberto Rossellini, Maiori is a spirited blend of history colliding with the present within a markedly jovial atmosphere of revelers in search of pure relaxation. The remains of the 15th century fortified castle of San Nicola de Thoro Plano stand watch high in the hillsides above the town, as a patchwork of private beach clubs with their umbrellas in an array of primary colors decorate the serene beachfront. For those seeking to explore the natural wonders of this unexpected corner of the Costiera, a panoramic trail known as the Sentiero dei Limoni leads hikers from Maiori along terraced lemon groves before reaching the neighboring town of Minori. A remnant of the town's legendary past, Maiori's seafront is protected by two Norman watchtowers, one of which houses the fine dining restaurant, Ristorante Torre Normanna, where creative dishes are served alongside spectacular views.
Ravello
An ancient town with a privileged perch high above the Costiera, Ravello has been spellbinding visitors for centuries. Vestiges of the town's immense wealth and cultural might during the medieval period can still be appreciated today through its series of noble villas, such as the 13th century Villa Rufolo and 11th century Villa Cimbrone. Like a garden of Eden floating in the sky, Ravello is a verdant tapestry of bubbling fountains and kaleidoscope flora, trellises adorned by sinuous grapevines, and breathtaking terraces outstretched over the sea. A fabled retreat for artists and literary figures since the 14th century, the town's quiet cobblestone streets, romantic architecture, and softly shaded courtyards continue to inspire a sense of tranquility and well being in the hearts and souls of travelers today. A veritable feast for the eyes, Ravello is also a feast for the palate. From fine dining at the Michelin-starred restaurant Rosellinis, housed within the sumptuous 12th century Palazzo Avino, to savoring authentic Neapolitan-style pizza and seasonal offerings at the delectable Mimi Bar Pizzeria, diners are sure to discover a celebration of Costiera flavors with sophistication in ravishing Ravello.
Atrani
A true slice of the quintessential Costiera Amalfitana lifestyle can still be found in pocket-size Atrani, an ancient town dating back to 500 AD. A romantic moment suspended in time, Atrani is a fisherman's enclave tucked along the undulating curves of the Amalfi coastline and is one of the few villages of the Costiera that remains delightfully local. With less than 1,000 inhabitants, Atrani exudes an unassuming charm that contrasts her more visible neighbors. Sparkling against a dazzling Mediterranean backdrop, the town offers uniquely preserved medieval architecture, ideal access to the beach, and some of the freshest local seafood eateries to be found on the coast. A walk through town reveals patinated balconies drying clothes in the midday sun, green and yellow majolica tiles twinkling from the nearby dome of the church of Santa Maria Maddalena, and whitewashed scalinatelle (steps) that zig zag down into the ancient Piazza Umberto I alive with the singsong dialect of townsfolk sharing stories over a Spritz. For a true taste of Atrani, stop for a lunch of sauteed frutti di mare and pasta with lemon cream at the quaint Ristorante Le Palme, nestled beneath one of Atrani's main arches.
Amalfi
A jewel in the crown of the Costiera, the splendid town of Amalfi sparkles with antique charms that call to mind its former glory as a mighty maritime republic. A scenic waterfront of beaches and boats eases upward into a huddle of alabaster white buildings drawing you into the historic Piazza del Duomo characterized by buzzing sidewalk cafes and a magnificent staircase leading to the 13th century Cattedrale di Sant'Andrea, a glittering melange of Romanesque, Arabic and Baroque architecture. A stroll through the center of town pulls you deeper into its secret network of narrow passages and shaded archways housing local handmade paper shops, purveyors of Limoncello liqueur, and family-run ristoranti. If you find yourself lucky enough to enjoy a breezy, sapphire blue midnight in Amalfi, be sure to satiate your sweet tooth with a warm, fresh from the oven "cornetto di mezzanotte" pastry from the boutique bakery Panificio Erasmo Pacileo.
Praiano
The storied seaside retreat for the medieval dukes of Amalfi, Praiano is a sleepy fisherman's village beloved for its magnificent sea views and legendary sunsets. An assemblage of historic watchtowers and charming homes traversed by a criss-cross of stairways and natural walking paths spiraling down to the sea, Praiano is a bashful beauty snuggled between the towns of Positano and Amalfi. The Baroque facade of the 17th century Chiesa di San Gennaro is the stunning backdrop for quiet Piazza San Gennaro inlaid with a pattern of brilliant majolica tiles and surrounded by sweeping water views. Situated beneath the town within a spectacular natural gorge is the Marina di Praia, which can be accessed via a tiny road originating from above or by boat. Peppered with fishing boats and sun worshippers bathing in the cove's crystal waters, the beach has a decidedly low-key sensibility highlighted by a serpentine of pathway running along the coast and scenic seafront restaurants, making it an idyllic haven for spending a sunny day on the water.
Positano
The queen of the Costiera, Positano is a sherbet hued hive of dreamy dwellings and lush terraces of bougainvillea swirling up from sea to sky. Set between rugged mountains above and the cyan waters of Spiaggia Grande below, the town's vertical landscape dramatically clings to the cliffs with a watchful eye toward the ancient Li Galli archipelago in the blue beyond. The chic Viale Pasitea twists its way through town, offering a treasure trove of stylish boutiques selling signature Positano styles, artisan workshops specialized in leather sandals made to order, and a variety of lovely eateries ranging from casual family-run osterie to glamorous gourmet restaurants. The 18th century church of Santa Maria Assunta is a focal point of the town from its striking perch overlooking the sea and petit piazza that channels visitors down to the beachfront. A perfect place to shop and dine, visitors can purchase a piece of "Moda Positano", a breezy and bohemian style first made famous in the jet set age of the 1960's, at the boutique of homegrown fashion label Antica Sartoria. Those in search of sophisticated fare paired beautifully with the balmy ambiance of a Positano night can look forward to dining at Da Vincenzo, a culinary fixture of the town since 1958.
Dejou Marano is Co-Founder of CountryBred. CountryBred are experts in private travel and craft enriching cultural journeys to the most intriguing corners of Europe.
If you would like to be a guest blogger on A Luxury Travel Blog in order to raise your profile, please contact us.