5 great reasons to visit Slovenia
Slovenia is one of those countries that many people have heard of, but few can quickly point to on a map. That's mostly because its neighbors (Italy, Austria, Hungary, and
Croatia
) are considerably more popular among travelers. Unfortunately, that means that Slovenia often flies under the radar and doesn't get the exposure it deserves, but it also means that it isn't overrun with tourists. This little country has so much to offer—from a small, but beautiful Mediterranean coast, to snow-capped Alps and glacial lakes. Europe's "hidden gem" is on the brink of exploding on the tourism scene, so it's best to go soon to experience all that this little country has to offer.
1. It's a food-lover's paradise
There are twenty-four distinct gastronomic regions, each with its own specialty. Slovenia's wine region looks like Italy's Tuscany and produces award-winning cabernet sauvignons and merlots. You've probably never had or heard of Slovenian wine because it is rarely exported (most of it is consumed in the country). Artisan cheesemakers produce exquisite Alpine and soft cheeses from cows that graze happily on high pastures. You'll find a diverse range of dishes, many of which are influenced by the cuisine of Austria, eastern Europe, and the Mediterranean. Options include hearty soups and stews, sausages and charcuterie, fresh fruits and vegetables, artisan breads, and delicate desserts. Check out celebrity chef, Ana Ros's restaurant, Hiša Franko.
2. Slovenia abounds with outdoor activities for adventurous travelers
In the summer, hiking in the national parks leads to spectacular mountain vistas, and snow melt fills the lakes and rivers for some great kayaking and rafting. Slovenia can also be enjoyed in the winter with some Alpine skiing. Travelers are often surprised to find stunning natural beauty and hiking opportunities that are usually associated with Austria or
Switzerland
—snow-capped Alps, storybook villages, crystal-clear lakes, and verdant, rolling hills. You really shouldn't come to Slovenia to just sit around. Get out into the pristine nature and see places not accessible by car.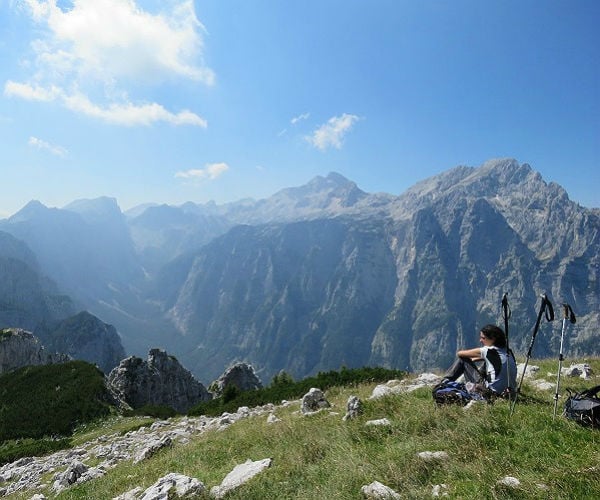 3. You'll find many shades of green—grassy farmlands, dense pine forests, and verdant valleys
Slovenia is a holiday destination where you can reconnect with nature and fill your lungs with clean, mountain air.  It is the third most forested country in Europe behind Finland and Sweden.  Almost 60% of its territory is covered by forest. And Slovenia is working hard to preserve its environment. The vibrant capital city of Ljubljana was named "The Green Capital of Europe" for 2016 and has been thrice ranked on the list of top 100 sustainable destinations around the world.  It's even made the city center a pedestrian-only area.
4. To get a photo of picturesque Bled Island
You've probably seen this iconic image before, it's one of the most photographed places in Slovenia and the only island in the country. The charming church with its bell tower dates back to the 8th century, and traditional holds that when couples marry at the church, the groom must carry the bride up the 99 steps. Aside from coming home with this photo, you'll want to explore the town of Bled, a resort town at the foot of the Julian Alps. Visit the 11th-century Bled Castle, rent a canoe and paddle around the lake, visit Vintgar Gorge just outside of town, or relax and enjoy the view at a lakeside cafe sipping local wine.
5. There is a diversity of landscapes to explore in this compact country
While the country is dominated by mountains and forest, there are more than 11,000 caves, many open to visitors. You can tour the famous Skocjan Caves, which are listed as a UNESCO World Heritage Site. Aside from underground phenomena, Slovenia has 46 km of a coastline with sunny Venetian-style towns complete with cappuccinos, yachts, and gelato. You can go from the middle of the country to the seashore by car in under 2 hours. You can even pop over to Croatia or Italy while you're there!
There's something exciting about exploring a place where few travelers go. For one thing, it means fewer crowds and tourist traps. And that, consequently, allows for more authentic experiences. Traveling to Slovenia also means that you'll be on the forefront of a new trend. When people ask why you went to Slovenia, just show them your photos of spectacular landscapes and tell them about your trip filled with delicious gastronomy and amazing experiences. They'll be ready to book the next flight to Ljubljana and be impressed that you're such a trailblazer!
Matt Holmes is the Founder & President of Boundless Journeys. Boundless Journeys is an award-winning tour operator that goes off the beaten path for immersive and authentic travel experiences.
If you would like to be a guest blogger on A Luxury Travel Blog in order to raise your profile, please contact us.
Did you enjoy this article?
Receive similar content direct to your inbox.