While most people consider Galapagos as a wildlife photographer's paradise (they are not wrong), the islands also offer a wide variety of striking land and seascapes.   Born of fire, the archipelago consists of over 100 islands and islets formed by regular volcanic eruptions over the past 5 million years.   The newest islands to the west are still subjected to the occasional eruption.   Fernandina island is the youngest of them all, and 90% of its surface area is covered by relatively recent, and very barren, lava fields with only a few places harboring significant plant and animal live.
All of this volcanic activity has left a legacy of varied landscapes, from spatter cones, vast expanses of pahoehoe lava fields, sulfur fumaroles, some of the largest sunken craters on the planet, lava tunnels, along with beautiful beaches and more.
But not all of the 85 Galapagos National Park Service designated visitor sites offer equally impressive landscapes.   In an effort to help visitors better plan their trips and ensure they embark on a good cruise itinerary, we asked 12 naturalist guides with a combined 231 years of guiding experience in the islands to rate the degree to which the landscape at each visitor site is stunning.    We asked them the extent to which visitors are impressed by what they see, or spend time taking pictures of the landscapes at particular visitor sites.  The ratings vary from 0% (no interest whatsoever) to 100% (the best possible site).      Here are the results:
Bartolome Island: 98%
Bartolomé Island has two visitor sites that are usually combined into one visit.  The first is a swim and snorkel off a nice beach, around the iconic Pinnacle Rock; the underwater world there is really impressive. Snorkelers are in the water with the penguins, marine turtles white-tipped reef sharks, rays and other tropical fish.  The second site is accessible via a long staircase leading up to a spectacular view point from which you can see the manifestations of recent volcanic activity both on Bartolome island and beyond to Santiago island next door.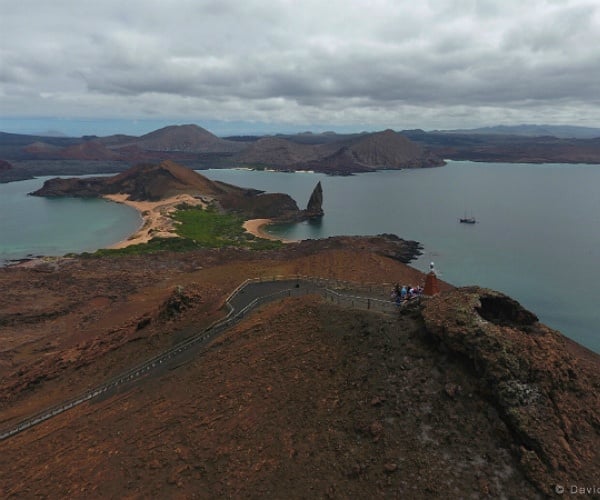 Punta Espinoza on Fernandina Island: 91%
Only a few hundred thousand years old, and free of invasive species, this is likely the most pristine island you'll see in your lifetime.  Its central volcano dominates the landscape, spreading lava fields all the way to the shore. The island's highlight features the flightless cormorant nesting site, "marine iguana city", penguins and if you're lucky, the Galapagos hawk.
Sierra Negra volcano on Isabela Island: 91%
Sierra Negra's caldera is the second largest in the world.  A 45-minute drive from Villamil, followed by a 30 minute walk or horseback ride will take you to the rim. On the rim of the volcano, you can follow the the trail for another hour.  It divides into two: to the west, it heads to an old sulfur mine; toward the east, the trail leads to Chico Volcano.  Wonderful vistas to Alcedo, Fernandina and Azul volcanoes in the distance (on a clear day).
Gardner bay on Española Island: 91%
Rated the best beach in Galapagos, populated by sea lions and brazen mocking birds (they will untie your shoe laces), this long stretch of pristine white sand is what one imagines a tropical beach should be.
Tagus Cove on Isabela island: 88%
A deep water cove frequented by whales and pirates as attested by old graffiti on shoreline cliffs.  A short steep hike leads to the salt water Darwin Lake, lying within a tuff cone. With nice vistas, you can spot a variety of finch species, hawks, yellow warblers, Galapagos flycatchers. Walk the trail to the very end for expansive views north towards Ecuador volcano.   A panga ride along the cliffs may reveal flightless cormorants, Galápagos penguins, and Galápagos sea lions.
Marc Patry is Co-owner of Cultural & Natural Heritage (CNH) Tours. CNH Tours provides an unmatched personalized service in helping people organize a Galapagos holiday best suited to their particular interests.
If you would like to be a guest blogger on A Luxury Travel Blog in order to raise your profile, please contact us.