Hollywood goes to Greece… but why?
Blockbuster hits aren't created by accident. Hundreds of people work on and off set to make those movies come to life and for them to become big hits. One of the many important jobs of those who work behind the scenes is scouting for the ideal locations to film. The natural setting of any motion picture portrays the emotions that the filmmakers are aiming to expose to the audience. The time, energy, effort, let alone the research that needs to be conducted in order to finalize a location is undeniably hard work. Luckily Greece, as a country, offers numerous alternatives, combines various emotions and has proven to be the ideal destination for big Hollywood Blockbuster movies, each for very unique reasons, which we will get into in more detail below.
Mamma Mia: Skiathos & Skopelos
Greece's two graceful islands covered in ultra green pine forests, vineyards, and olive groves, majestically stand out of the bunch. The sandy beaches are as if they are made out of fairy dust and the waters are as clear as day. Filled with pops of pink and purple flowers, the towns are charming packed with ample corners to take photographs. With contrasting colors of green, blue and pink, no wonder Meryl Streep was so delightfully happy and carefree!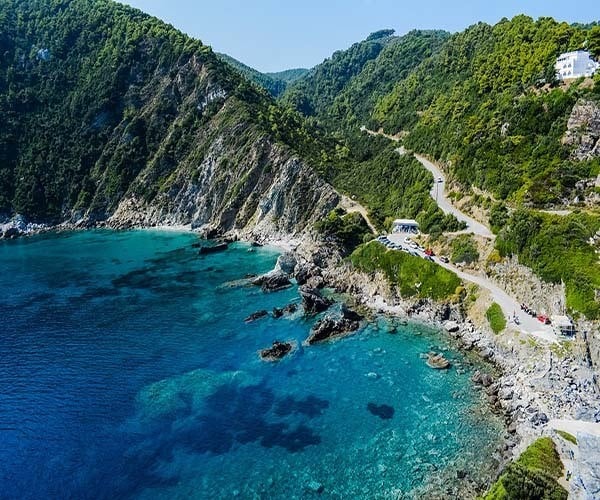 Zorba the Greek: Crete
The fifth largest island of the Mediterranean Sea, Crete creates more emotions than any other location. Rich in history and culture, a gastronomic heaven, covered in imposing mountains and home to the most famous beaches in the world, Crete is clearly a country on its own. Zorba the Greek and Anthony Quinn capture Crete's essence and allow the viewer to fearlessly feel intensified emotions.
Boy on a Dolphin: Hydra
Traveling even farther back in time, to 1957 on the Island of Hydra, where Sophia Loren gave a performance of a lifetime and perhaps where her most iconic looks were filmed. Hydra is an island with a cosmopolitan flair to it that has prohibited the use vehicles and is surrounded by gleaming waters. The donkeys and the horse carriages are just the cherry on top of the fairytale-like scenery.
The Guns of Navarone: Rhodes
This action movie of the 60's starring Anthony Quinn took place in the capital of the Dodecanese, Rhodes, also known as the Island of Knights. Its medieval charm and uninterrupted golden beaches along with a number of cultural and archaeological sites compose a perfect holiday destination for all. Whether couples are looking to spend quality romantic time together, or adventurous groups who love sailing and hiking and even families that are reconnecting, Rhodes has a spot for everyone!
Lara Croft Tomb Raider – The Cradle of Life: Santorini
Definitely not a hidden gem as the renowned sunset has been captured by millions of people from all over the globe, making it one of the most photographed sceneries of the world. Santorini is the definition of the saying "One picture is worth a thousand words". Too many words have been written about this island. For good reason? We definitely think so and most likely Angelina Jolie and Gerald Butler would agree with us!
The Two Faces of January: Athens & Crete
Crete does it again, fascinating the audiences with its impressive beauty and its glorious landscapes. However, Athens, the capital city of Greece and city that gave birth to remarkable ideas such as "democracy", plays a key role in this romantic thriller. No better destination to unravel Kirsten Dunst's and Oscar Isaac's affairs.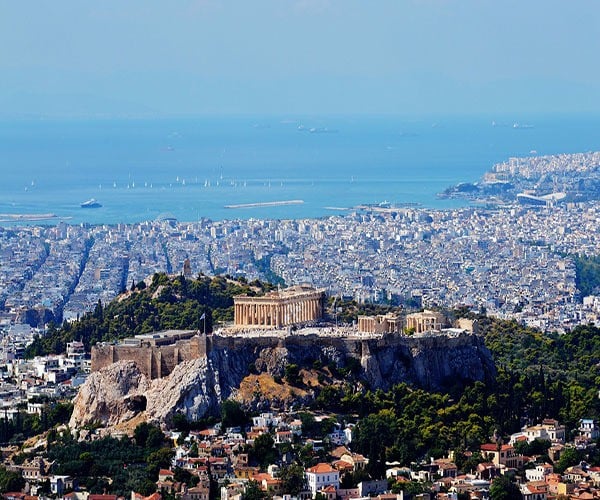 The Big Blue (Le Grand Bleu): Amorgos
Perhaps one of the lesser-known islands of the Aegean Sea, Amorgos is a true hidden Cycladic gem. Its white washed houses, churches tucked into the mountains and the turquoise waters surrounding its coast are a few essential factors that helped unfold Rosanna Arquette's fascination for Jean-Marc Barr and Jean Reno.
Captain Corelli's Mandolin: Kefalonia
Nicolas Cage and Penelope Cruz star in a romantic drama filmed on Kefalonia Island, a pristine and unspoiled island of the Ionian Sea. Having been developed over the past few years, Kefalonia has become a destination where families can enjoy the pool-like beaches and where yachters can uncover secluded coves as they sail around the island. Kefalonia, steals the show as if it's a movie star.
Before Midnight: Peloponnese
Before Midnight is the third and final movie of the trilogy Before Sunrise, Before Sunset and it could not have been filmed in the most authentic and pure destination in Greece, the Peloponnese. Combining medieval towns with translucent waters and an original Greek vibe, Ethan Hawke and Julie Delpy blended into the Greek culture so well. Hospitality, warmth, family importance, a lot of good food and deep conversations are what make the Peloponnese such an alluring destination. Feels like home!
George Koletsos is Co-Founder of Kudos Life Experiences. Kudos Life Experiences is a custom-designed private travel specialist to Greece, for the discerning and sophisticated traveler who is seeking to return to the authentic form of personal discovery and explore really life-enriching travel experiences.
If you would like to be a guest blogger on A Luxury Travel Blog in order to raise your profile, please contact us.
Did you enjoy this article?
Receive similar content direct to your inbox.