By
Kim Robertson
on Jun 15, 2018 in
Asia
,
Barbados
,
Caribbean
,
Europe
,
Greece
,
Hawaii
,
Leisure Travel
,
Maldives
,
Mexico
,
North America
,
Regions
,
Speciality Travel
,
US Virgin Islands
,
USA
,
Western Europe
A bucket list item for many is to spend time in the water snorkeling and swimming with sea turtles. For me, one of the cutest and most gracious sea dwellers. Sea turtles have been around for more than 150 million years, long enough to watch dinosaurs come and go extinct. As marine reptiles, sea turtles have adapted their bodies to live in the oceans and spend about 96% of their lives in the ocean. Females come ashore to lay their eggs, and some turtle species will also bask on the coastline. Sea turtles are expert navigators and often migrate thousands of miles between feeding grounds and nesting beaches.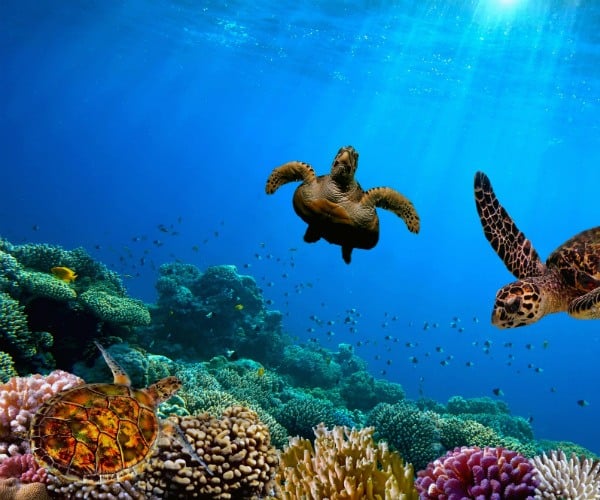 There are seven species of sea turtle:
Leatherback sea turtle
Loggerhead sea turtle
Green sea turtle
Hawksbill sea turtle
Olive Ridley sea turtle
Flatback sea turtle
Kemp's Ridley sea turtle
Here are my own top 6 spots for best chance of swimming with them up close and personal in their natural environment.
You will find turtles in many parts of the Maldives and often the Ari Atoll is named as best place to see them, however my suggestion is Adu Atoll, the southernmost atoll in Maldives and only atoll which is south of the equator. Here you can find hawksbill turtles in abundance as well as swim with green turtles, and even Ridley sea turtles. You are very unlikely to find turtles nesting anywhere else in the Maldives, but Villingili is one of the few places where they do come to nest and lay their eggs. Stay in the overwater villas at Shangri-La Villingili resort and you are very Iikely to see turtles (as well as black tipped reef sharks) swim right by your villa. Also a great part of the world to see manta rays at one of the shallow channels at the entrance to the atoll where they gather in their hundreds to be cleaned by feeders. Unfortunately when we visited recently, the weather wasn't that great, but we still saw plenty of turtles, sharks and other marine life.
Mexico
Akumal, Riviera Maya, which in Mayan translates to "place of the turtle".  Here you can see hundreds of green and loggerhead turtles feeding on the abundant sea grass in this beautiful shallow, protected bay.
There is also a stunning coral reef, teaming with other colourful marine life. You can take snorkeling expedition with a guide, but even beginners can go it alone as the water is only a max of 5 meters in depth and in a sheltered bay. The chance of swimming alongside these elegant creatures is very high.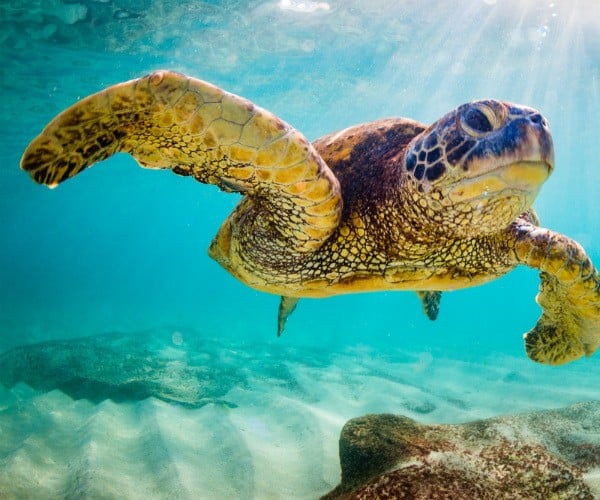 Hawaii
On the south coast of Maui, you will find Turtle Town, as the name suggests, a great place to see the Hawaiian Green sea turtle, the most common found in these parts, although you are also likely to encounter hawksbill, loggerhead, leatherback and olive ridley turtles in the Hawaiian waters. Here they swim in amongst the incredible underwater lava formations which is rich with all sorts of marine life, sponges and algae, another staple in their diets. Another interesting behaviour of the Hawaiian green turtle is its fondness for coming ashore at isolated sites in order to bask. Basking is rare among sea turtles, and has only been observed in a few populations in the Pacific.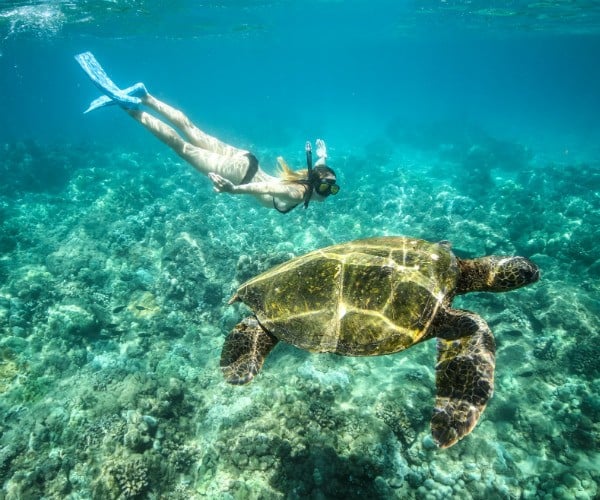 Barbados
Barbados is home to a healthy population of both hawksbill and leatherback turtles, due to The Barbados Sea Turtle Project which banned the hunting of turtles for their meat, eggs and shells, once common practice in the area. The Project monitors and protects them, and encourages locals and tourists to report nesting sites. On south and west coasts, (sometimes in more sheltered spots in the east too), you will find a variety of sheltered bays where there are coral reefs and an abundance of sea grass, sponge, and algae, the sea turtles staple diet. This and the warm waters ensure there is high chance of seeing an abundance of these beautiful creatures. If you are fortunate enough to be there during nesting season, it is also possible to witness hundreds of baby leatherback turtles hatching and heading out to sea along the west coast.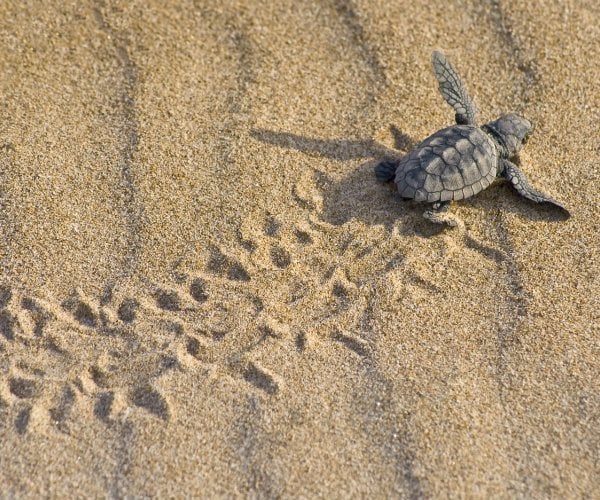 Virgin Islands
Water Island, St Thomas, US Virgin Islands
In a beautiful sheltered bay framed by the soft white sands of Honeymoon beach you will find warm, clear turquoise waters, and an abundance of sea grass, which normally means an abundance of sea turtles too. We weren't disappointed and saw about 6, including couple babies within minutes of entering the water.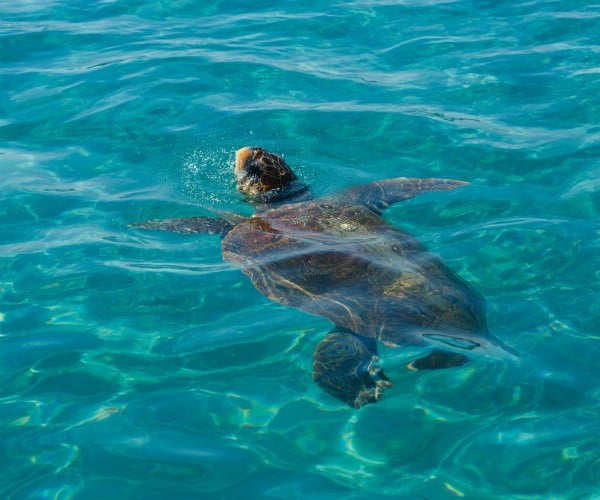 I love to float just above them, watching them chomp on sea grass, but my favourite part by far is when they elegantly glide to the surface of the water to take a breath – right beside you. Such a fabulous experience to be up close and personal with these fabulous creatures.
Greece
Zakynthos, more commonly referred to as Zante is a great place to spot loggerhead turtles, often referred to locally as Carreta Caretta. The turtles use several beaches as their main nesting ground in the Mediterranean and return to the same place where they hatched to lay their own eggs.  Scientists consider Zante to be the most important endangered turtle habitat in Europe and among the most important in the world. During the summer holiday season in Zante staff of the National Marine Park, and a crew of volunteers, patrol the turtle-nesting beaches by day and night, counting turtle nests, giving out information to tourists, and keeping people away from the most important nesting areas. You can take a turtle spotting trip where you are guaranteed to see turtles in their natural habitat and Laganas Beach is a great place to see them nesting during breeding season which runs from May until October.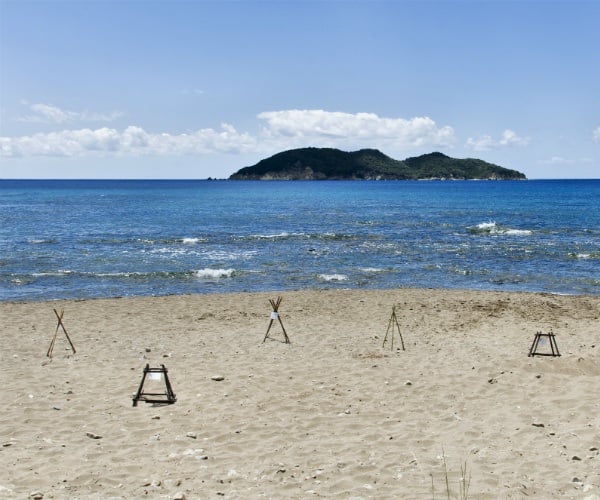 Although sea turtles are generally indifferent to your presence, it is important to know that even despite their hard shell, they are sensitive creatures and should never be touched, nor should their swimming interfere with and care should be taken when photographing them, as their eyes are extremely sensitive to strong light and sudden flashes may scare them – all of this could frighten them, causing them to stay underwater for too long, which may then in turn cause them lung damage. It could also frighten females and prevent them from laying their eggs.
Kim Robertson is Director at Your Way (Travel) Ltd. Your Way (Travel) Ltd. specialises in long haul, tailor-made, cruise and luxury travel to the USA, Caribbean, Indian Ocean and Far East.
If you would like to be a guest blogger on A Luxury Travel Blogin order to raise your profile, please contact us.