There's no doubt about it… Italy is one breathtakingly beautiful country. From the rocky mountains of the Dolomites to the craggy hilltop medieval towns dotted around Tuscany and Umbria, to the dazzling seas and whitewashed towns of Puglia — there's no shortage of picturesque backdrops to your holiday snaps.
But if you're finding it difficult to whittle destinations down, we've compiled perhaps the world's prettiest bucket list for you to work your way through on your Italian adventures.
Lake Como
It's been a popular destination since the aristocracy travelled there in the Roman era — and it's not hard to see why. Surrounded by the striking peaks of the snow-capped Alps, the lake's shores are dotted with villages, towns and luxury villas. Hop on one of the ferries and get exploring; we highly recommend Varenna and Bellagio.
Positano
There's a reason Positano always features in round-up posts on must-visit Italian towns. It has the charm of a Cornish fishing town; pastel hues nestled into the craggy cliffs, and particularly spectacular at sunset. It's well-worth seeking out some of the numerous small art galleries within the town, or if you're looking for more adventure, head to the coast for paddle boarding, snorkelling, or a private boat tour to explore the grottos dotted around the bay.
Montepulciano
This gorgeous Renaissance hilltop town in Tuscany has some pretty magnificent views across the surrounding countryside. The entire town is pedestrianised, so it makes the perfect location to spent the day exploring on foot. Montepulciano is particularly well-renowned for its pork, cheese and 'pici' pasta — and having recently sampled the 'fat spaghetti' shape at our recent Masterclass, we highly recommend you do too. Simply delicious.
Gran Paradiso National Park
Located in the Graian Alps — between the Aosta Valley and Piedmont regions — this park's eponymous mountain the Gran Paradiso stands tall within it. Italy's first national park, and home to wild Alpine ibex. It's the perfect destination for adrenaline-junkies; visitors can go rock and ice climbing, via ferrata, rafting and canyoning in this truly spectacular destination.
Spoleto
A stone's throw from the Ponte delle Torri aqueduct, Spoleto has a rich history dating back to the Bronze Age. If you're there in the summer, head to the Festival dei Due Mondi (Festival of Two Worlds). If you're not, it's still worth exploring this town and immerse yourself in the remnants of its historical past; from the 12th Century Duomo, to the 14th Century hilltop fortress Rocca Albornoziana.
The Sassi of Matera
It might not conform to a stereotypical definition of beauty, but Matera certainly contains a quirky view. The old town hides a city comprised of a network of cave dwellings, which has origins in a prehistoric troglodyte settlement — believed to be one of the first human settlements in Italy.
Lake Iseo
Lush mountains, medieval lakeside towns and its very own island — Lake Iseo might not be the most well-known of the Italian lakes, but it doesn't disappoint. Head out on a boat trip to Monte Isola, which has a small population of around 1,800, and sample the fish caught fresh from the lake. We also recommend heading to Castello di Grumello; a castle dating back to the Middle Ages and which now also boasts its own winery producing 100,000 bottles per year.
San Pellegrino Pass, Dolomites
Inspiration for the fancy drinks brand, the San Pellegrino Pass in the Dolomites mountain is not for the faint-hearted. Located 1,918m above sea level, it's a small (yet fun) ski resort in the winter and great for hiking and rock climbing in the summer.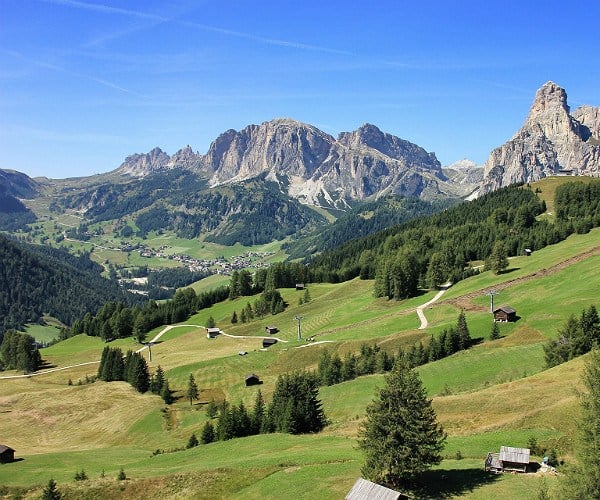 Siena
This gorgeous Tuscan city has a wonderful historic centre, which is a well-deserved UNESCO World Heritage Site. A popular tourist destination, it's not hard to see why (or fall in love with); Siena is world-famous for its art, museums and cityscape. The Duomo is particularly impressive, but its worth heading inside the cathedral too. If you're there in early July or mid-August, you'll find yourself caught up in the Palio di Siena celebrations — a traditional horserace in the Piazza del Campo. The whole city tends to join in the festivities, and you'll easily find it on television if you can't attend the live event.
Circeo National Park
Around 100km southeast of Rome, Circeo National Park is home to the eponymous Mount Circeo and rather spectacular views of the coast. We recommend venturing into the Circe woods (Selva di Circe), where you can find the Verdesca natural pool and possibly spot a wild boar or two. Perfect if you want to reenact the classic 'we're going on a bear hunt' story with young kids.
Jo Mackay is Owner of Bookings For You. Bookings For You is a company offering apartment and villa rentals in Italy and France.
If you would like to be a guest blogger on A Luxury Travel Blog in order to raise your profile, please contact us.