By
Michael Edwards
on Jul 22, 2018 in
Accommodation
,
Attractions
,
Denmark
,
Europe
,
Food and Drink
,
Going Out
,
Hotels
,
Regions
,
Travel Miscellany
,
Western Europe
In 2017, Denmark's second city, grabbed our attention as a European Capital of Culture. Compact with a population of just 300,000, cultured and quirky Aarhus continues to pull in visitors.
Aarhus is Denmark's Oxford with students comprising 20% of the population, that gives the place a Bohemian twist but still structured with Scandinavian efficiency. Many creative students stay-on giving Denmark's Capital of Cool a youthful vibe.
DOKK1, a vast new library on the waterfront, epitomises Aarhus' young spirit with a buggy park and playground. When a baby is born in Aarhus the library rings a bell to celebrate.
Happy people
Denmark's population is frequently rated amongst the happiest in the world. Aarhus is known as "The City of Smiles" making the people some of the happiest in Denmark.
After success as a European Capital of Culture, 13,000 volunteers wanted to carry on hosting the party, acting as guides on days when cruise ships dock. With their immaculate English and obvious pride in their city, Aarhus's people give visitors a warm welcome.
People flock in for the Jazz Festival in late July, it has just celebrated its 30th Birthday and then the cultural fest that is the Aarhus Festival in August.
Skyline views
The Aarhus Card, which you can purchase online of at the airport, gives you entry to ARoS, the city's contemporary art gallery. Take the lift to the top to orientate yourself to Aarhus's geography with a walk around the 360 degree gallery. The glass follows the colours of the rainbow.
Alternatively, ascend to the top level of the department store Salling where there is a cafe and bar. Cocktails at sunset – overlooking Aarhus's city centre, redeveloped waterfront and coastline – is a local favourite.
Bike town
Aarhus has strong green principles. Surrounding forests are invited into the city with leafy parks and a determination to preserve Aarhus's natural heritage. With a 20 Kroner coin as a deposit, visitors can release bikes from their holders to cycle around Aarhus.
Buses are plentiful too, with all journeys covered by an Aarhus card. So, this forward-thinking transport policy means that traffic congestion is rare in Aarhus.
New Nordic cuisine
Aarhus's creative chefs are steadily increasing the number of Michelin stars held by the city's restaurants but the food markets offer cheaper alternatives.
Aarhus Central Food Market is the more upmarket of the two offerings: the one seeking a feeling of "hygge", warm cosiness. Based in a former theatre its spotlights and dark spaces recall its former glory. Alongside Danish favourites such as smorrebrod and fish n' chips other stalls push culinary boundaries with innovative Israeli Tapas and Tunisian salad.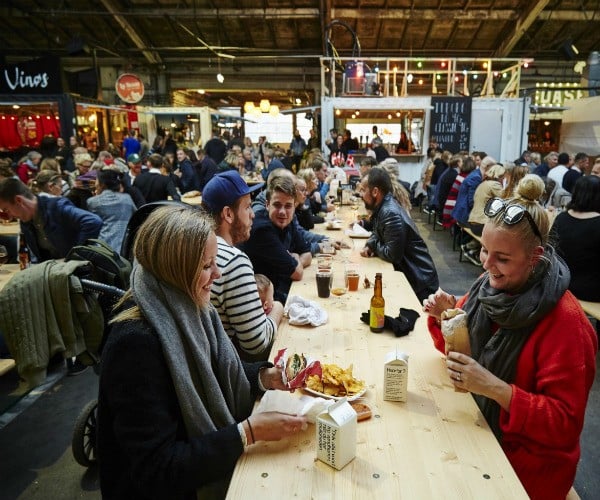 Based in the old bus station, more urban raw, Aarhus Street Food Market has 30 stalls offering food and drinks from throughout the world. With most stalls offering at least one dish for 50 Danish Kroner it's a hugely popular venue with locals.
A design hotel
Love of creative design is in the Danish DNA. Staying at the 65 room Oasia Hotel gives you the chance to live the stylish Danish Designer life.
Set in a quiet residential area but less than three minutes walk from the rail station, Oasia, with its snow-white walls and black leather chairs, is designer heaven.
Guests can upgrade to one of the five Design rooms. As well as the standard Bang Olufsen telephones and televisions these carefully curated rooms feature designer chairs with the ambience of a Bauhaus design exhibition.
Den Gamle by
This is a historical venue that is rapidly growing. There is a village from 1864 exhibiting a life of cobbles, horse-drawn carriages, carpenters planing their wood and painters having to make their own paint. Buildings from all over Denmark have been transported and rebuilt to recreate history including a surviving toll house that once stood on stilts in the harbour to collect taxes from shipping.
Again included in the Aarhus card the village also recreates scenes from 1927 and 1974. The next project on the expansion agenda is a 1974 dockyard.
Beaches
With a number of beaches within cycling distance of the city centre Aarhus people like to relax on the Jutland Coast.
One recent innovation, in keeping with Aarhus' green ambitions, is the Beach Chef. On summer weekday afternoons you can join a Beach Chef for free. He or she will show you how to forage for shellfish and edible seaweed on Aarhus' beaches, cooking up a meal from the maritime produce.
The Infinity Bridge
Aarhus' Infinity Bridge is the ultimate walk for achieving your daily 10,000 steps. The circular shaped wooden construction was originally destined for just one summer, back in 2015, as part of The Sculpture by the Sea event.
After a deluge of requests the Municipality of Aarhus agreed to reconstructing the panoramic bridge, as a piece of art, set-up every year between May and October.
Moesgaard Museum
It is worth taking the bus out of town, through the forests,  to Moesgaard Museum for the architecture alone. This museum of archaeology and ethnography is a vast futuristic wedge built into the hills, giving views down towards the coast.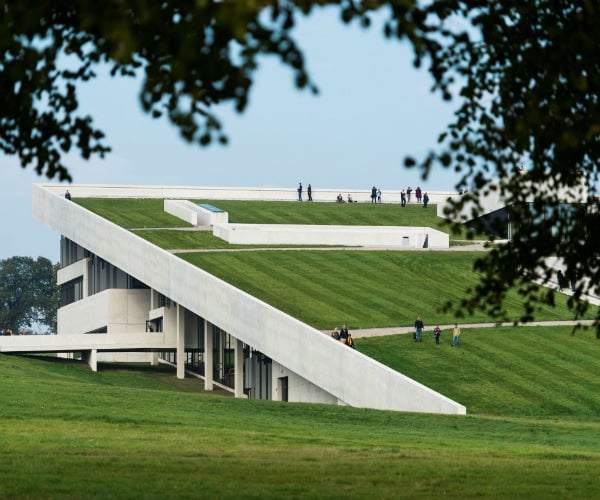 Mooesgaard's main claim to fame is Grauballe Man, probably a sacrificial victim from three centuries before Christ. Another permanent exhibition, using state-of-the-art technology, recreates the drama of the Viking age.
The Latin Quarter
Cooled streets and half-timbered medieval houses mark out Aarhus's Latin Quarter. It's a place where people relax, contributing to the Happiness quotient with a sensible work-life balance. Danes love to linger over a coffee and cafe society or eat in one of the cosy restaurants. Saunter past vintage clothes shops, artists galleries and yet more design shops.