By
Paul Eyers
on Jul 25, 2018 in
Asia
,
Attractions
,
Events
,
Food and Drink
,
Going Out
,
Leisure Travel
,
Myanmar
,
Regions
,
Restaurants
,
Speciality Travel
,
Travel Miscellany
This enchanting country in Southeast Asia has so much to offer to those who visit. From amazingly friendly people to landscapes that are a photographer's dream; Myanmar is one of our favourite places that we have visited. Enjoy reading about our 12 reasons why you should visit Myanmar and feel free to leave a comment at the bottom. Tell us about your own travels there or why you'd love to go.
1. You can explore magnificent Bagan
The sheer amount of temples, pagodas and stupas situated in Bagan is mind blowing; there are over 2000 religious monuments remain for you to explore when you visit. Set off each day with a tour guide, or rent an e-bike and create your own adventure and be mesmerised by the scale of this famous archaeological site.
2. Join a cycle tour with Grasshopper Adventures
What better way to explore Myanmar than as part of a cycle tour organised by Grasshopper Adventures, one of the leading adventure tour operators and sustainable travel experts in the region. The tour entitled, 'Bagan to Salay Off The Beaten Path' took us to remote villages, local pagodas, pristine countryside and along the Ayeyarwaddy River as we meandered our way from Bagan to Salay. The local guides were excellent, as were the bikes, and we got to experience the true warmth and friendliness of the local people of Myanmar along the way. Definitely something not to be missed.
3. Take a boat trip on the Ayeyarwaddy River
Running through the heart of Myanmar, the Ayeyarwaddy River has been the lifeblood of the country for hundreds of years providing vital trade routes to link cities and villages along its length. There are many ways to experience this river which flows into the Andaman Sea, from luxury multi-day cruises to hopping on a local ferry to take you from one side to the other.
4. Head back in time when you visit Salay
Located on the eastern banks of the Ayeyarwaddy River and just 20km from Bagan is Salay where you can step back in time whilst wandering the deserted streets. With over 50 monastries it remains an important religious centre. Its riverside location allowed it to flourish over the years as a trading post and you can still see signs of the past by visiting the 19th century monastries and some beautiful examples of untouched British colonial buildings. Visit Salay House which dates back to 1906 but has been lovingly restored, giving a wonderful glimpse into the colonial past of this town. Guests can browse their shop, choose to dine next to the river or even stay the night and enjoy a breathtaking sunset view from the balcony.
5. Be in awe of Shwedagon Pagoda
No visit to Myanmar is complete without a visit to the incredible Shwedagon Pagoda which is located west of the Royal Lake in Yangon. Over 2500 years old, this hugely impressive religious site is the most sacred stupa for the Buddhist population of Myanmar. You can mix with the locals and marvel at the gold and diamond encrusted beauty which towers above you. Shwedagon Pagoda really has to be seen to be believed and offers the ultimate 'wow' factor for visitors.
6. Enjoy a vegan Cantonese meal at Summer Palace in Yangon
Myanmar isn't well known for it's cuisine internationally and it's common to hear people complaining about food being too oily but there is some amazing food to be found. We're vegan and had no problems trying the local cuisine as well as some great international food during our visit. Shangri-La Hotels and Resorts around the region have proved to be some of the most vegan friendly luxury hotels that we have visited and their excellently located Yangon property was no different. There was even a fully vegetarian menu in their Summer Palace Cantonese restaurant which included many vegan dishes.
7. Relax on Ngwe Saung Beach
When planning a trip to Southeast Asia many people will want to spend some time at the beach and Myanmar has some real gems for you to discover. Ngwe Saung Beach is easily reachable by bus or private taxi in around 5 hours from Yangon. Facing the Bay of Bengal, it boasts 15km of pristine and palm fringed sand where the dramatic sunsets are the perfect way to end a sun soaked day of relaxation.
8. Let the chef create vegan delights at Moat in Mandalay
Mandalay was once the royal capital of Mandalay and is now a modern and developing city which offers a diverse mix of old and new to its visitors. See sights like Mandalay Hill and Kuthadaw Pagoda, 'the world's largest book', before heading to Moat, the signature restaurant at the newly opened Hilton Mandalay. With a stylish and modern design and extensive beer and wine list, it's the perfect place to spend the evening with friends (take in views of the Royal Palace which is opposite too) . The existing menu was not very vegan friendly but after speaking with the restaurant manager and chef we were treated to a really memorable meal. Go here for vegan versions of local Myanmar dishes and Indian influenced cuisine that were flavour packed and delicious.
9. Visit Inle Lake for a glimpse of traditional Shan life
Recently rcognised by UNESCO as a world biosphere reserve, Inle Lake is a serene expanse of water located in Shan State. Expect to see villages made up entirely of stilt houses and floating gardens where a variety of produce that will end up on your plate is grown. Try to coincide your visit with one of the local markets which move from village to village during the week and make sure to spend time cycling around the lakeside villages to meet some wonderfully friendly local people who are keen to show you their way of life.
10. Experience vegan fine dining at The Refectory
Sanctum Inle Resort is a stunning luxury property overlooking the vast and mesmerising Inle Lake, it would be easy to lose days if not weeks here contemplating life. During your stay be sure to dine at The Refectory where dishes celebrate Shan culinary art and feature the freshest of organic vegetables that are grown on site. There were plenty of menu items that were either suitable for vegans or easily adapted, however be sure to ask the chef for his set vegan menu; we guarantee you will not be disappointed.
11. Celebrate one of the craziest New Year festivals in the world
Time your trip to make sure you can enjoy the festivities during 'Thingyan', or Burmese New Year, and you will be sure to have a once in a lifetime experience. This Buddhist festival lasts for 4 to 5 days during which time people take to the streets and party like nothing you've ever seen. Water is thrown at passers by, sprayed from hoses, pools and water guns by men, women and children alike. Expect to get very wet and end up dancing to local pop music in front of one of the hundreds of stages that appear everywhere, even in the smallest villages. Fun guaranteed.
12. Support a fantastic environmental initiative that has just launched in Myanmar
There is a growing understanding of the damage caused by single use plastic with everybody talking about how we need to change our habits. In Myanmar they are leading the way by partnering with the team who created 'Refill Cambodia' to launch their own scheme in Myanmar that encourages people to stop using plastic water bottles and use only refillable and reusable planet friendly bottles. It's great to support positive schemes like these when you travel!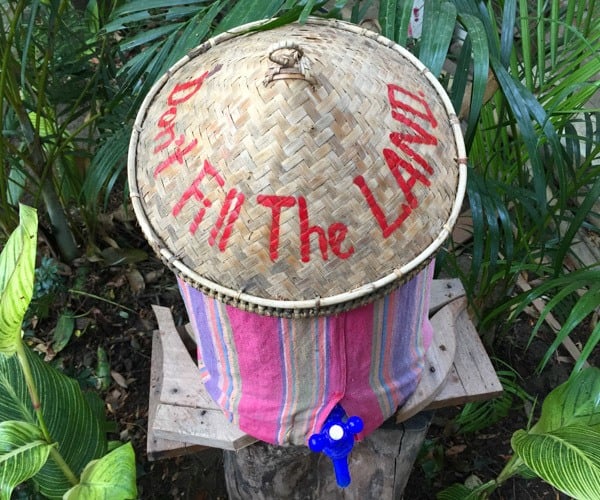 We loved Myanmar and our 12 reasons why you should visit Myanmar were some of the highlights from our recent trip there. We loved it so much that we're already planning to return so we'd welcome any suggestions of where we should visit on our next Myanmar adventure; comment below and tell us what you think.
Paul Eyers is Founder of Vegan Food Quest. Vegan Food Quest have become luxury vegan travel specialists as they continue to find, eat and write about the best vegan food in the world.
If you would like to be a guest blogger on A Luxury Travel Blog in order to raise your profile, please contact us.