By
Nick Kontis
on Aug 02, 2018 in
Accommodation
,
Bars
,
Clubs
,
Going Out
,
Hotels
,
New York
,
North America
,
Regions
,
Restaurants
,
USA
Midtown Manhattan is the epicenter for visitors to New York City. The bright lights, and massive billboards selling everything from fast cars to the latest Star Trek flick. Globally, the imagery of the Big Apple exists between the confines of Times Square continuing along Broadway Theatre District culminating two blocks away at world's most revered urban green expanse Central Park.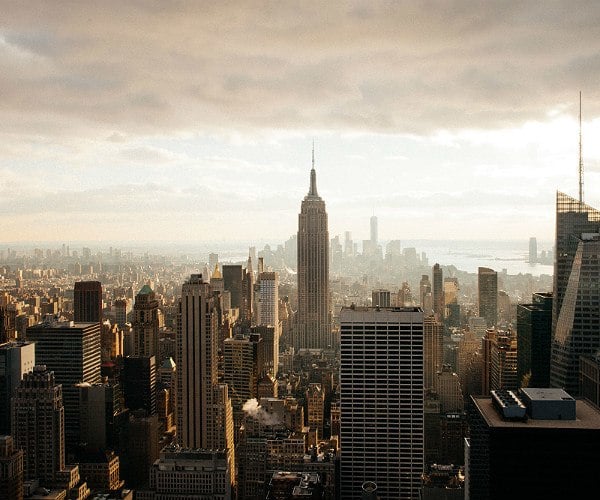 There are around 275 hotels in New York City, and nearly half of those properties are along the central
tourist's crossroad of Midtown and around its borders. The luxe-boutique hotel scene is as varying as its museums, food options, nightlife, and architecture.
From classic holdovers, swanky luxurious hotels or seductive and striking lifestyle properties, catering to high-end travelers, families, business visitors or weekend revelers, here are four hotels to explore on your next visit to the city that ever sleeps.
LUMA Hotel
The recently opened contemporary boutique LUMA Hotel's central yet quiet West 41st location is a
stone's throw away from Bryant Park and ideally situated just off of the delirium of Times Square. As you enter LUMA's unassuming entrance, you notice the illuminated blue wall in front of the modest check-in area lobby. The modernistic property boasts attention to every last detail, in a contemporary design. Soft, soothing lighting ups the ante on style.
The cozy rooms come with Frette linens and bathrobes, smart televisions, an ample amount of USB ports to stay connected, Nespresso coffee machines to remain caffeinated and a well-stocked mini-bar. The remote electronic shades are a worthy amenity allowing limited light or blacked out for a soothing
night's sleep.
Don't miss: Ortzi Restaurant
The Luma signature eatery, Ortzi Restaurant is the inspiration of renowned James Beard award-winning Iron Chef and Food Network personality Jose Garces. The restaurant focuses on Basque home cooking. Garces and his master chef de cuisine Michael Han put a focus on small plates, cooking in cazuelas, traditional Basque dishes prepared in terra-cotta clay pottery.
The menu includes Chuleta, a Wagyu Sirloin Steak, braised oxtail and an assortment of crudos, of raw beef, tuna, and hamachi, or the traditional cockles with Spanish chorizo. For the ultimate tapas experience, there is the chef's four-course tasting menu.
Omni Berkshire Place
A hotel with a storied past, a refined vibe from a bygone era, the Omni Berkshire, conveniently situated on 52nd Street between lies between Madison and 5th Avenue. The 398 room historic building is as timeless today as its storied 1926 opening. The property is designed to provide guests with a residential intercity townhouse feel.
The hotel has 44 suites available to guests. Theater aficionados will marvel at the Rodgers & Hammerstein suite, where the two Broadway icons collaborated on their epic masterpiece "Oklahoma!" in 1942.
Don't miss: A classic steakhouse in New York
Since it's inception in 2016, Bob's Steak & Chop House has been a favorite haunt of local Manhattanites and hotel guests. Bob's continues the rich tradition of ostentatious dining in a warm, comfortable, sophisticated environment. The traditional American steakhouse is a lively hangout where bartenders serve heavy pours from an extensive wine list and selection of single malts. Exquisite prime cuts of steaks, chops, and seafood, Bob's ups the guest experience by delivering simple elegance and quality dishes.
The Pierre Hotel
Since 1930, opulent travelers have been gracing the luxurious Pierre Hotel. The stellar Central Park property is mired deep in New York's illustrious 20th-century folklore and in 1991, The Pierre was bestowed a landmark property by the New York preservation committee.
A hotel with a storied past, the preferred residence of fashion icons Coco Chanel (who stayed at The Pierre during her very first visit to New York), Valentino, Hubert de Givenchy, Yves Saint Laurent and Karl Lagerfeld. Valentino Designer Giancarlo Giammetti resided in the private co-op residences here, while Tory Burch is a current resident. Al Pacino danced the Tango in the film Scent of a Women in the Pierre's Cotillion Ballroom.
A hotel from a bygone era, the out of this world property offers 150 rooms and 49 decked out suites. Dressed to the nines, white-gloved elevator attendants transport you to and from your living quarters.
The Rotunda in the now Taj Hotel property is a hand painted elegant space hand painted by The hotel's most iconic space, The Rotunda, was hand painted by renowned American artist Edward Melcarth in 1967 and completely restored in 2016. Lobby artwork is a reflection of Taj Hotels' rich Indian heritage. Signature pieces include a 100-year old hand-woven paisley Pashmina shawl from Kashmir and "Untitled" by renowned Kashmiri artist GR Santosh, a poet, novelist and self-taught artist who converted from Islam to Hinduism for love.
Don't miss: Refined French-American dining at Perrine
If not for its dignified Central Park location and grandiose dining room, you might think that you've entered a Thomas Keller run Michelin star eatery in Yountville in the Napa Valley.
Star executive chef Asher Biju's modern takes on time-tested, elegant vintage Perrine classics with his modern-day twists keeps guests returning for more. Chef Biju dazzles with his take on beef Wellington which is pure pleasure on a plate. The Coq au vin that sums up slow, and home cooked French comfort dates to the opening menu in 1930.
Mondrian Park Avenue
Consistently catering to a fashionable and discerning clientele, Ian Schrager's legacy lives on at the luxury lifestyle Mondrian on Park Avenue in the hip NoMad neighborhood east of Midtown Manhattan. As one would expect from a Morgan's Hotel Group property, the boutique hotelier creates an invigorating visual experience through the use of designer furnishings, and soft lighting while blending in quirky touches include Ara Stack's painted statement piece that morphs the lobby area adjacent to soft earth tone floor to ceiling velvet drapes.
The 189 contemporary Phillipe Starck designed rooms and suites come with oversized rain shower heads, Ciel spa amenities, ample sized smart televisions, and a well-stocked minibar complete with "create your own cocktail" kits.
Adjacent to the ground floor lobby is the Mondrian is the signature eatery Cleo restaurant manned by SBE hospitality group and spearheaded by culinary mastermind Danny Elmaleh. The multi-cultured Moroccan-Japanese cook lends his concept on Eastern and Southern Mediterranean region.
Don't miss: In-house nightlife
The original structure was once a 15-story office building. Fifteen Stories is the name of the intimate rooftop bar and lounge that continues outside to an outdoor wraparound terrace with ample seating along with quintessential views of the Manhattan skyline making for a relaxing daytime hangout and as the sun sets attracts a vibrant crowd in the evening.
If you fancy partying late into the night, the hipster hangout subterranean Yours Truly nightclub located in the basement of the Mondrian, as is the swanky Never Never lounge with plush leather couches in an oversized comfortable room.
Moxy Times Square
Upon first look at Moxy Times Square, you might think that you're in chic SoHo. Moxy Hotels is Marriott International's new millennial-focused brand. Located a few blocks south of the premiant city center, the Moxy is everything modern luxe travelers crave. With an impressive 612 design driven rooms, boasting a large variety of living spaces and created for guest that need to stay connected with state of the art technology.
The bespoke property is flirtatious, bold, young at heart and on the cutting edge. Yabu Pushelberg design-driven bedrooms include large walk-in rain showers. Bedrooms intermix style with functionality. The rooms are thoughtful, comfy spaces multipurpose custom furniture can be folded and tucked to create a larger living space.
Bar Moxy Lounge and meeting studios on the second level engulf the needs of the modern day explorer to ear, work, play or just a casual destination to hang out. Bar Moxy's copper wrapped bar and lighted by a triple atrium serves as the central meeting place of the hotel.
With more chill spaces to lounge around than found in most properties, Moxy offers a fresh perspective on New York's Midtown epicenter. You're a stone's throw from the electricity of the endless assortments to possibilities to eat and play.
Don't miss: Magic Rooftop Bar & Lounge
There's something about a rooftop bar with awe-inspiring downtown skyline views, including the illuminated Empire State Building, which draws in modern luxe-travelers and locals alike. Run by the Tao group who seemingly have a monopoly on hip nightlife and entertainment venues in a city that knows how to party.
The space is massive, and at 10,000 square feet, it is New York's most extensive indoor-outdoor rooftop bar and lounge. The posh and playful area is more like "Disneyland for adults." The whimsical all year hangout has "fun" written all over it. Each section of the layout has an immersive design including carousel seating, a fanciful topiary garden, and Foreplay, a putting green with carnival-like animals in mischievous poses. Bar bites include a succulent Maine lobster and duck carnitas tacos.