Barcelona is one of the most unique and beautiful cities in Spain, and being part of Catalonia, it has a distinctive language, cultural background, cuisine and a large handful of wonderful landmarks, nine of which are UNESCO World Heritage Sites.
UNESCO stands for 'United Nations Educational, Scientific and Cultural Organisation' and each year, this organisation collates a World Heritage List to recognise unique landmarks as having cultural, historical, scientific or another form of significance, and these are legally protected by international treaties.
So, whether you're an architecture expert or just want to see some of the most amazing and exciting structures in the world, these beautiful buildings by Catalan Modernist architects Antoni Gaudí and Domènech i Montaner are well worth stopping by for a visit when in Barcelona
Sagrada Família
UNESCO World Heritage Site since: 2005
Arguably the most important and incredible structure that Barcelona has to offer is, of course, the Sagrada Família, not only for its size, design and intricate modernist features, but also due to the fact that it has been in construction for over 130 years – longer than the Egyptian Pyramids took to build!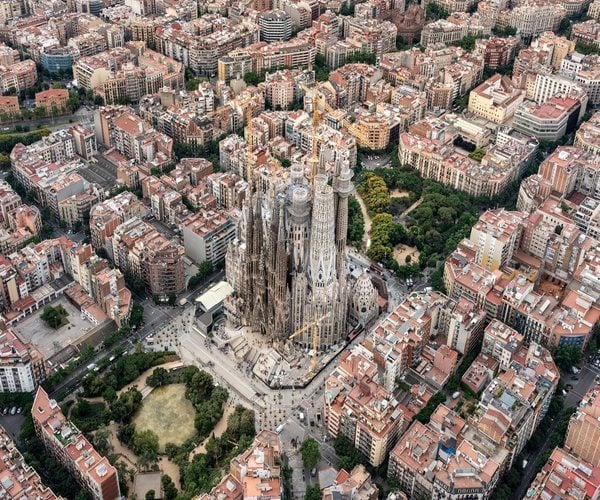 Its unique exterior is nothing like anything else in the world and its interior is as equally as breathtaking! A fun fact is that Gaudí disliked straight lines, as they don't occur naturally, and instead preferred curves, texture, and shapes. He once quoted that 'nothing is art if it doesn't come from nature', and when you enter the basílica and look up, the columns undeniably resemble trees with branches!
Although there is no exact set date for the completion of the construction of the Sagrada Família, it is currently estimated that it will be finished around 2026, 100 years after Gaudí's death.
A trip to Barcelona is truly incomplete without a visit to the iconic Sagrada Família… everybody knows that!
Address: Carrer de la Marina 41, 08013 Barcelona
Palau de la Música Catalana
UNESCO World Heritage Site since: 1997
While exploring the labyrinthine streets of the El Born neighbourhood, you may stumble upon something quite unexpected but incredible. The Palau de la Música Catalana is another of Barcelona's most impressive structures, and due to its location, it offers an interesting contrast with the simpler buildings that surround it.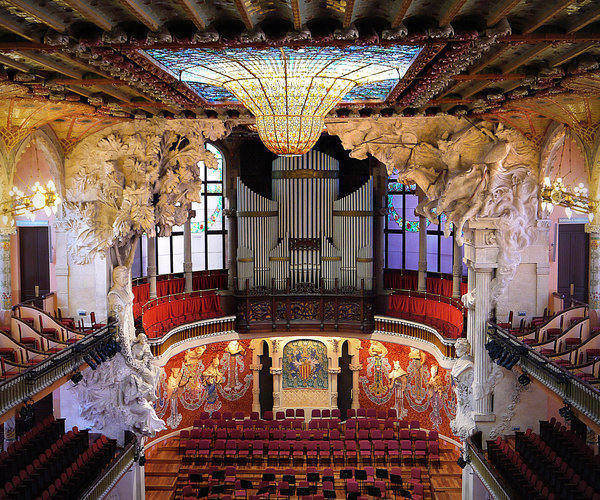 Designed by talented architect Lluís Domènech i Montaner, the Palau de la Música Catalana is an architectural jewel of the Catalan Art Nouveau, and is the only concert venue in this style to be listed as a UNESCO World Heritage Site. Boasting a whopping 2,146 seats, the Concert Hall area is probably the largest and most well-known space in the Palau and has the most incredible ornate stained-glass roof, which is definitely the most iconic part of its interior.
It is easy to understand why the Catalan people take pride in this building and describe it as representative of their open minded and forward thinking spirit. When you visit, be sure to take the time to look up at the glass ceiling, as it's certainly a sight not worth missing!
Address: Carrer del Palau de la Música, 4-6, 08003 Barcelona
Park Güell
UNESCO World Heritage Site since: 1984
A trip to Park Güell offers a serene escape from the hustle and bustle of Barcelona city centre, as well as an in-depth look at the signature styles of this famed architect. From the moment you enter the park it is evident that you have stepped into Gaudí territory, due to the exciting spectrum of coloured mosaics, unusually shaped rooftops, curved benches and an overall naturalist feel.
A fun fact about Park Güell is that it was in fact never finished, as it was initially intended to be a housing estate. The complex conditions for sale of the plots, under old lifetime leasehold contracts, the lack of a suitable transport system and the highly exclusive character of the development all contributed to making the housing estate venture unviable. The park thus became a large private garden, which was used for public events, while it began to appear in tourist guides to Barcelona as one of the top attractions of the city.
The focal point of this UNESCO World Heritage Site is the main terrace from where breathtaking views of the city await you. Park Güell offers a relaxing way to unwind as you look out over the beautiful cityscape, the Mediterranean Sea and of course, the vivid designs that surround you!
Address: Carrer d'Olot 5, 08024 Barcelona
Casa Batlló
UNESCO World Heritage Site since: 2005
Another wonderful design by Gaudí, this grand house exhibits intelligence, creativity, and diversity. Situated on the famous Passeig de Gràcia next to Casa Amatller, Casa Batlló was opened to the public in 2002, just 16 years ago. Characterised by its skeletal structure, colourful façade and curved roof, adorned with tiles that resemble the scales of a reptile, this structure is unlike anything else you will see in the city.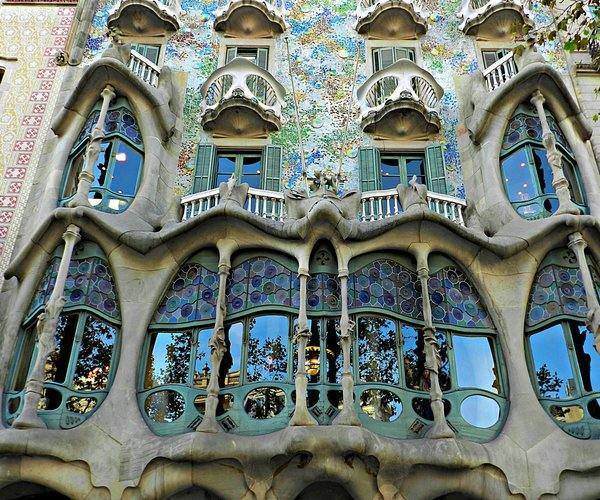 It is quite simple to assume that Gaudí was inspired by nature when designing Casa Batlló, similarly to his other projects. The house has an 'alive' feel, from its cosy mushroom fireplace, to the loft ceiling resembling a ribcage. From this, it is easy to see that the famous architect loved to replicate the beauty of life. Many people also believe that the colourful metallic tiles in Casa Batlló and rigid arches of the roof are supposed to represent the legendary dragon of Patron Saint Sant Jordí.
Casa Batlló's structure gives the building a local nickname of 'Casa dels ossos' (House of bones) due to its very original architecture: the balconies resemble fragments of skull with openings for the eyes and nose. The columns on the first floor take the shape of human bones and many other details of the facade resemble a skeleton – a truly unique building!
Address: Passeig de Gràcia 43, 08007 Barcelona
Hospital de Sant Pau
UNESCO World Heritage Site since: 1997
Situated on the border of Eixample and the El Guidarnó district of Barcelona, the Hospital de Sant Pau is a complex built between 1901 and 1930, designed by Catalan art-noveau architect Domènech i Montaner, the genius also behind the grand architecture of the Palau de la Música Catalana. It was a fully functioning hospital until June 2009, but today is an icon among Barcelona's dazzling array of landmarks. The breathtaking garden, mosaics and artwork make a visit to this architectural marvel an absolute must when visiting the city.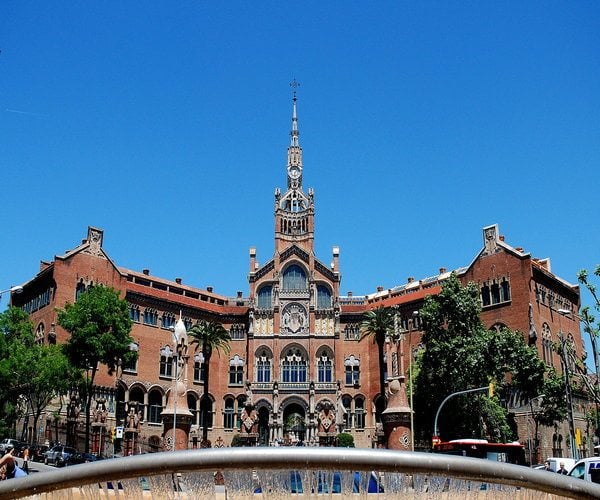 The complex consists of 27 red brick pavilions with colourful, ceramic roofs, although its most emblematic part is the huge entrance building that homes the iconic clock tower. A visit to this incredible collection of buildings allows you to dive into history, art and of course, architecture.
There is an exhibition space that takes you on a journey through the history of medicine in Barcelona as you embark on an adventure into one of Europe's oldest healthcare institutions. The exhibition explains how the hospital was run in its early days, the kind of medicine that was used there, and what 20th century Barcelona was like – worth a visit if not for the architecture, but for the history lesson as well. To make the most of your day, visit the Sagrada Família then stroll along Avinguda de Gaudí to reach the Hospital de Sant Pau!
Address: Carrer de Sant Quintí 89, 08041 Barcelona
La Pedrera/Casa Milà
UNESCO World Heritage Site since: 1984
La Pedrera, also known as Casa Milà, is one of the fantastic buildings constructed in the early 20th Century and is another one of Gaudí's earlier masterpieces. With not a single wall inside built in a perfectly straight line, Casa Milà is a unique place to experience Gaudí's unusual architectural style. Located on the grand Passeig de Gràcia, this unique landmark is located just a short distance from Casa Batlló.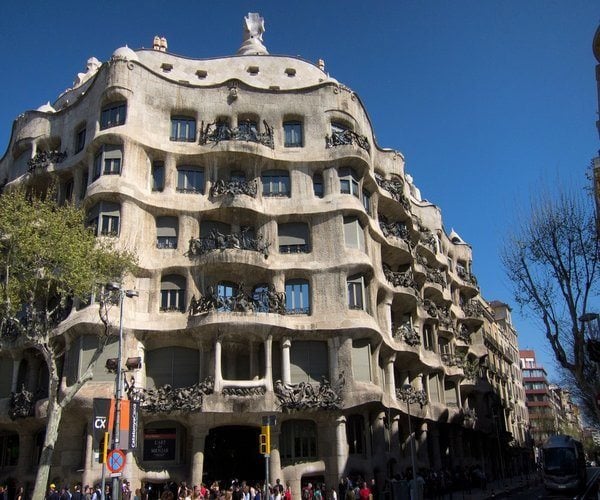 The building was once the mansion of wealthy businessman, Pere Milà i Camps, who commissioned Gaudí to design his family's house in 1906. It was later nicknamed La Pedrera, meaning "the quarry", because of its rough, open quarry-like appearance.
This UNESCO World Heritage Site was in fact the last residential building designed by Gaudí and is one of the finest examples of the legacy he left to the city, as well as being one of the most important buildings of the 20th century. Today, La Pedrera is the headquarters of the Fundació CatalunyaCaixa and is also used as a cultural centre which organises many events, art exhibitions and tours throughout the building itself, as well as the city of Barcelona.
Address: Carrer de Provença, 261-265, 08008 Barcelona
Palau Güell
UNESCO World Heritage Site since: 1984
Located just off Las Ramblas, on Carrer Nou de la Rambla, the luxurious Palau Güell is one of Antoni Gaudí's earliest works as well as being one of the most magnificent buildings of the 'Art Noveau' movement. The building was the home of the Güell i López family until they moved to Park Güell. Gaudí designed a functional palace in order to adapt to the family's needs in both their private life and the intense cultural and social life they led.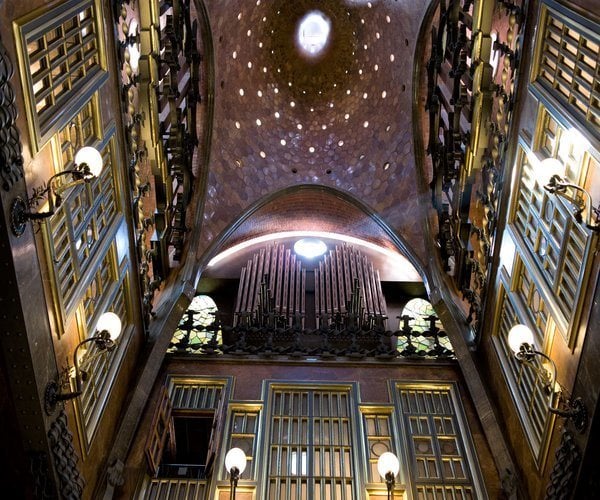 The choice of location is slightly unusual, as a large proportion of the bourgeoisie were setting up home in the new and upcoming Eixample district. Due to this, the building's Modernist-style façade truly stands out and contrasts with the smaller, more simple houses in the Raval neighbourhood.
Palau Güell is built with stone coated with marble and decorated with hand carved wood and iron and is a magnificent example of the early days of Gaudí's fevered architectural imagination. Pay extra close attention to the magnificent iron detailings that decorate the entrance. Although this is a lesser-known Gaudí landmark, it is most certainly worth visiting when in Barcelona!
Address: Carrer Nou de la Rambla 3-5, 08001 Barcelona
The Crypt of Colonia Güell
UNESCO World Heritage Site since: 2005
Another lesser known, but equally incredible structure designed by Antoni Gaudí is the Crypt of Colonia Güell. Although not in central Barcelona, this masterpiece still counts as one of the city's nine UNESCO World Heritage Sites and is situated in a picturesque town 23km South-west of Barcelona called Santa Coloma de Cervelló.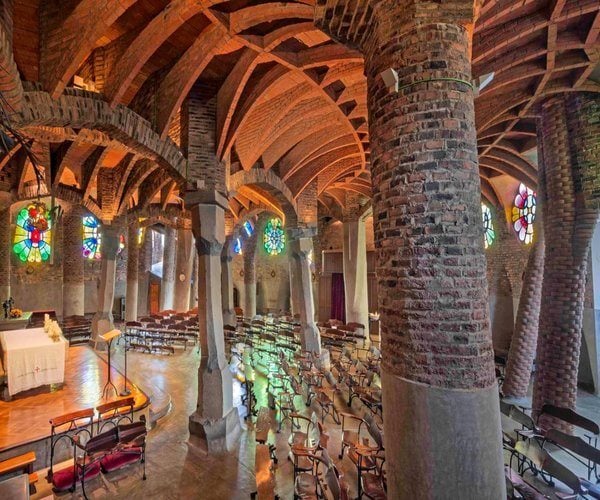 Gaudí's patron, Eusebi Güell, imagined creating an industrialised colony that would be able to support the lives of his workers and their families. The Güell Crypt was intended to be Gaudí's experiment for his architectural innovations that he would later apply to Sagrada Família. Like in any architect's perfect dream, Gaudi was given total freedom and unlimited budget to build the church. He seized the opportunity and developed extensive plans for a magnificent Modernist church, with his trademark non-linear columns, characteristic archways and decorative elements.
Gaudí's original plans, which can be seen in the nearby visitor's centre, included two naves and a 40m high central dome. Unfortunately, funds dried up and in 1914 and the project was left unfinished. However, the completed crypt is truly spectacular, with breathtaking stained glass windows, and intricate ceramic mosaics like those found in Park Güell.
Address: Carrer Claudi Güell 6, 08690 Santa Coloma de Cervelló
Casa Vicens
UNESCO World Heritage Site since: 2005
Casa Vicens is a private residence located in the Gràcia district and was Gaudí's first major commission in Barcelona, although arguably one of the least well-known. Gaudí planned out Casa Vicens between 1883 and 1885 for its first owner, Manel Vicens i Montaner, who hired the young architect to conjure up his first house in Barcelona.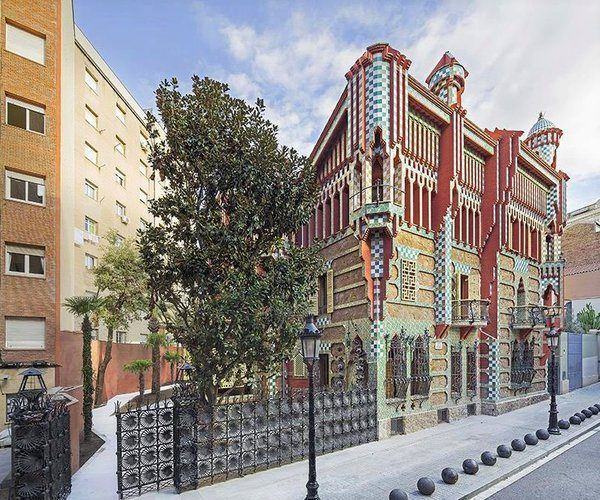 He was specifically commissioned by Vicens I Montaner to design a summer house for Vicens i Montaner, and this he most certainly did! A fantastically lush garden with waterfalls and fountains first adorned the outdoors, while the exterior and interior walls of the Casa were decorated with nature-inspired motifs.
The magnificently unique structure is characterised by intense, bright colours (mostly green, red and white) and floral patterned tiling with yellow blooms and bulbs. The home was built with red-coloured bricks, undressed stone, and vivid ceramic tiles, using Oriental and Eastern styles as inspiration. The style of Casa Vicens is a reflection of Neo-Mudéjar architecture, a popular style that can be seen throughout Gaudí's other works. What's more, the building only opened its doors as a museum to the public in November 2017, so this is one of Barcelona's newer tourist attractions – get there before everybody else does!
Address: Carrer de les Carolines, 20, 08012 Barcelona
Sandra Roig is Marketing Director at AB Apartment Barcelona. AB Apartment Barcelona is an apartment rental agency offering over one thousand short and long term apartments across Barcelona.
If you would like to be a guest blogger onA Luxury Travel Blogin order to raise your profile, pleasecontact us.