I admit when I arrived here in New Zealand more than 20 years ago, food was not something that impressed me or many people travelling from overseas. There was a time when the New Zealand dinner was based on a Sunday Roast with potatoes and wedge, sausages on a BBQ, or some fish and chips from the nearest takeaway. Thankfully most "Kiwis" have become more adventurous in our tastes and there has been a revolutionary move towards innovative and our own unique cuisine, thanks to a new generation of ethnic chefs.
1. The global recognition
…the world is finally taking notice… The Robb Report called us the next Food Capital in the world. Bloomberg states that Auckland is Becoming a Global Dining Powerhouse. And eight of New Zealand's finest restaurants have been named among the world's best. The restaurants were included on La Liste's 1000 outstanding restaurants for 2017, double the amount from the year before. The French Café in Auckland scored the highest marks, and Sidart is among the top 1000 in the world, for the second time. Auckland attracts more than 2.6 million international visitors each year, and tourist numbers have grown almost 8 per cent annually over the last five years—with no signs of slowing.
2. Farm to table – fresh and accessible 
…is nothing new in New Zealand, where long-standing agricultural traditions are finally translating to world-class cuisine. Innovative chefs make clever use of tasty ingredients freshly harvested from the garden, land and sea so that – accompanied by award-winning wines – the New Zealand gastronomic experience is amongst the best in the world. Restaurants are increasingly turning their attention to organic, free range, gluten- and allergy-free deliciousness. " There is a big movement towards supporting smaller, local producers who are committed to the ethical treatment of livestock.
3. New trend following a change in global attitude
… is a growing awareness of organics, food origin and healthy choices which is driving a move towards locally-produced goods and today there is less focus on prolific production and more on quality, refinement and originality." Lifestyle changes are the obvious reason for people drinking less alcohol, with more focus on healthy living. Our consumers require complete and total transparency from food and drink companies and flexible and balanced diets will become integral elements of self-care routines.
4. Culinary innovation and cultural diversity
…has helped earn New Zealand's reputation as an exciting fine food destination for discerning foodies. It is the fusion of unique, quality produce and ethnic influences that have allowed the Kiwi food identity to evolve… New Zealand's famous geography gives its food scene a distinct advantage. There are 213 ethnicities in New Zealand and as the Maori, Pacific and Asian populations will continue to have a younger median age than other population groups, will show also in what we eat. Auckland has become one of the most innovative culinary destinations in the South Pacific—rivaling even Sydney and Melbourne. Although Wellington is known as New Zealand's 'Culinary Capital', Auckland punches well above its weight, with both home-grown and international chefs bringing a cosmopolitan vibe to the city's foodie scene.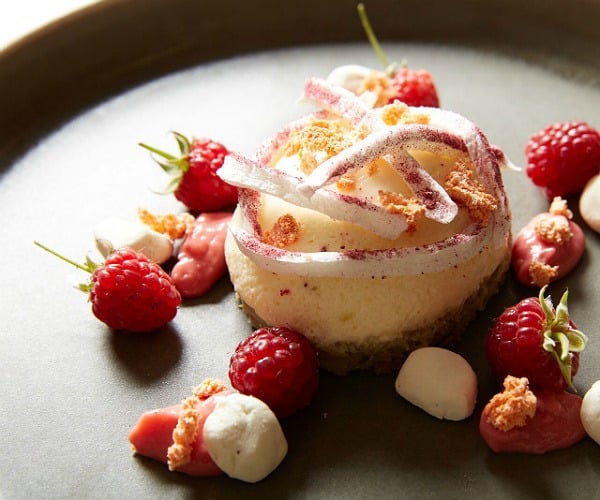 5. Plentiful and fresh seafood
..with more than 15,000 kilometres of coastline provides a wealth of seafood throughout New Zealand. Local specialities include crayfish in Kaikoura, Bluff oysters in Southland, greenshell mussels in Marlborough, and whitebait patties on the West Coast. The uninitiated might like to start with the soft texture and mild taste of scallops from The Coromandel.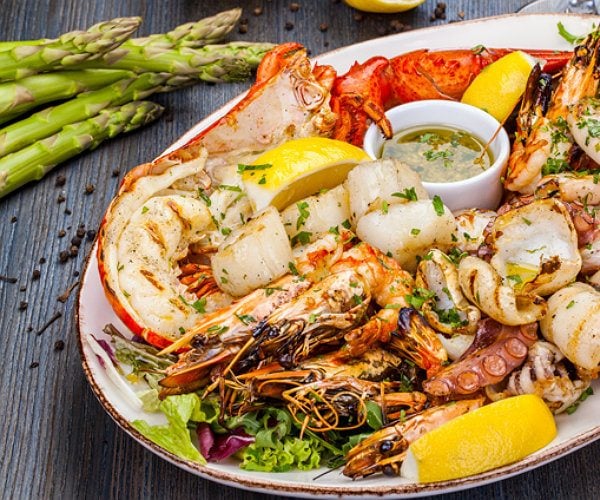 • Kaikoura is the crayfish/lobster capital of New Zealand. To taste the freshest 'catch of the day', try the Kaikoura Seafood BBQ – a beachside shack that feeds hordes of hungry visitors to the nearby seal colony.
• New Zealand accounts for over half of the world's production of king salmon. Of all salmon species, the king salmon offers the highest natural oil content of Omega-3s which benefit both heart and joint health. In Tekapo, Mt Cook Alpine Salmon, at 677m above sea level, is the highest salmon farm in the world
• Green-lipped mussels are easily distinguished from other mussels by the dark green shell with a bright green lip that it is named for. You can get these mussels pretty much anywhere in New Zealand all year around, but it's best to have them at the source around Marlborough, where 80 per cent of New Zealand's mussel production is based.
• Pāua (the Māori word for abalone) is a popular New Zealand delicacy. The most common way to eat pāua is to have it minced into a fritter. Pāua fritters can be purchased from most "fish and chip" shops around the country.
• Large, plump and juicy, New Zealand oysters have earned a reputation as some of the finest in the world. Bluff is the home of oyster production in New Zealand and holds the Bluff Oyster Festival every May.
What you should also to know
• Coffee is an obsession in New Zealand, especially in the cities. We drink it strong and fresh – the Kiwi flat white has become world-famous. Simply ask the locals where to find a good brew. Coffee is a staple of the kiwi diet and backbone of the 9-to-5 working life. As a result, New Zealanders are connoisseurs of their favored black beverage. New Zealand coffee connoisseurs will go a long way to get their daily caffeine fix and favoured cafés can be anything from a 'hole-in-the-wall' or mobile outlet just big enough to accommodate a good coffee machine and its skilled operator, to stylish venues with lounge-style seating serving gourmet treats and meals. Wellington, New Zealand's capital, is a city obsessed with coffee; it also happens to have the highest concentration of cafes in the country.
• Craft beers are a growing phenomenon in New Zealand, and microbreweries can be found all over the place, especially Wellington, Nelson, Christchurch and Auckland. You'll even find specially brewed ale at Hobbiton Movie Set's Green Dragon Inn, in Matamata. Everything you need to know about drinking beer in New Zealand, from the top craft brewery experiences to ticketed events.
• New Zealand's strong dairy industry has allowed the rise of some highly skilled cheese makers. Taste handmade blue, vintage and soft cheeses; favourite local brand "Over the Moon" has won the world champion cheese contest. If you don't have time to seek out an artisan cheese store, pick up a wedge from the supermarket, or better yet, order a cheese platter when you go wine tasting.
• New Zealand's Scapegrace Gold gin has been named the best London dry gin in the world at the International Wine and Spirits Competition. Scapegrace Gold took out the London Dry Gin trophy 2018 in London, beating more than 600 other gins to take out the supreme award, which had a 50 per cent increase in entrants from last year.
Veronika Vermeulen is Director of Aroha New Zealand Tours Ltd. Aroha New Zealand Tours Ltd. has been offering 100% tailored journeys and private guided luxury experiences in New Zealand since 2000.
If you would like to be a guest blogger on A Luxury Travel Blog in order to raise your profile, please contact us.