When travelling to Peru, it is almost inevitable that you will fly into Cusco and visit the iconic site of Machu Picchu. A few days exploring the charming city of Cusco is recommended before heading towards the ancient citadel. In order to get there, one must travel through a region known as the Sacred Valley. Many travellers opt to stay either in Cusco or Aguas Calientes (the small town at the foot of the mountains in which Machu Picchu resides), skipping the Sacred Valley entirely, but this remarkable area is well worth a visit. Thanks to its unique climate, the valley is lush with vegetation, multicoloured flowers bloom all year and a shy sun keeps the temperature mild. It is also home to a host of Inca ruins such as Ollantaytambo, Moras, Moray and many more which are all well worth exploring. After a busy few days haggling at the markets in Cusco or hiking though the Andes, it is the perfect location to spend a night or two relaxing. Here are 5 of the best luxury hotels located within the Sacred Valley;
1. Inkaterra Hacienda Urubamba
The Inkaterra Hotel in Urubamba, one of the central villages of the valley, is charming and peaceful with spectacular views across the mountains. The building itself is imposing upon arrival, yet guests will be pleased to find a spacious and sumptuously decorated interior, which is extremely well facilitated with a full spa, gym, wonderful gardens and a restaurant which serves Andean inspired dishes.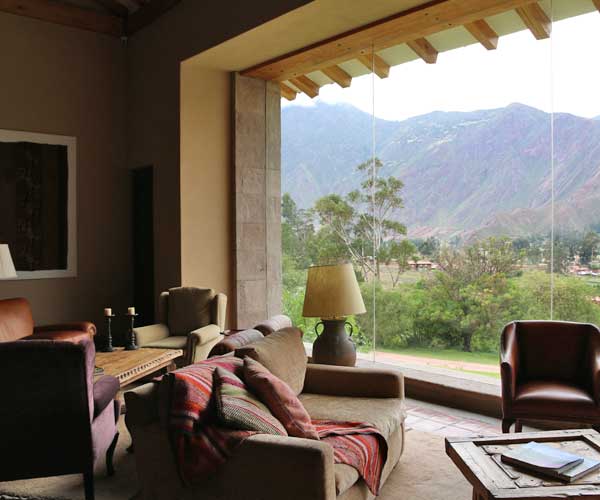 Outside of the quiet and relaxed property, a myriad of activities can be organised by the concierge including horse riding, hiking, birdwatching and more. Contemporary artwork, antique furniture and modern amenities combine to make this one of the most luxurious places to stay.
2. Explora
The ever-expanding Explora hotels group have recently opened this new property and it is, without a doubt, one of the most architecturally outstanding buildings in the whole of Peru. Sharp lines and simplicity are at the design core of this hotel, along with a focus on luxury.
If you still like to be close to the history of the region, the grounds house a variety of colonial houses and buildings which have been transformed into a stunning spa and pool area. Personal, private guides are provided for every guest, a long menu of activities is on offer and with all meals and activities included, there is little that guests will want for during a stay.
3. Belmond Rio Sagrado
As far as locations go, this hotel has one of the best in the whole valley. On one side runs the Urubamba river, and the other, the train line linking Cusco to Machu Picchu, making it extremely accessible. The rooms are specious and comfortable, with views over the river and private balconies.
The onsite spa has a long list of treatments, there is an outdoor dining area, fire pit and the hotel even has its own pet alpacas which guests can feed twice a day! With every luxury one could ask for, this is a great option for a trip to the Sacred Valley.
4. Sol y Luna
Immaculate gardens surround this authentic property, which is centrally located in the valley making it a great base from which to explore. The private casistas are spread out in the grounds, all offering supreme comfort, including hot tubs with mountain views for the highest room category. Elsewhere, an extraordinary collection of artwork is on display in every public room, giving this hotel the edge when it comes to sheer style.
There is a gym, sauna, jacuzzi and spa available for guest use, the ideal place to have a therapy using locally sourced ingredients. Two fine restaurants are located within the grounds, one of which is modelled on a ranch and an impressive horsemanship show is put on twice a day for diners. Quirky, charming and unique, the Sol y Luna property is certainly not to be overlooked.
5. Tambo del Inka
This contemporary hotel is perfect for those seeking all the glitz and glamour of a large hotel, mixed with the relaxing surroundings of the valley. Rooms are huge, with every facility one could want, and tasteful decoration throughout. The property also boasts a beautiful spa, full gym and gardens, plus a restaurant which serves dishes which are Andean fusion.
The friendly staff are happy to help organise trips to the surrounding attractions, often giving advice on how best to spend your time. Excellent for families an couples alike, Tambo del Inka is a top choice for when visiting the Sacred Valley.
Simon Williams is Director of Humboldt Travel. Humboldt Travel is a luxury travel company specialising in tailor made holidays to Latin America.
If you would like to be a guest blogger on A Luxury Travel Blog in order to raise your profile, please contact us.