By
Michael Edwards
on Sep 12, 2018 in
Attractions
,
Cruises & Boat Travel
,
Europe
,
Events
,
Food and Drink
,
Germany
,
Going Out
,
Regions
,
Speciality Travel
,
Travel Miscellany
,
Western Europe
You don't get a soaring aspirational Skyscraper Skyline without earning it, without packing a punch. Nick-named Manhattan-am-Main, or Mainhattan, Frankfurt's been at the heart of Europe for many, many centuries.
Big deals are signed at the Frankfurt Book Fair – don't even think of getting a hotel room then – and many Germans read the hugely influential Frankfurter Allgemeine to learn what or what not to think. While Zeil, the street leading into the MyZeil Mall, has just become Germany's highest grossing retail thoroughfare.
Money, money, money
It is symbolic that in The Bull and Bear sculpture outside The Frankfurt Stock Exchange, The Bull is dominant and much larger. He represents optimism and soaring share prices. Meanwhile the neurotic Bear cowers away from market fluctuations.
It is appropriate too that Frankfurt is home to the European Central Bank. It was in Frankfurt that the Emperor Charlemagne, over 1200 years ago, had the innovative idea of a single currency for his European Empire. If money's your thing then Frankfurt has a Money Museum open Monday to Friday. As well as the exhibits you can listen to some heavyweight lectures on monetary policy.
Skyline views
Once Frankfurt hosted Skyscraper Festivals but security concerns seem to have scuppered that event and currently there are no plans in place for another festival.
But nothing beats a Skyline Suite at the 99 metre high Jumeirah Hotel with floor-to-ceiling picture windows. Wake-up in the morning, push the bed-side button to open the curtains, and as the sun rises enjoy the ever-changing show of yellow, orange and red reflections. Then, in the evening, enjoy the light show.
Architecture
With its own Museum of Architecture you sense that creative design is important to this city of geometric patterns of glass and steel. Photographers frame jet-trails in snatches of blue sky between the soaring towers.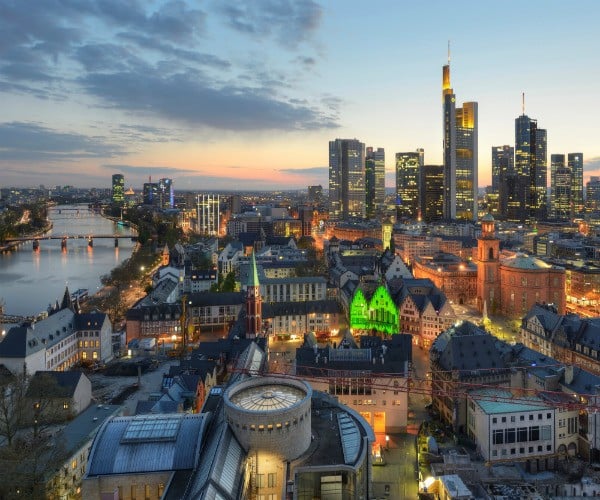 The 56-storey, 200-metre tall Main Tower is Frankfurt's highest vantage point open to the public. One of its tenants is a television studio and the weather reporter frequently gives his forecasts from the top of the building providing spectacular views over the River Main – after which the tower is named.
Old meets new
It may be a dynamic gleaming city but essentially Frankfurters blend old and new. They like to preserve the past. Come Friday evening they'll happily sit on a rustic wooden bench sipping traditional Apple Wine.
In an affluent cosmopolitan city where 50% of people are from somewhere else Frankfurters hold on proudly to their dialect and their regional heritage. They are a modest, punctual law-abiding people who will wait for a green light before crossing the road even if the next Volkswagen is 5km down the road.
Take a river cruise
When the first stone bridge was built in 1223 it was the only reliable crossing point of the Main River for a radius of around 50km: a key point for trade and traffic between Northern and Southern Europe.
Cruising down the river gives a sense of Frankfurt's importance. On the Northern Bank the Rent Tower was built to collect the tolls that made Frankfurt a rich city in the Middle Ages and Renaissance times.
The Green Sauce Festival
Frankfurt folk take Green Sauce very, very seriously. If you are an outsider, you just have to nod seriously and listen whilst they debate the best recipe. Every chef has his own version. Every May, when the herbs are at their freshest, there is a Green Sauce Festival.
Parsley, chives, chervil, borage, sorrel, garden cress, and salad burnet are all non-negotiables. Controversy rages over whether to add sour cream, oil, vinegar, mustard, salt and in what quantities. Consequently, green sauce with hard-boiled eggs and potatoes is a tasty option for vegetarians.
The new Old Town
On two nights in May 1944 Allied bombing raids reduced Frankfurt's Old Town to rubble. For 60 years much of the site remained empty until an Architecture Masters student, in 2004, dared to suggest rebuilding the Old Town.
Pre-War, Frankfurt's timbered Old Town was the best preserved and most visited in Germany, so there were plenty of photos to inspire the recent €200 million restoration project that officially opens in late September 2018.
The Goethe industry
Goethe was an 18th Century superstar: critic, poet, novelist, playwright, theatre director, scientist and statesman. On top of that as an amateur artist, he also found time to draw over 3,000 sketches.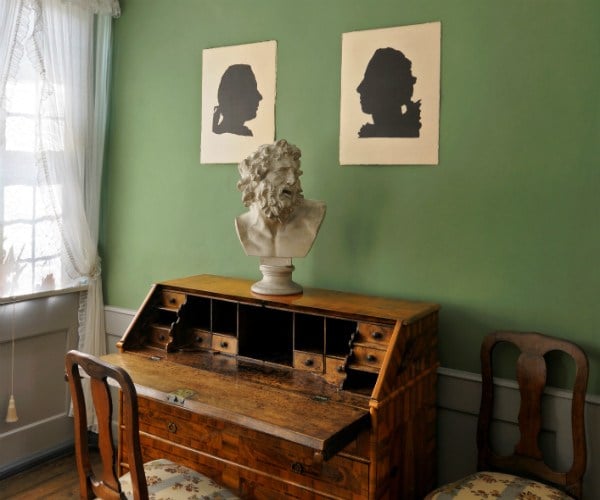 Visit Goethe's House to get some ideas of the scope of Frankfurt's thriving Goethe Industry: books, lectures, prints and tours.  Your guide will point out the ivy-framed study window from which Goethe Senior anxiously watched his young son. He need not have worried.
The Museum Festival
The Museums come thick and fast on Frankfurt's South Bank – The Städel art gallery, The Film Museum, The Communication Museum and The Sculpture Museum.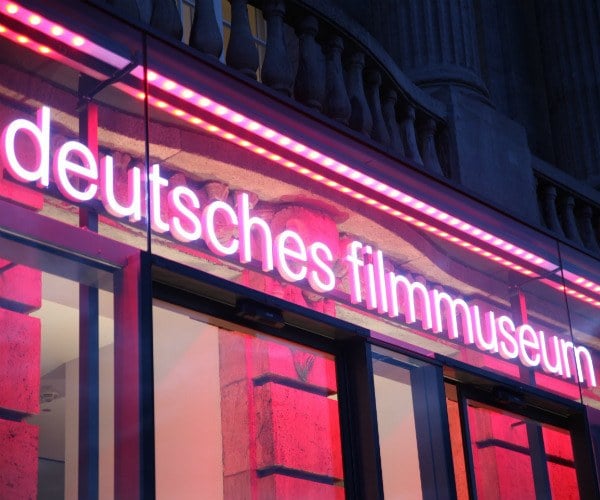 In the last weekend in August around 2 million visitors are drawn to Frankfurt for the Museum Festival where stalls selling food and drink, as well as providing music, are interspersed between the museums.
Christmas markets
Bratwurst, mulled wine and marzipan candles are essential accessories for the Christmas Markets that set-up in late November.
Since the first recorded Christmas Market in 1393 new traditions have evolved: the towering Christmas Tree, giant two-metre high Gingerbread men plus 50 chiming bells from 10 churches.