Secret squares in Barcelona
Barcelona
's squares are best found when stumbled upon at random. They're places of beauty, filled with eateries, bars, and people who like to watch the world go by. There are several popular squares in Barcelona, but if you look a little further you can find even more treasures waiting to be discovered. So next time you come to Barcerlona, why not try and find these lesser known Plazas in the city…
Plaça de Sant Josep Oriol
Home to flower shops, scattered boutiques, and an artistic market at weekends,
Plaça de Sant Josep Oriol
is the perfect place to truly take in Barcelona's past and present. The square runs parallel to the
Basílica de Santa Maria del Pi
and due to its central location, many use it as a point of passage to other places! However, amidst the flow of people there are many historic and artistic details to be discovered, as well as fantastic food and delicious drinks!
Plaça del Rei
Plaça del Rei
contains one of the city's best examples of its Medieval past,
The Conjunt Monumental.
Indeed the royal palace,
Palau Reial Major,
and its surrounding buildings enclose this peaceful square which takes visitors all the way back to the 13th century.
Plaça del Rei,
it seems, has been untouched by time.
Although it doesn't have a large number of bars and shops, this square is the perfect place for history and architecture enthusiasts. So rich in history is Plaça del Rei that many companies also offer a guided tour with the aim to unravel all the many secrets of the square…
Plaça de Sant Felipe Neri
Situated in the Gothic Quarter,
Plaça de Sant Felipe Neri
presides by the baroque church from which it gets its name. Despite being in the extremely busy Gothic neighbourhood, the square has an unusually quiet ambiance. Alas, the school next to the church has marks from the many bombs that fell from the sky in January 1938, during the Spanish Civil War. The painful memories contrast today with the peace of the shady spot and unlike most squares in the city,
Plaça de Sant Felipe Neri
provides a perfect place to reflect and escape the hustle and bustle of the city.
Plaça de la Vila de Gràcia
Once an independent village,
Gràcia
offers a maze of quaint and quirky streets. And hidden between these streets are some of Barcelona's most charming squares. Our favourite,
Plaça de la Vila de Gràcia.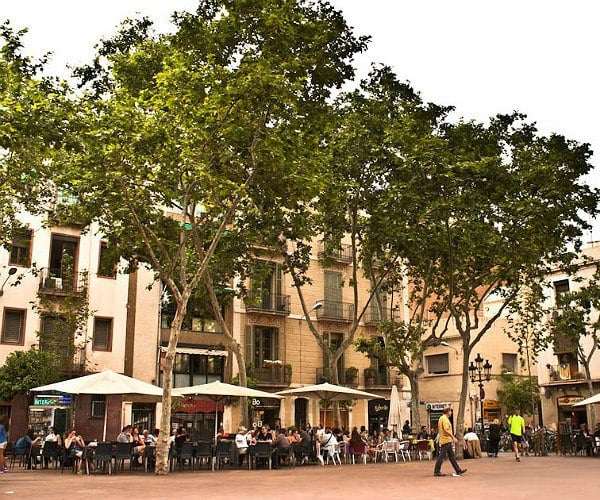 Today, this square still holds
Gràcia's
clock tower and town hall, offering its visitors history as well as charm. The square is buzzing with cafes, small shops, and terraces, full with locals sitting back and watching the world go by. Without a doubt,
Plaça de la Vila de Gràcia
is well worth a visit for a coffee or a glass of vermouth and some patatas bravas, in order to really understand local life in Barcelona.
Plaça de la Barceloneta
Although many consider the neighbourhood of
Barceloneta
one of many tourists, some corners have resisted and managed to maintain their authentic essence. At
Plaça de la Barceloneta
, you can find the perfect place to relax after a long beach day. Unwind in this fisherman's quarter with a glass of wine and delicious seafood dishes, just a stone's throw from the Mediterranean Sea… Pure bliss.
Sandra Roig is Marketing Director at AB Apartment Barcelona. AB Apartment Barcelona is an apartment rental agency offering over one thousand short and long term apartments across Barcelona.
If you would like to be a guest blogger onA Luxury Travel Blogin order to raise your profile, pleasecontact us.
Did you enjoy this article?
Receive similar content direct to your inbox.