By
Kim Robertson
on Oct 15, 2018 in
Africa
,
Asia
,
Caribbean
,
Honeymoons
,
Leisure Travel
,
Maldives
,
Mauritius
,
Regions
,
Seychelles
,
Thailand
Congratulations… you are engaged.
Now the excitement of planning your big day lies ahead. Lots to think about and do, maybe plenty time, maybe not, but whatever, it will come round much quicker than you are expecting it, and that is a fact. It just seems to creep up on you! As well as all the planning and preparation for the big day itself, I am sure your mind has already wandered to thoughts of sun-kissed beaches, sipping cocktails while watching the sunset, dipping your toes in the ocean or whatever it is that makes you both tick.
I would like to share with you some fabulous honeymoon destinations where your biggest worry will be what drink you are ordering next.
Firstly some advice – planning is key! As well as being realistic about your budget, and what you can afford. Remember, your honeymoon may well be the most significant holiday you will take, let's make sure it is perfect.
Here are my 5 top picks to consider for a memorable Honeymoon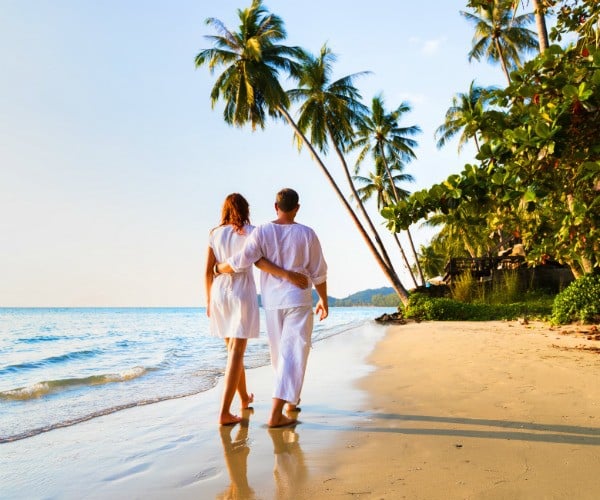 The top of many people's bucket list for honeymoon is the idyllic Maldives. Consisting of 1,192 coral islands grouped in 26 atolls, The Maldives is spread over roughly 90,000 square km, making this one of the world's most dispersed countries. The atolls are composed of live coral reefs and sand bars, situated atop a submarine ridge 960 kilometres long which rises abruptly from the depths of the Indian Ocean and runs north to south.
Maldives is the lowest country in the world, with a maximum natural ground level of only 2.4 metres above sea level. More than 80 per cent of the country's land is composed of coral islands which rise less than one metre above sea level. As a result, the Maldives are at high risk of being submerged due to rising sea levels. The UN's environmental panel has warned that, at current rates, sea level rise would be high enough to make the Maldives uninhabitable by the year 2100.
Maldives are a perfect honeymoon destination, which crystal clear lagoons and powder soft white sand, but with over 120 island resorts to choose from, how do you know which one is suitable for you? Very much will depend on your budget, with many of the top luxury resorts costing over £1000 per night! There is so much choice in standards, comfort and facilities available, that it is really important to choose your island carefully, to meet your own expectations. Many resorts offer private villa accommodation with pools for extra privacy, although most people's idea of the Maldives is a villa on stilts over the water.
Caribbean
This remains the No1 spot for newly-wed couples to head to for some sun, sea, sega and pampering. There are numerous luxury resorts which look after you're every need, with personal butler service, in room or villa dining, special candlelit dinners on the beach.
Situated mainly on the Caribbean Plate, between USA and south America, the region comprises more than 700 islands, islets, reefs and cays.
The geography and climate in the Caribbean region varies: Some islands in the region have relatively flat terrain of non-volcanic origin. These islands include Aruba, Curaçao, Barbados, Bonaire, the Cayman Islands, Saint Croix, the Bahamas, and Antigua. Others possess rugged towering mountain-ranges like the islands of Saint Martin, Cuba, Hispaniola, Puerto Rico, Jamaica, Dominica, Montserrat, Saba, Sint Eustatius, Saint Kitts, Saint Lucia, Saint Thomas, Saint John, Tortola, Grenada, Saint Vincent, Guadeloupe, Martinique and Trinidad and Tobago.
The waters of the Caribbean Sea host large, migratory schools of fish, turtles, and coral reef formations. The Puerto Rico Trench, located on the fringe of the Atlantic Ocean and Caribbean Sea just to the north of the island of Puerto Rico, is the deepest point in all of the Atlantic Ocean, and the region sits in the line of several major shipping routes with the Panama Canal connecting the western Caribbean Sea with the Pacific Ocean.
It is important to note (particularly if you are planning a summer honeymoon), that Hurricane season is from June to November, but occurring more frequently in August and September, and more common in the northern islands of the Caribbean.
With such a huge choice of islands available, each with their own draw, it is important to make sure you choose the once most suitable for your expectations and budget – or how about a cruise, stopping at several different islands and giving you a feel for your favourites.
Mauritius
One of my favourite destinations is the beautiful emerald island of Mauritius, surrounded by crystal clear lagoons and protected by a coral reef, this is becoming a much more popular destination, and perfect for celebrating you're honeymoon.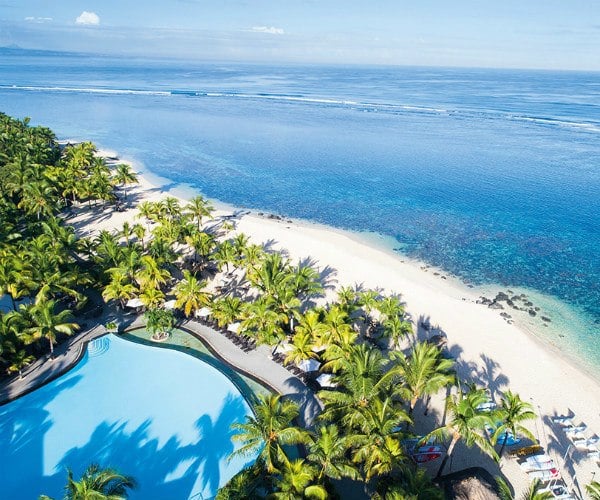 The Republic of Mauritius is an island country in the Mascarene archipelago of the Indian Ocean, located 2,000 kilometres off the southeast coast of Africa.
Mauritius features an extensive range of mountains and rock formations with a central plateau that is 400 metres above sea level. It is a melting pot of cultures, having been occupied and influenced by the French, Dutch, Portuguese, Arabs and British.
It is 65 km long and 45 km wide, with a land area of 1,864.8 km2. The island is surrounded by more than 150 km of white sandy beaches, and the lagoons are protected from the open sea by the world's third-largest coral reef, which surrounds the island. Just off the Mauritian coast lie some 49 uninhabited islands and islets, several used as natural reserves for endangered species. Did you know that the now extinct Dodo was a native of Mauritius, and is still home to some of the world's rarest plants and animals?
It is typically tropical in the coastal regions with forests in the mountainous areas and has only 2 seasons: a warm humid summer from November to April, with an average temperature of 24.7 °C and a relatively cool dry winter from June to September with an average temperature of 20.4 °C. The warmest months are January and February with average daily temps of around 29.2 °C (84.6 °F) and the coolest months are July and August with average overnight minimum temperatures of 16.4 °C. Annual rainfall ranges from 900 mm (35 in) on the coast to 1,500 mm (59 in) on the central plateau. Although there is no marked rainy season, most of the rainfall occurs in summer months (November to April).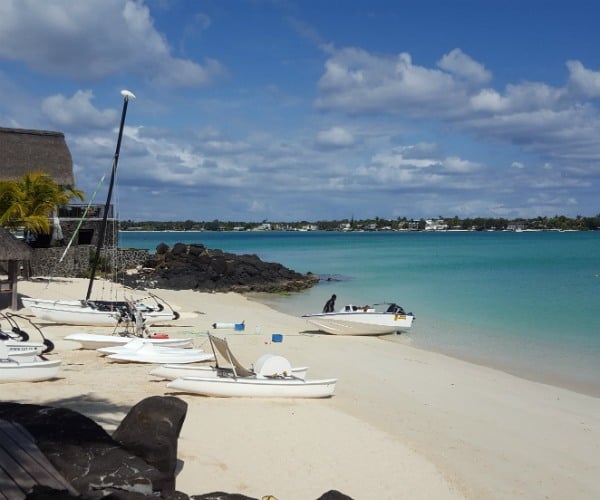 There are some incredible hotels on this island, and service is of an exceptionally high standard, and your holiday here can be as active or as relaxing as you choose, with incredible spa's, stunning powder white sand beaches, an array of water-sports of offer at most hotels, and a host of sightseeing and adventure activities available for the more active – it also offers some great opportunities for shopping.
Thailand
The land of smiles is also a great place to start married life. Accommodation standards are high, there are some incredible beaches, spa's and the food is to die for. The scenery and back drop of limestone cliffs is nothing short of spectacular.
Totalling 513,120 square kilometres Thailand is the 50th-largest country by total area.
It comprises several distinct geographic regions. The north of the country is the mountainous area of the Thai highlands, with the highest point being Doi Inthanon in the Thanon Thong Chai Range at 2,565m above sea level. The northeast, Isan, consists of the Khorat Plateau, bordered to the east by the Mekong River. The centre of the country is dominated by the predominantly flat Chao Phraya river valley, which runs into the Gulf of Thailand. Southern Thailand consists of the narrow Kra Isthmus that widens into the Malay Peninsula.
Thailand's climate is influenced by monsoon winds – the southwest and northeast monsoon. The southwest monsoon, which starts from May until October is characterized by movement of warm, moist air from the Indian Ocean to Thailand, causing abundant rain over most of the country. The northeast monsoon, starting from October until February brings cold and dry air from China over most of Thailand. In southern Thailand, the northeast monsoon brings mild weather and abundant rainfall on the eastern coast of that region. Most of Thailand has a "tropical wet and dry or savanna climate". The south and the eastern tip of the east have a tropical monsoon climate. So basically it rains a lot and is VERY hot! The hottest time of the year (March to May), temperatures usually reach up to 40 °C or more with the exception of coastal areas where sea breezes moderate afternoon temperature.
Thailand is a fabulous place to experience incredible hospitality, food and culture, and of course see the Asian Elephant, which is Thailand's national symbol. Just make sure you only visit ethical elephant parks, as many elephants used in the tourist trade are abused and kept in very poor conditions.
Seychelles
Talcum powder beaches, topaz blue waters, lush greenery and giant boulders are what we think of when we imagine the Seychelles. An ideal honeymoon destination – laid back, tropical islands with a hint of unpretentious luxury.
Republic of Seychelles is an Island nation, archipelago country in the Indian Ocean, northeast of Madagascar and situated 1500 east of mainland Africa (Kenya), and were uninhabited throughout most recorded history. The archipelago consists of 115 islands, the majority of which are still uninhabited, with many dedicated as nature reserves
A transit point for trade between Africa and Asia, the islands were occasionally used by pirates until the French began to take control starting in 1756. The British controlled the islands between 1794 and 1810, and in 1976, Seychelles were granted Independence as a republic within the Commonwealth, and it is now a member of the African union.
The climate is equable, but humid, with very little variation throughout the year. With lows of approx. 24 in July and August, to highs of 32 in March and April, most of the islands lie outside the cyclone belt, so high winds are rare.
About as close to paradise perfection as you can get, these islands provide an aquatic treasure trove of whale sharks, manta rays, turtles and schools of exotic reef fish. On land, there's a charming slow-motion island vibe, and the sheer diversity of endemic birdlife and flora and fauna is just extraordinary. So for some of the best beaches and luxury hotels in the world, you may wish to consider a trip to the Seychelles for your honeymoon destination.
Kim Robertson is Director at Your Way (Travel) Ltd. Your Way (Travel) Ltd. specialises in long haul, tailor-made, cruise and luxury travel to the USA, Caribbean, Indian Ocean and Far East.
If you would like to be a guest blogger on A Luxury Travel Blogin order to raise your profile, please contact us.