By
Alfonso Tandazo
on Nov 16, 2018 in
Adventure Travel
,
Argentina
,
Attractions
,
Bolivia
,
Brazil
,
Chile
,
Ecuador
,
Going Out
,
Peru
,
Regions
,
South America
,
Speciality Travel
Upmarket travelers are combining of epic adventure activities with unrivaled comfort. By now it's become clear that luxury travelers are no longer satisfied with routine sightseeing, perhaps returning to their hotel for a massage. More and more it's about "experiential travel". Upscale vacationers seek to participate in unforgettable activities, getting out and about for a more authentic feel for their destination. Then too, who can deny the importance of returning home with well-deserved bragging rights after having literally "swam with the sharks" or made contact with a remote indigenous Amazonian tribe?
Looking at such adventure options from here in South America, we've come up with a short list of five innovative explorations that fit perfectly with some of our handpicked luxury accommodations.
1. Patagonia horseback riding tours
The vast and rugged landscape of Patagonia is painted with blues, greens and silver, as granite spires, glacier lakes, snowcapped mountains and daisy-filled meadows rob one of all words. Along with its pristine scenery, Patagonia is home to its own particular and legendary gaucho culture. Their horsemanship knowledge, as well as their passion for their land, enriches any traveler's experience in Patagonia. In this strikingly scenic region, visitors — novices as well as experienced riders alike — can experience the excitement of trotting and cantering through the Andes or across the steppe.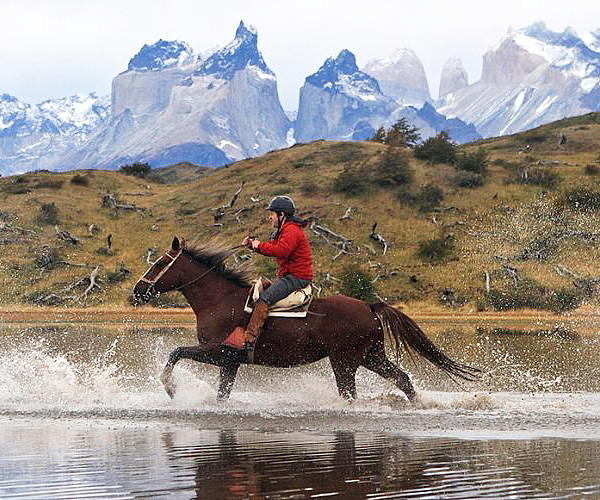 On daily horseback excursions offered at the best Patagonia lodges, you can head out each morning through majestic Chilean or Argentine mountains on a horse from your lodge's stable. In fact, there are few better ways to be actively introduced to the breathtaking scenery of the Southern Cone than by mounting up on a tough mountain horse specifically bred for this terrain. These steeds are friendly, easy-going, sure-footed and have plenty of stamina, while all of the best riding tours are led by experienced multilingual guides.
With awe-inspiring views of mountains and waterfalls, an all-inclusive Patagonian lodge is an ideal base for experiencing horseback riding through the pristine southern wilderness. Offering sleek eco-conscious design, the construction of the top-rated lodges is based on essential luxuries, allowing travelers to experience this remote region in its essence – without distractions.
Stomach grumbling? Try some freshly caught trout or venture into your lodge's barbecue area for a spit-roast lamb prepared by Patagonian gauchos, and sample varietals of the best Argentina or Chilean wine. Wind down at your lodge's bathhouse, which sometimes features a swimming pool and always provide stunning vistas. After a full day in the saddle, revel in the sublime comforts of home.
2. Galapagos diving cruises
Located off Ecuador's Pacific coast, the Galapagos Islands are, of course, where Charles Darwin came up with his theory of evolution. Little has changed in these islands since Darwin came up with that theory, and countless mammals, reptiles, and birds continue to flourish here.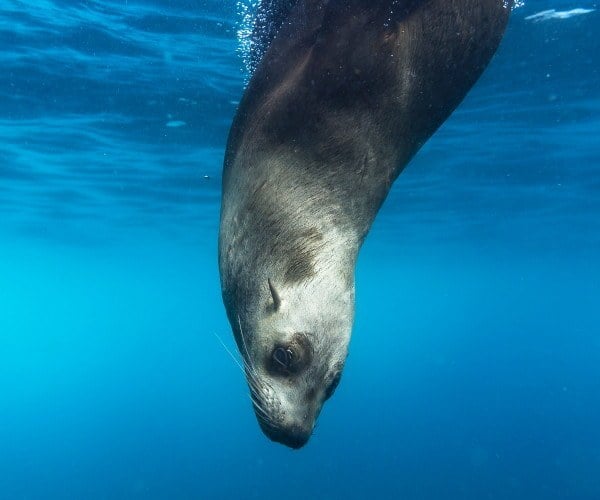 As this is a destination where protected marine mammals have no fear of humans, welcoming sea lions will swim up to you just to hi. Due to all this and more, Galapagos scuba diving can be found on almost every diver's bucket list. The waters surrounding the Galapagos Islands are a world of wonder for scuba divers from around the globe. Whether you are looking to explore Galapagos from a liveaboard or with a land-based dive operator, a Galapagos diving tour will be an amazing experience and a true adventure as this Pacific marine reserve remains one of the most pristine areas on the planet for diving.
For novice divers or even snorkelers, it's impossible to avoid bumping into one of those curious sea lions, who are always anxious to meet newcomers. At the same time, you'll be surrounded by brilliantly colored schools of reef fish and possibly distracted by a huge green sea turtle gliding by or a majestic Manta in underwater flight. More experienced divers and those seeking an adrenaline rush will also find the sharp-toothed variety of underwater life amazing. In the Galapagos, you can count on hair-raising diving experiences with entire schools of scalloped hammerheads, menacing Black-tipped reef sharks, docile White-tipped reef sharks and elusive Galapagos sharks once you to take the plunge.
While you're out enjoying the day's underwater extravaganza, your ship's chef will be preparing delicious meals that feature savory island seafood and sumptuous international cuisine. Returning on board, a luxury liveaboard diving ship will also offer you the chance to warm up in an upper-deck Jacuzzi, or lounge in the ship's living room in an overstuffed sofa before savoring your gourmet meal. Smart accommodations include stylish cabins with en-suite bathrooms and private balconies for simply watching the archipelago's spectacular scenery pass by.
As such, the adventure of viewing astounding underwater creatures combined with the creature comforts of your ship make for an undeniably tempting mix.
3. Exploring the Amazon
Imagine trekking beneath the jade-green Amazonian rainforest as a slow-moving sloth looks down at you perplexed. Picture yourself climbing up an observation deck positioned high above the rainforest's treetops for an astounding opportunity to spot brilliantly colored toucans in flight or troupes of raucous Howler monkeys foraging in the distance. Now see yourself paddling along blackwater jungle creeks to tease piranhas, or participating in a spiritual cleansing ceremony by an indigenous shaman. The jungle is an overwhelming shock to the senses.
All of this adventure can be experienced while staying at one of the luxury Amazonian lodges that have emerged over the last couple of decades. In this exotic rainforest setting, a whole range of adventure activities are combined with comfortable suites, high-quality personal service, the very best naturalist guides, and delicious dining.
Activities at these lodges include rainforest hikes, exotic wildlife watching, authentic contacts with remote indigenous communities, and nocturnal caiman-spotting canoe trips. Plus, all of these adventures can be customized according to the traveler's specific interest.
To help travelers spot the often elusive Amazonian wildlife, as well as to truly grasp Amazonian culture and the way of life of its inhabitants, top-notch naturalist tour guides are an integral part of these lodges. These tour leaders are key in promoting the natural cultural and heritage, and at the same time impressing on visitors the significance of the sites, communities and creatures that you experience.
The lodges themselves offer spacious and comfortable cabins with private en-suite bathrooms equipped with rainforest showers, ceiling fans, private balconies, and fantastic views. For parents with children, family suites are available, with each of these cabins including amenities such as extra spacious rooms and private tubs.
In addition to the comfortable suites, these lodges have their own restaurants that serve delicious local and international dishes that can be savored in tandem with beautiful jungle- and lagoon-side views. At the end of a day of primal Amazon exploring, turn in for the night by slipping under luxury linen while surrounded by the orchestra of sound of the jungle night.
4. Trekking the Inca Trail to Machu Picchu… in style
Three- to five-day treks through the legendary Sacred Valley of the Incas to Machu Picchu citadel is a magical adventure. Such a historical journey high into the Andes will hold special memories that will remain with you for the rest of your life.
Typically, this demanding yet rewarding hike requires hauling a fully loaded backpack through this mountainous setting for up to up seven hours daily; then, at the end of each day, travelers roll out their sleeping bags to get a little sleep in their tents after heating up their meal over a campfire.
For travelers who seek the same emotional high from this inspiring adventure — but with substantially more comforts and led by the most experienced guides — a luxury Inca trail tour program has been designed. On this trek, travelers hike along a route that takes them from upscale lodge to upscale lodge.
While still enjoying a challenging trek each day, each evening these adventurer/guests can enjoy all the comforts of a luxury hotel, including fine Argentine wine, sumptuous meals, relaxing piping-hot showers, and welcoming common areas where you can kick back and relax with a nightcap. A key ingredient of this program are the guided cultural excursions that take you on authentic village visits and to sacred sites in the Sacred Valley and the highlands above. In this program, all guests are accompanied by a certified local guide, while porters employed from the local area securely transport your luggage, food and cooking equipment. Freed from such hassles of travel, your focus will be on experiencing the very best of the near-mythical Machu Picchu and Sacred Valley.
5. Self-driving across the Uyuni Salt Flats
One of the top adventure experiences in all of South America is exploring the mesmerizing Salar de Uyuni salt flat. Here, a thick crust of polygonal patterns of salt extends into the horizon, covering over 4,050 square miles to make this the world's largest salt flat. The result is one of the most extreme and remarkable vistas in all of Latin America …if not the planet. Added to this, at certain times of the year, nearby lakes overflow to form a shallow film of water that transforms the flats into a stunning mirror of the sky – an effect that must be experienced by any adventure traveler.
But when thinking of experiencing a Uyuni salt flat adventure, why not consider renting a car instead of booking with a tour group? What you'll find are several benefits to going this route. For one, any traveler who has ever rented a car knows how much freedom is gained by being able to stop wherever you want, making your home wherever you park. In addition to this freedom, you can be more flexible in terms of the duration of your trip. While package tours usually extend two or three days, car rental allows you to stay for as long as you want – crisscrossing the salt flat to experience this amazing destination to its fullest. Along the way, you'll meet local people who will help you with your journey, creating chances to learn more about each other's culture! Indeed, staying a little longer at each place provides you the added luxury of making connections that you often don't build when traveling in a tour group.
As for salt flat accommodations, some of the best hotels in Uyuni are actually made of salt! Impossible? Not really. Not only is everything in these hotels made from salt — from the ceilings to the furniture — but these hotels are also known for their great service, dramatic views and excellent facilities. You'll even find that one of these salt hotels is a 5-star luxury lodge. Yet all of these hotels are ideal bases from which to explore the Salar de Uyuni. Add to this the fine wining and dining that's offered, and what you'll have is a number of spots where you can comfortably turn in after a long day on the road.
In short, if you're seeking unforgettable adventure complete with all the bells and whistles, think South America!
Alfonso Tandazo is President and CEO at Surtrek Tour Operator. Surtrek Tour Operator is a well-established firm, specializing in custom-designed luxury tours in Ecuador, the Galapagos and throughout the rest of South America.
If you would like to be a guest blogger on A Luxury Travel Blog in order to raise your profile, please contact us.