Sun, sea and sand – the three "Ss" that characterize Greece as a tourism destination. As that may be correct, there is a fourth "S" that is missing from the sequence – Snow. Yes, although that may come as a shock to many travelers, Greece is one of the most mountainous countries in Europe, as 80% of it consists of mountains. For this reason, it is safe to assume that Greece has villages high up in the mountains that will knock your socks off!
Our top 5 winter picks for this year are to inspire and have you think of Greece as an all-year-round destination. If the 12 Gods of Olympus chose a mountain as their home, you can choose Greece as your winter holiday home too!
Tzoumerka, Pindos
Tzoumerka is considered to be the most imposing mountain range of Pindus which is an impressive complex of mountains, mountain ranges, gorges and ravines. The natural wild beauty of Tzoumerka is further enhanced by the two magnificent rivers that encircle it, Arachtos and Acheloos. Visitors will have the opportunity to enjoy the nature at its fullest and for those whose adrenaline is bubbling, to have fun with outdoor winter sports. Another aspect of the region that must be mentioned, are the locals along with their traditions. The authenticity is genuine and is shown through their everyday life making the travelers feel as if it's their home and they belong in either of the mountainous villages that supremely are situated on this range.
Zagori, Epirus
Zagori is located in the region of Epirus tucked in the mountain range of Pindus. The 46 villages that it contains – Zagorochoria – are famous for their beauty and preserved architecture and style from wood and stone dating back to the 19th century. Zagori has two national parks, including the Vikos Gorge, the second deepest Gorge in the world, after the Grand Canyon.  Apart from outdoor sports like hiking and rafting, one may enjoy coming across rare species of flora and fauna as well as endangered birds, deer, foxes and even bears. I guess we could only wish you to have fun taking pictures as you'll be clicking away.
Pilion, Magnesia
Pelion is basically a large mountain with numerous historic and traditional villages such as Makrinitsa, Portaria, Milies and Tsagarada to name a few. These villages are represented by elegant traditional mansions with grey stone roofs and cobblestoned paved paths. A region loved by climbers, hikers and mountain bikers offers wonderful experiences tied with nature as well as charming hotels and suites that take you back in time of aristocracy. The exotic beaches of Mylopotamos, Fakistra and Agios Ioannis will make you want to visit this beautiful scenery in about 7 months from now for your summer holidays.
Mountain of Arcadia, Peloponnese
Another all-year-round destination is the mountainous region of the Peloponnese, Arcadia. The traditional villages are inviting as they offer an exquisite environment for families, couples and for foodies as you will discover the most cozy accommodations, taverns that you will definitely revisit and activities that you can have fun with your loved ones. Just a 2-hour drive from Athens, this mountainous region will attract the active travelers as well as the extreme sport lovers, as you can go rafting in Lousios River, ski at the Mainalo ski center, and hike through the mountains or simply explore the beautiful countryside.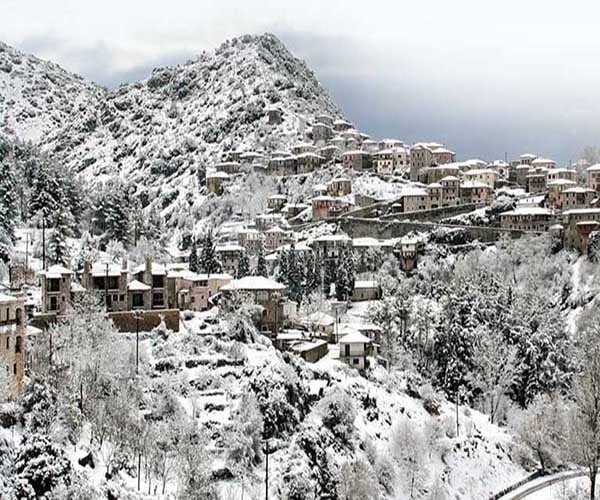 Kastoria, Macedonia
A lakeside town in the impressive region of Macedonia, Kastoria steals any visitor's heart with its painting-like features. Its perfect dazzling lake has the locals promenading by it at all times of days and others relaxing at a café admiring its view while engaging in conversations. The tall trees and the scattered Byzantine churches with the fishermen in their boats make the scenery seem even more aristocratic. However, don't be fooled only by the lake, as Kastoria has more to offer! From old Monasteries to Dragon's cave to bespoke neighborhoods with mansions, Kastoria is indeed the utmost winter destination.
George Koletsos is Co-Founder of Kudos Life Experiences. Kudos Life Experiences is a custom-designed private travel specialist to Greece, for the discerning and sophisticated traveler who is seeking to return to the authentic form of personal discovery and explore really life-enriching travel experiences.
If you would like to be a guest blogger on A Luxury Travel Blog in order to raise your profile, please contact us.