Malawi is currently fast emerging as a hot destination in Africa thanks, in no small part to the transformations of its wildlife and safari experiences currently underway. But those developments are focussed on two wildlife reserves in the south of the country and one in the central area. The country's southern region has a host of additional, easily accessed, attractions and has therefore become the focus of the majority of its tourist visitors. It's time, therefore, to focus on the area of the country that might be in danger of being forgotten, but is actually home to some of Malawi's greatest attractions, and is hugely rewarding to those who venture there – North Malawi. Given the country's relatively small size, the North is still straightforward to access. All types of attraction can be found – lake, landscape, wildlife and culture – with high quality accommodation at each.  And, although some of the journeys may be a little longer and more challenging, this is a region even more unspoilt, with even more dramatic scenery and where tourists are even more scarce than in the south. In this blog we'll visit the top 5 locations that North Malawi has to offer those who venture to this little visited region.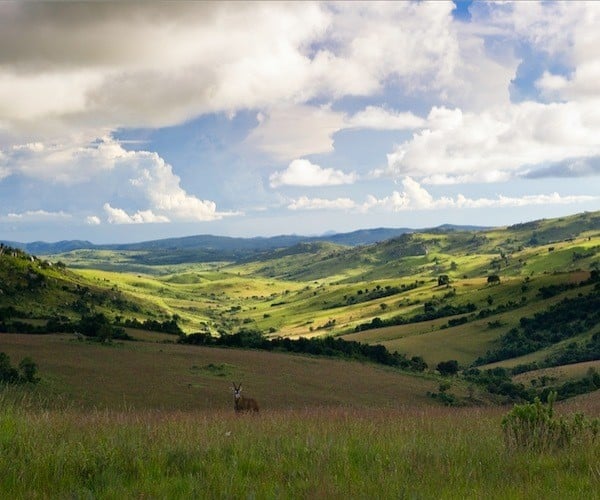 Nyika National Park
Nyika is at once Malawi's largest park and one of the most unusual in the whole of Africa. It extends for about 3134 square kilometres, a great plateau between 2100 m and 2500 m altitude, this dome-like massif is cut by rivers that ultimately reach Lake Malawi by way of waterfalls off the eastern edge of the mountains. The scenery is reckoned to be some of the best in central Africa and it is spectacularly beautiful. These great domes of whaleback-like hills have gentle slopes despite their massive scale – as though the landscape had been sculptured by a giant. Everything around is dwarfed by the setting. Nyika is largely montane grassland with patches of evergreen forest in sheltered hollows, and savanna woodland on the lower lying areas. the general absence of trees on the higher parts allows splendid views in every direction. In parts it looks like English downland – enlarged by a factor of ten! Nyika is a special, unique and stunningly beautiful highland plateau offering encounters with a great variety of wildlife. It should really be on every Malawi visitor's itinerary!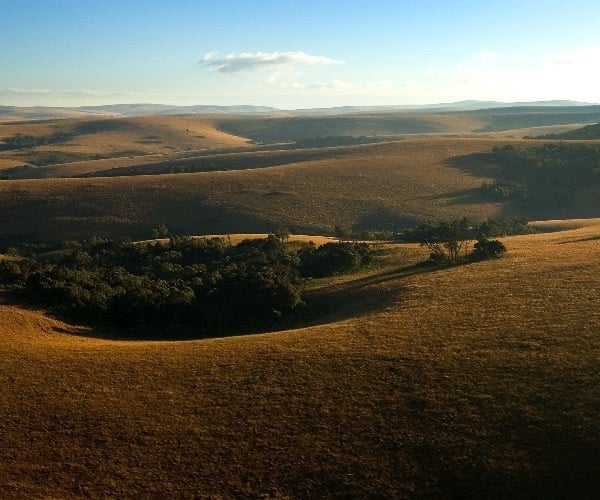 The attraction of Nyika is the whole environment: scenery, flora and fauna, rather than just game viewing. But this is an African national park, and there is plenty of wildlife to be seen. The montane vegetation attracts a wide variety of antelope. Commonly seen are eland, bushbuck, grey duiker, Burchell's zebra, kudu, roan and reedbuck. The reedbuck are especially tame and herds of over three hundred eland have been seen – some of the largest in Africa. Leopards are the predators of both zebra and antelope and, although they are nocturnal by habit, the lack of competitors in Nyika means that a sighting is a real possibility. The park is reputed to have the highest density of leopard in the whole of central Africa. Good viewing can be had in the forested areas around Chelinda or where reedbuck, their favourite prey, are plentiful.  Spotted hyena are also present and have been known to lurk around the camp at night. Two large mammals, the elephant and the buffalo are in the park but mostly confined to the north or the lower slopes. 50 elephants were added to the population a couple of years ago. Nyika is a paradise for birdwatchers. Over four hundred species are recorded, many on their migration paths. Rare Denham's (or Stanley's) bustard and wattled crane both have homes in the park. Three or four sub-species of bird are unique to Nyika. One, the red-winged francolin is often to be seen running along the park's roads near to the Thazima Gate. The evergreen forest near Chelinda attracts the colourful bar-tailed trogon, the shy cinnamon dove and the orange fronted starred robin. Nyika's flora has its own interest. Here is the richest variety of orchids in the whole of this part of Africa. Not only have over 200 types been recorded but a dozen or so are unique, found nowhere else in the world. The grassland areas are rich in wildflowers, especially after any dry season fires. Rising like a very colourful phoenix from the ashes, great carpets of small flowers quickly clothe the rolling hills.
Where to stay in Nyika National Park
Opened in 2000, Chelinda Lodge is a luxury complex of eight log cabins each of which has en suite facilities and a galleried section, plus a fire grate that can be filled an lit ready for guests as they wake! It is set on a slope with a backdrop of tall trees and magnificent views to the front across the rolling hills. Unusual for an African 'safari lodge' it is the perfect fit for this special highland plateau. Everything is well designed and the interiors are beautifully furnished.
Chintheche
Much of the shores of Lake Malawi is fringed with golden sandy beaches, but the stretch at Chintheche on the northern shore is reputed to be the best Malawian beach on the lake. At their best, the beaches of golden sands, with small headlands of wave-washed rocks, are close to a tropical paradise. Chintheche is one of the scattered settlements which line this part of the lakeshore. Traditionally a major landing point for the dugout canoes which crossed Lake Malawi, despite the fact that this is the widest part of the lake, the area gained in importance from the traffic but also became notorious for fierce battles between the raiding Ngoni tribe and the Tongas in the mid-nineteenth century. Nearby Bandawe was the second, and sadly short-lived, site of the Livingstonia Mission before it moved to its successful home on the Khondowe plateau to the north. Now, Chintheche is home to a few choice lodges that offer visitors relaxed enjoyment of its stunning beaches.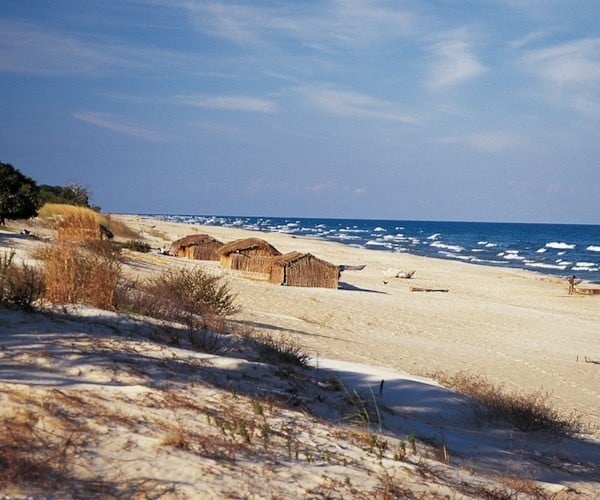 Where to stay at Chintheche
There is a variety of accommodation in and around Chintheche, each with something different to offer. Formerly a state run resthouse, Chintheche Inn has been transformed since it was taken over by Central African Wilderness Safaris 20 years ago. The accommodation is the most luxurious along the whole of this section of lakeshore. There are just ten double rooms, each opening out directly on to the very pretty beach. There is a swimming pool overlooking the lake and a tennis court. Chintheche Inn organises a number of activities and one of its strengths is the personal service, reminiscent of a good safari lodge.
Nearby Makuzi Beach Lodge has the reputation of having the most beautiful beach along this part of the lake, with its own arc of sand in a sheltered cove. Still run by the family who built it, there are good quality en suite chalets, constructed in stone, and each individually decorated and furnished. The main bar and dining room are raised on rocks above the beach. Solar power is used throughout and the lodge has excellent links with its local communities. Slightly to the north and on a beautiful stretch of almost white sand lies the Beach House, a colonial-style but relatively recently built house right on the beach. It has 4 large ensuite twin/double rooms, a lounger, terrace, open conservatory and fully equipped kitchen. It is offered as a serviced rental for a single family or small group and although 'self catering', there is always actually chef available to do the cooking!
To the south of Chintheche lies Kande Horse's Stables Guesthouse. This charming guest house is nestled in the forest rather than on a beach and has a small number of luxury double rooms with 4 poster beds and balconies overlooking the stables. Unsurprisingly, some fabulous horse riding is on offer here, for all ability levels –  through forests, across floodplains, along beaches and even into Lake Malawi itself.
Viphya Plateau
Viphya is a great, dissected plateau aligned parallel to the Great Rift Valley The highest peaks rise to over 1800 metres and inselbergs attain even greater altitudes. To visit the Viphya is to experience the wild. The vast area of the plateau is a place to wander and to commune with nature. In the forest plantations there is a sense of peace and tranquillity as one walks through the dense, sweet-smelling pines. Much of the Viphya Highlands' attraction is, paradoxically, because so much is uninhabited. The vast areas of primary montane forest and plantations of high standing pine, patches of Brachystegia woodland and riverine forest – these are home to wildlife but not to man. While the birdlife is widely spread, mammals tend to be seen more easily near the dambos and along the stream courses. Bushbuck, duiker, monkeys and baboons are common and leopard, civet, porcupine and mongoose and Hyenas are also around. The birdlife is famously varied. Luwawa Forest Lodge has adopted the lesser double collared sunbird as its logo and there are osprey, eagles, buzzards, herons and egrets to be seen. Bearded vultures have also been reported.
A drive along the M1 road that runs up the spine of the country can itself be rewarding. There are some exceptionally fine views from the road south of Mzuzu where gaps in the hilly terrain allow panoramic vistas towards the broad plains of the Kasitu River. Little clusters of mud and thatch huts look like some model in a museum's display. There is a series of granite kopjes, or inselbergs, to be seen from the road south of Mzuzu of which the best known is Elephant Rock – a giant grey rock, with its partly domed structure, is aptly compared in appearance to the shape of a trunkless elephant.
Short treks into the Viphya Forest can be done with safety especially around Luwawa Forest Lodge where there are marked trails. The lodge also offers a special wilderness trail leading down the Rift Valley escarpment to the shores of Lake Malawi. It can be undertaken on foot or on mountain bike, over a few days using fly camps en route. Whether
walking or cycling, these trails provide an unrivalled opportunity to see the fauna and flora of the Viphya. Porters and guides are provided. There is also now a horse riding stables on the Viphya with a growing network of trails being developed. And Luwawa offers some great cultural experiences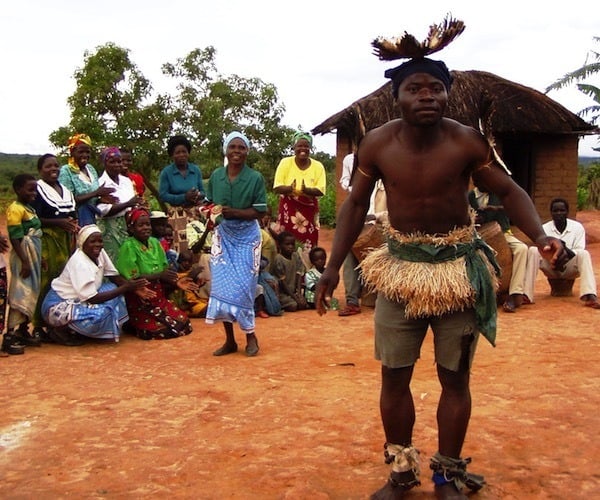 Where to stay on the Viphya Plateau
Luwawa Forest Lodge was the property of the Forestry Department and had been used to accommodate the engineers who built the north-south road, the M1. It has since been transformed. The lodge stands on open ground where gardens and shrubs have replaced forest and the view is to a lake. The sense of wilderness is ever present and the silence is broken only by birdsong. There is a sort of magic about the place. The bungalow-like buildings consist of a dining room, bar and lounge with a khonde (verandah) together with a detached block of en suite chalets. This is a very eco-friendly place to stay. The electricity is derived from solar or wind power, the water comes from a nearby deep well and the vegetables are grown in the lodge's permaculture garden". As well as hiking, mountain biking and horse riding, the lodge offers plenty of extra activities from squash to angling and from abseiling and rock climbing to orienteering. The lodge also has great links with its local communities and offers some wonderful cultural experiences.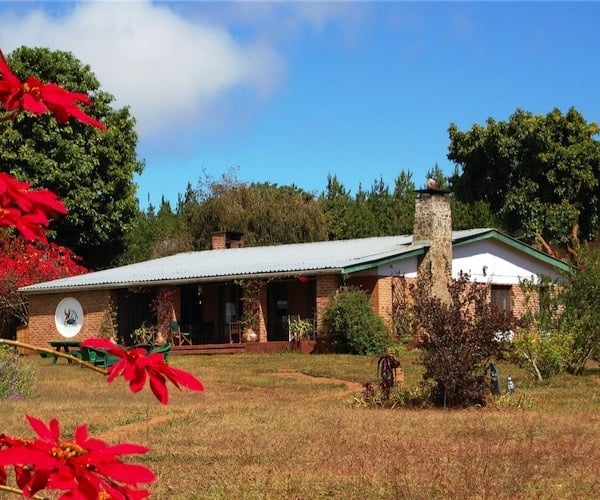 Likoma Island
Off the eastern shore of Lake Malawi, almost opposite Chintheche village, are two islands Chizumulu and Likoma. Chizumulu is a diminutive two square kilometres (three-quarter square miles) while Likoma is twelve times as big. Both, remarkably, lie within Mozambican territorial waters. Because of their historical connections with Malawi, they were allowed to retain that allegiance when Britain and Portugal came to divide the lake after World War II. In the 1880s, Christian missionaries, who ministered to the lakeshore people by boat, chose Likoma as a base. A very successful mission station was set up to provide education and medical facilities. Established as the headquarters of the Universities Mission to Central Africa, work began in 1903 on a quite extraordinarily ambitious project: the building of a cathedral the size of that in Winchester in England. The vast granite building gradually took shape and the first service was held in 1905. The arches and cloisters used bricks made on the island and, it is said, mud from anthills replaced conventional mortar.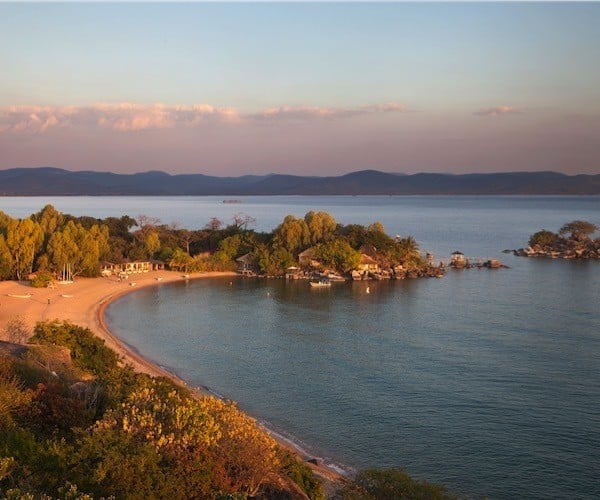 Likoma is home to some beautiful beaches and the waters of the lake around the island are so crystal clear as to be almost transparent. There are opportunities to engage in almost any form of watersport from Likoma's beaches. Snorkelling, scuba diving, sailing, windsurfing, water-skiing, wakeboarding, kite surfing, kayking, paddle boarding and, of course, swimming: are all available at Kaya Mawa. Likoma is also a small enough island to explore easily, visiting villages and, of course, the Cathedral. Its gleaming white roof is more than just a monument to the endeavours of the early missionaries. Set amongst trees it is of real architectural and cultural interest. Especially attractive are the choir stalls carved in soapstone and the crucifix over the pulpit. The latter is carved from wood taken from the myonga tree below which the heart of David Livingstone was buried in a tin box. The cathedral, dedicated to Saint Peter, has some fine stained glass and a Sunday service with local voices in full song is an experience to savour.
Where to stay on Likoma Island
Kaya Mawa is an amazing luxury lodge which opened in 2000. There are stunning and luxurious chalets and rooms cut out of a rocky headland with one on its own tiny island. The materials used in construction are all local and the accommodation is replete with sunken stone baths, private plunge pools and four poster beds. There are also private houses for families or small groups. This award-winning lodge often spoken of as one of Africa's best beach lodges – with some justification. The range of water activities in offer is bewildering for those prepared to venture from the luxurious relaxation of the lodge itself!
Manda Wilderness
OK – so this isn't actually part of Malawi, but it's an area on the Mozambique side of Lake Malawi that is most easily accessed from Malawi via Likoma Island and is very much part of the Malawi 'tourism circuit'. Manda is a 1200 sq km reserved managed in trust for local communities. It is a beautiful, untouched wilderness reserve that runs right to the shores of the lake.  An area of relatively untouched woodland, swamps, forest, savannah, mountains and streams, the reserve is home to a variety of animals, though not yet really an out and out game viewing destination. Exploration is largely on foot or by canoe, but the main attraction remains the pristine white-sand beaches that fringe lake Malawi.
Where to stay at Manda Wilderness
Nkwichi Lodge is a spectacular lodge that epitomises what 'barefoot luxury' can be. It is a very regular winner of responsible tourism awards. Individually crafted chalets built from local materials around the existing natural environment are dotted about a rocky peninsula and bay of powdery white sand. They combine luxury with environmental harmony, and the lodge itself is a key part of the overall project to support local communities. Most visitors struggle to drag themselves away from the beach and lake waters, but there are plenty of opportunities to explore the reserve and visit the local communities.
Kelly White is Director of the Malawi Travel Marketing Consortium. Malawi Travel Marketing Consortium aims to provide you with the best information to make Malawi your tourism destination.
If you would like to be a guest blogger on A Luxury Travel Blog in order to raise your profile, please contact us.