By
Simon Williams
on Mar 11, 2019 in
Accommodation
,
Argentina
,
Brazil
,
Central America
,
Chile
,
Colombia
,
Costa Rica
,
Hotels
,
Regions
,
South America
,
Spas & Pampering
,
Speciality Travel
Blessed with an abundance of luxury hotels in regions of astounding natural beauty, Latin America offers much for the discerning traveller seeking to switch off from the pressures of quotidian life. With wellness escapes and innovative spa treatments becoming an increasingly valuable element of a luxury travel experience, the natural bounty of Latin America's unique ingredients and spectacular scenery means that luxury properties in this region excel in offering the ultimate spa escape.
Here are five of our favourite places to relax and unwind:
Nayara Springs, La Fortuna, Costa Rica
The stylish Nayara Resort at Arenal is one of our favourite properties in Costa Rica. Romantic, well-appointed rooms with luxury amenities, a wide range of gourmet restaurants and excellent service are some of many reasons this stunning hotel is so popular. The hotel also offers a comprehensive spa & wellness experience for those looking to de-stress. Along with a well-equipped fitness centre with sweeping views of the tropical vegetation below and a glorious yoga pavilion where guests can enjoy private, customised classes; the hotel spa is a sanctuary of serenity drawing inspiration from the natural harmony of the rainforest.
Treatments reflecting Costa Rica's striking diversity make use of organic local produce such as premium coffee beans and luxurious dark chocolate, as well as nutrient rich volcanic soils used for a variety of skin purification therapies. Widely renowned as one of the country's most romantic hotels, Nayara's spa offers indulgent couples' packages for honeymooners or couples simply looking to reconnect in this laid-back tropical paradise.
Tierra Atacama, the Atacama Desert, Chile
Part of an extremely well-regarded group of hotels, the isolated Tierra Atacama is situated in the otherworldly Atacama Desert in northern Chile, boasting spectacular views of the surrounding wilderness and the majestic Licancabur Volcano. Many of the treatments available at the hotel's fabulous spa are inspired by the raw energies of the geo-thermally active environment and the mineral-rich earth in this breath-takingly beautiful region. Uma Spa, meaning 'water' in the indigenous Aymara language, brings the outdoors in with floor-to-ceiling-windows allowing peaceful contemplation of the landscape during treatment.
A highly recommended treatment would be the spa circuit: hopping between the steam room, outdoor pool and relaxing al-fresco hot tub – maintained at different temperatures – for an energising treat for the body and soul. Other options include a full range of wraps, facials and massages incorporating local ingredients such as honey, sheep's milk, red clay, volcanic mud and the lithium-rich salts of the nearby salt lakes. For the active traveller, Uma Spa offers a menu of therapies tailored specifically to compliment the programme of desert activities available at Tierra. After a long day exploring the desert on horseback, enjoy a relaxing evening of tailored lower-body massages and a restful soak in the hot tub to renew your aching muscles.
Casa San Agustín, Cartagena de Indias, Colombia
Without doubt our favourite hotel in the sultry Cartagena de Indias on Colombia's Caribbean coast, this exquisite boutique offers a private beach on the nearby Isla Barú as well as a fabulous spa inspired by Colombia's dual hispanic & indigenous heritage. Aurum Spa, named for the Latin word for 'gold', celebrates Cartagena's mixed roots and uses organic local ingredients for its treatments. The indigenous people of Colombia revered gold as a symbol of the sun and its energising powers – a belief system that has inspired Aurum's innovative use of these natural ingredients to relax and reinvigorate.
At Casa San Agustín, a dizzying range of therapies are available: from a simple, yet brilliantly done, Moroccan hammam, to a luxurious gold-infused body wrap. The hotel also offers carefully crafted packages for couples seeking a chance to connect in blissful isolation, and specialist treatment packages focused on fresh ingredients from the bountiful Caribbean Sea.
Uxua Casa, Trancoso, Brazil
One of Brazil's most effortlessly chic beach hotels in the trendy Bahian town of Trancoso, Uxua Casa is the pinnacle of laidback, barefoot luxury paired with exquisite bohemian design. Drawing on the colourful heritage of its surroundings; first the home of the Pataxó tribe, then the centre of Afro-Brazilian culture and finally a hippy commune in the 1970s, Uxua Casa's gorgeous Almescar Spa pays homage to local knowledge passed down from generation to generation of the town's inhabitants.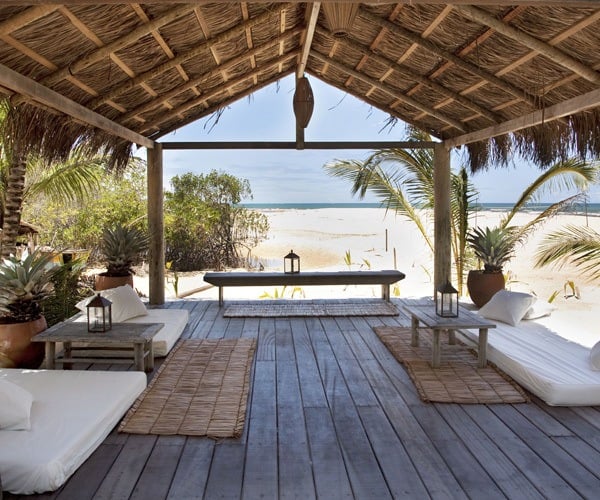 Named for a tree native only to southern Bahia and the Amazon, the Almescar Spa uses the plant's highly bioactive resin as its signature ingredient in a range of restorative therapies that celebrate the healing properties of ingredients sourced from the stunning Bahian coastline. A few standout treatments include the extra virgin coconut oil after-sun skin repair, a Bahian cacao facial and the Almescar oil hot stone massage, leaving you feeling refreshed and renewed for another day in paradise.
Cavas Wine Lodge, Mendoza, Argentina
This uber-chic luxury boutique hotel is situated in the midst of a 55-acre vineyard in the Argentine wine-producing region of Mendoza. Framed immaculately by the snow-capped Andes mountains in the distance, this charming Relais & Chateaux retreat in the temperate foothills of the cordillera offers a blissful getaway from city life. The hotel's spa is built in a Moorish-Roman architectural style, drawing on decadent exotic and classical influences that contribute to its timeless elegance.
Offering a comprehensive menu of facials, massages and specialist treatments focused around wine-themed ingredients, guests of Cavas Wine Lodge are able to enjoy a variety of indulgent experiences. Favourites include the crushed Malbec scrub, where a freshly prepared scrub made of crushed organic grape seeds and essential oils from local crops is used to reinvigorate and renew the skin; aromatic herbal baths of lavender oil, mallow, lemon and rosemary to refresh the circulatory system; and the Bonarda red-wine bath, where a prolonged soak in an antique bathtub enriched with red vine extract and essential oils provides a luxurious relaxation moment.
Simon Williams is Director of Humboldt Travel. Humboldt Travel is a luxury travel company specialising in tailor made holidays to Latin America.
If you would like to be a guest blogger on A Luxury Travel Blog in order to raise your profile, please contact us.