As tourist numbers grow in Cambodia the number of elephant 'sanctuaries' is also on the increase. Understandably, people want to experience these majestic creatures in their natural habitat but as their numbers reduce this is becoming more and more difficult.
The death of an elephant that was being used to offer tourists the 'once-in-a-lifetime' opportunity to ride an elephant within the Angkor Wat complex received huge media attention worldwide, as people were rightly outraged that this had happened. Sadly, nothing has changed at Angkor Wat; more than a year later the same company are offering the same experience to tourists that really should know better. All the time that the demand is there from tourists to ride elephants, there will be an organisation willing to exploit these beautiful creatures.
Quite simply, we should never ride elephants or support any project or organisation that offers this experience. If it is not possible to see wild elephants in their ever dwindling natural habitat, then visiting an ethical elephant sanctuary is the best option.
Elephant Valley Project has been operating in Mondulkiri since 2006 and was the first true elephant sanctuary in Cambodia. As a registered NGO they have worked tirelessly to protect the environment from rapid deforestation whilst at the same time providing a space for elephants to live with independence and dignity.
Asian elephants are an endangered species and without protection their numbers will continue to shrink. There are only an estimated 500 wild elephants in Cambodia of which around 300 are in Mondulkiri with others living in Preah Vihear and the Cardamom Mountains. Therefore organisations such as Elephant Valley Project are essential to their future.
You won't find any swimming with elephants, riding elephants or feeding elephants here but you will have the chance to observe these beautiful creatures from a respectful distance, knowing that your donation from volunteeering is going to a very good cause. Not only does your money fund the elephant care and treatment but it will be used to protect the forest and for various community support initiatives including healthcare and education.
#letthemroamfree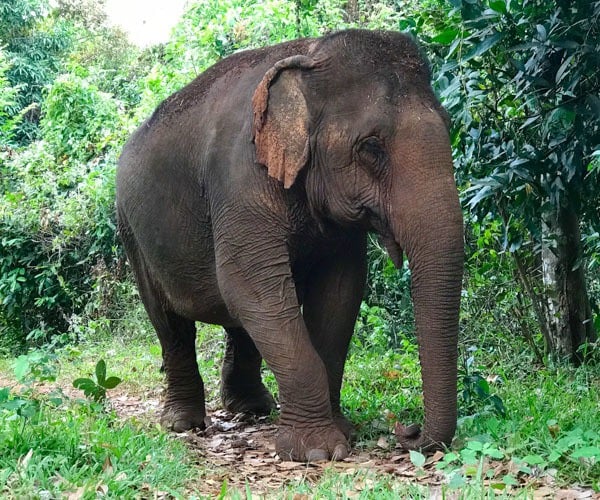 Mondulkiri is a province in the East of Cambodia, on the border with Vietnam. It is a 6 hour drive from the capital city of Phnom Penh and around 9 hours from Siem Reap, the home of Angkor Wat. So after a few days (or more) volunteering at Elephant Valley Project what better than to check into a luxury hotel for some rest and relaxation?
On the outskirts of Siem Reap, just a few kilometers from Angkot Wat and set within pristine grounds is Templation, a true oasis and the perfect place to recharge your batteries. With 41 stylish suites and villas to choose from, some boasting their own private pool check in here for the ultimate in luxury and enjoy the first rate service.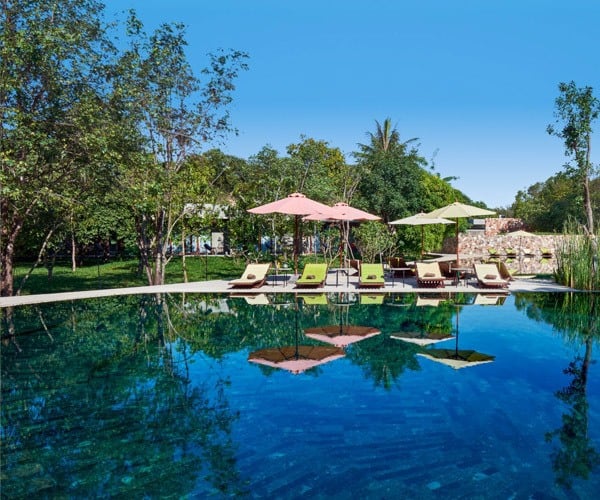 In the centre of Phnom Penh and adjacent to the Royal Palace is Pavilion, a luxury hotel housed in 4 period buildings with rich architectural heritage. Offering 36 rooms and suites including Private Pool Suites and Jacuzzi Bungalows guests can be sure to find something that suits their needs and enjoy peace and tranquility at the end of their Cambodian adventure.
Cambodia has so much to offer and it is great to know that ethical elephant tourism is truly alive and kicking in the Kingdom. We love to visit and support projects that have protecting the environment and wildlife at their core. When this is combined with a little luxury too then that makes for a perfect trip, so ending our trip at one of these luxury hotels seemed like a wonderful way to end our most recent Cambodian adventure!
Paul Eyers is Founder of Vegan Food Quest. Vegan Food Quest have become luxury vegan travel specialists as they continue to find, eat and write about the best vegan food in the world.
If you would like to be a guest blogger on A Luxury Travel Blog in order to raise your profile, please contact us.