Not too long ago, a tale was recounted to me by someone who visited Zambia's Kafue National Park. There they had heard the tale of a British birder with a life list that would rival the telephone directory in length. He did, however, have a few rare species left to see, and hoped to tick them off in Kafue.
Now the birder in question came to the park at a time of year when the wildlife was particularly abundant and active, and easy for guides and guests to spot. On his game drive, he came across a lion, and it was without doubt one of the best sightings of the year. And do you know what? The birder asked the guide to drive straight on. The birdlife of Kafue is so extraordinary, so unique, that even getting a close up view of a lion couldn't compete!
Of course for most people, there's a balance to be struck between the birds and the beasts. You might have a personal preference for one or the other, but can still appreciate the majesty of both. In Zambia, you never have to choose – all kinds of creatures are present in abundance – but if you are keen on all things feathered, you're in for a particular treat.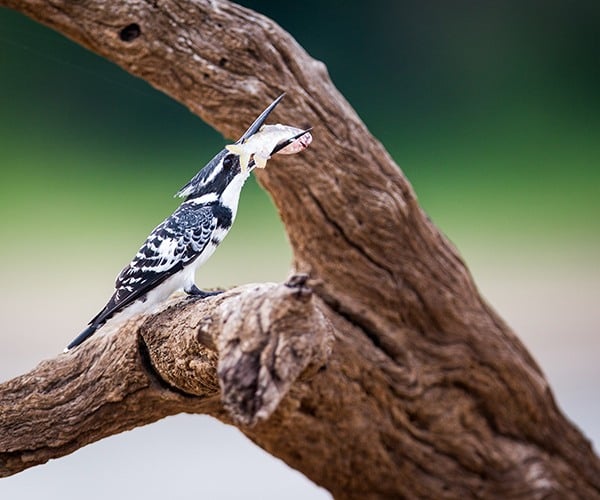 I started this story in Kafue, and it's a must if you want to see river birds. Sailing along the river from the remote Musekese Camp, you will undoubtedly see African fish eagle, plus giant and malachite kingfisher, swooping down to the water to catch fish. Owls make their nests in the branches hanging down over the water, and when you motor underneath you can even get close enough to see the greedy chicks inside. Jesus birds seem to be able to walk on the shallow water alongside the riverbank – that's how they got their name – and there are plenty of other waders, too.
Probably the most popular place for birding in Zambia is the Luangwa Valley. It was in South Luangwa that Norman Carr first pioneered his famous walking safaris, and to this day they remain one of the very best ways to get close to the birds as you approach slowly and quietly, and thus the birds are undisturbed.
To date some 400 species of birds have been recorded in South Luangwa. The migrating colonies of southern carmine bee eater settle here in August and September, there are significant numbers of African skimmer, and you are likely to see pelican and yellow billed stork, too.
If you prefer to have a national park to yourself, sharing it just with the wildlife, you need to go to the far northwest of Zambia to Liuwa Plain. There is just one permanent camp here – King Lewanika Lodge – and it is absolutely stunning.
African Parks are steadily rebuilding the fragile Liuwa ecosystem, which is flooded for much of the year. The migratory birds adore this watery wilderness, and you can see substantial flocks of pelican, stork, and plover. The African spoonbill is undoubtedly a birding highlight, and so too are the crowned and wattled crane. Liuwa Plain is the only breeding ground in Zambia for whiskered tern, which is yet another reason you should visit.
Zambia is one of the unsung treasures of southern Africa. Whether you're a casual birdwatcher or a serious twitcher, the guides here will enthrall you with their knowledge and with their eagle eyes help you spot and identify the country's most spectacular and important species.
Laura Burdett-Munns is Managing Director at Africa Exclusive. Africa Exclusive has been creating the finest tailor-made safaris since 1990, specialising in luxurious accommodation in beautiful remote places.
If you would like to be a guest blogger on A Luxury Travel Blog in order to raise your profile, please contact us.