For most of us our daily routine consists of crossing busy intersections, walking on sidewalks so we won't get hit by cars and even using our own vehicle to get to any place that we consider to be far from home. What if we could go about our day without turning our heads to see if there's a car behind us so we can safely cross the street? What if we crossed the street without looking left and right just because we saw a picture perfect spot and we absolutely needed to observe it up close? That sounds like a care-free walk that gives us the opportunity to enjoy our time to the fullest. What if you weren't interrupted by the noise that trucks make at the same time when you thought you were having a romantic moment overlooking the sunset with your loved one? What if you could finally breathe fresh air in a town without having to smell the car fumes?
You're in luck because we have gathered not one or two but five destinations in Greece that can offer you the carefree, noise-free, pollution-free and of course the car-free vacation that you're looking for. Enjoy!
Hydra Isand
What an aristocratic island! Located in the Argo Saronic Gulf, just a stone's throw away from the busy capital making it the ideal island for Athenians to escape to for a long weekend. Hydra is a very interesting island as its town is built on the slopes of a hill around its port and it seduces its visitors at first sight with its charming stone mansions. As travelers aren't in awe already, Hydra has prohibited entirely the use of cars and other motor vehicles. People either walk, use boats to go beach hopping or they use the traditional mean of transportation, none other than a donkey! Hydra is such an impressive yet elegant island with translucent waters and beautiful green surroundings that no one can resist.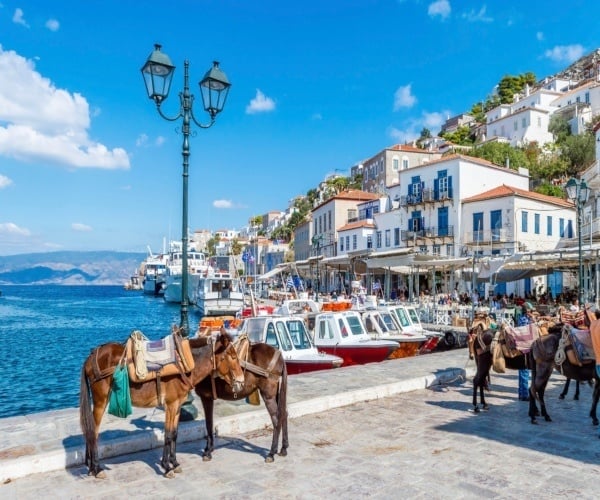 Lindos, Rhodes Island
Let us travel to the Dodecanese, a stunning group of islands, but let's focus on Rhodes and in particular on Lindos. It is the second most visited archaeological site in Greece, along with Delphi. This ancient village that is surrounded by the sea proudly showcases a centuries-old acropolis that grandly overlooks the archipelagos. The old town is as if you're stepping back in time to the medieval ages, but so well put together and preserved. The vehicle-free streets allow visitors to explore its mesmerizing ancient corners by walking or taking donkey rides on its narrow paved alleys between whitewashed buildings, slightly resembling the Cycladic architecture.
Dilofo, Zagorochoria
Going up to the mountains of the prefecture of Ioannina, Dilofo is one of the Zagorochoria Villages that has been declared a traditional settlement, as it is perhaps the best-preserved settlement in the region. It has kept its traditional character and all the elements that make it so unique are visible today, such as stone fountains, cobbled streets, small churches and mansions. The people of Dilofo, urge everyone to protect the natural environment and for them to move around on foot or to explore the region by bicycles since within the settlement, cars are prohibited.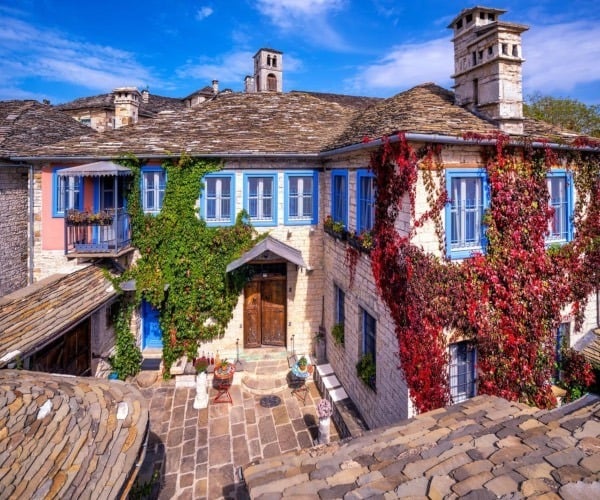 Monemvasia, Peloponnese
Moving down to the southern part of the Peloponnese, there is a castle-town that is also known of the "Gibraltar of the East". Once you set foot in this car-free town, you will be transported to a majestic well-preserved "stone ship" as Yiannis Ritsos, a famous Greek poet, described his birthplace as. Wander around the aristocratic mansions and the vaulted alleyways and be enchanted by the stone built churches that have become one with the nature. Once you've explored every inch of Monemvasia, take a dip in the crystal-clear waters and taste the unique dishes the region has to offer.
Nafplio, Peloponnese
Nafplio was the first capital of the newly born Greek state, located in the Peloponnese and is considered to be one of the most breathtaking towns in Greece. That means a lot as it is being compared to many amazing seaside towns, however Nafplio, has a rare charisma that only travelers who have been there will completely grasp. It has all the elements that a seaside town should have and being in Greece, it of course offers a historic aspect as well. The old town of Nafplio is car-free and it's where the magic happens. Syntagma Square is packed with luxury boutique hotels, restaurants with any cuisine you can imagine, and shops selling the most unique items. Every little street beholds a surprise so sit at one of the cafes and start planning your adventure.
Maria Nikolakaki is Managing Partner at Beyond Spaces Villas.
If you would like to be a guest blogger on A Luxury Travel Blog in order to raise your profile, please contact us.