Whether confined to school or work holidays or simply set on getting as many ski trips into the season as possible, a spring ski holiday definitely has it`s quirks. While warmer temperatures, sunnier skies and perhaps less crowds are definite pluses to skiing later in the season, slushier snow and fewer open slopes are some of the drawbacks. Destination choice is therefore extremely important, so for those that find themselves pondering their options for next April, here are 8 ways to get the most out of spring skiing in Hakuba, Japan.
1.Ski top to bottom at Hakuba47
The warmer temperatures that spring time brings does no favours for the snow on the lower slopes, and eventually we loose terrain as they give way to the grass. Fortunately, while this is the case for the other mountains in the Hakuba Valley, Hakuba47`s north facing resort means that you can still ski to the valley floor well into the spring. This makes it is a great choice for those looking for a lengthly decent, milage and a change of scenery. The top of the gondola is well positioned half way up the mountain where you will find several beginner runs, a cafe, a restaurant and a terrain park. This makes it a great choice for lower level skiers as well, with a great view of the townsite too.
2. Ski the morning at Happo One with lunch at Pilar
While Happo is not a beginners mountain, it does have a handful of slopes and facilities open during the spring time; Skyline is great for novice levels and above, while Alpen and Grat provide the chance to ski something steeper or even get into the moguls. While there may not be enough terrain to support a full day on the slopes, a long morning followed by a lunch at Pilar – a beautifully appointed French restaurant at the top of the Alpen Quad – is time well spent. There is also an outdoor Corona bar at the top of the gondola for thirsty skiers, and when the weather cooperates and you know where to look (south), then Mount Fuji can be viewed from the top of the Grat Quad lift. A sunny day is ideal for a visit to Happo, so it is best to choose your day accordingly.
3. Backcountry touring
Notably not something for everyone, but pretty special for those that are partial to ski touring. While the snow at lower elevations is melting, there is ample terrain in the backcountry and often good snow to be sought out. It could be smooth `spring corn` or you may be lucky enough to get powder, but the experience as a whole is both beautiful and adventurous. Happo and Tsugaike have many backcountry touring options, and typically the later in the season – the more hiking is required. As always, if you do not have the necessary skills, knowledge or equipment to be in big avalanche terrain – where both natural and skier triggered avalanches frequently occur – hire a professional guide. Evergreen Backcountry Guides is a good place to find one.
4. Snowshoe Tsugaike
Skiing and snowboarding aside, snowshoeing is a great way to get into Japan`s Northern Alps and momentarily slip back into winter. Above the ski area, Tsugaike`s ropeway opens mid-March and takes you up to the Shizenyen; a picturesque plateau in the foreground of Mt Hakuba. Here would be an idea place to go for a snowshoe or even stop for a picnic. Being immersed in these mountains is nothing short of dramatic, and the elevation and volume of snow can`t help but make you feel worlds apart from the warming valley below. This is something that you could either do by yourself or hire a guide for.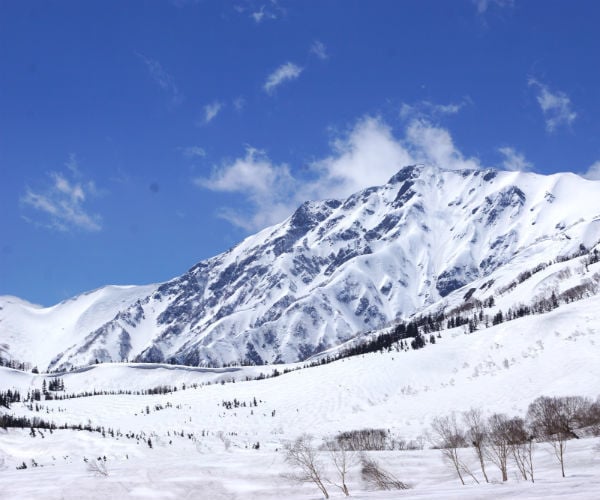 5. Take the gondola up Iwatake
Though the first resort in the valley to fully close it`s slopes as spring takes a hold, Iwatake`s ace is a strong one. It is the only resort to offer 360 degree panoramic views, showing the best of the townsite, Happo`s north faces, Hakuba`s three peaks and the other resorts in the valley. New in 2018 Hakuba Mountain Harbour provides the prime location to sit and soak it all in, with it`s outdoor seating area, great coffee, freshly baked goods and craft beer. For those with children there are spots to sled, tube and even indulge in some snow play! The top of Iwatake is a must for a sunny day and due to it`s extremely easy access – one short gondola ride to the top – it is suitable for all ages and fitness levels.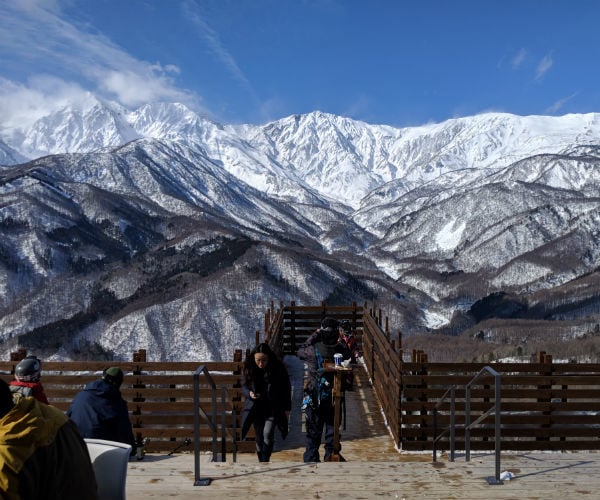 6. Picnic at Oide
One of the great things about skiing in Japan is that you get so much more than just a ski holiday. With a culture unlike any other on the planet and four very distinct seasons, there is as much to do off of the slopes during spring time as there is on. If you feel the need to balance the skiing with something lower key, then Oide park is worth a visit. Understated, this cherry blossom framed park is the perfect spot for a picnic, offering the lesser seen view looking back towards the mountains from the far side of the valley. The scattering of thatched roofed traditional buildings and suspension bridge that straddles the Princess river can`t help but make you feel as if you`re somewhere quintessentially Japanese. An easy 3 minutes walk up the hill behind the park will provide even more impressive views of the Alps and river in the foreground.
7. Visit a shrine or temple
Staying along the cultural/historical theme, there is no shortage of quaint and atmospheric Shinto shrines and Buddist temples to visit in and around Hakuba. Seldom busy and surprisingly un-touristic, most of these are shrouded by tall cedar trees and, you guessed it, cherry blossoms. For many, the most aesthetically pleasing time to visit is indeed the Spring. Though there are much bigger and more frequently visited shrines found all across Japan, these local ones support the framework for the history of this region.
8. Onsen at Hakuba Highland Hotel
No ski trip to Japan is complete without sliding into an Onsen, AKA traditional hot spring. While Hakuba does indeed have many, the one located at The Hakuba Highland Hotel is unparalleled in it`s views from the outdoor bath. Slightly elevated and on the east side of the valley, you can soak in the water and cast your eyes over almost the entire valley; it`s villages, ski resorts and dramatic white capped peaks behind. It looks beautiful at any time of the day though the mountains do become backlit by the sun later in the afternoon, so before that is preferable; unless of course you`re after a glimpse of the night sky.
Nadine Robb is Owner and Instructor at Hakuba Ski Concierge. Hakuba Ski Concierge is a boutique ski school in Hakuba, Japan.
If you would like to be a guest blogger on A Luxury Travel Blog in order to raise your profile, please contact us.