Since the Dominican Republic hosted its first PGA Tour event in 2018, there's never been a better time to check out the spectacular golf that the Caribbean paradise has to offer. The island's best courses speak for themselves: Teeth of the Dog, Punta Espada, and newly-featured Tour host Corales are all among the world's best. There's no question where to play when you visit the DR. The real question when you go is where to stay.
For most people, that answer lies with one of the many all-inclusive resorts that dot the Dominican Republic's pristine beaches. The resorts come in all shapes and sizes, from massive playlands that offer a smorgasbord of activities to more boutique luxury havens. But for a truly unique experience, we recommend taking a tip from the stars.
When the world's rich and famous travel to the Dominican Republic, you most likely won't find them lounging around the pool or enjoying the buffet at any of the aforementioned hotels. Instead, they seek out the seclusion and luxury of a private villa.
Here are some of our favorite benefits of living the villa life in the Dominican Republic:
Give yourself some extra privacy
One of the top reasons the A-list stay in private villas is the added privacy. If your budget isn't quite as luxurious as you might like, you can stay in a private villa managed by rental companies like VRBO or Airbnb. The most deluxe villas in the Dominican Republic are set within the gated communities that surround the higher-end resorts and golf clubs on the island and are managed by dedicated teams based in the DR. And while the resorts themselves offer privacy and safety to their all-inclusive guests, villas offer an even more private experience, as you won't have to contend with other resort guests. Many of the available villas have their own private beach areas and swimming pools, and allow you to enjoy an island escape without any outside interference.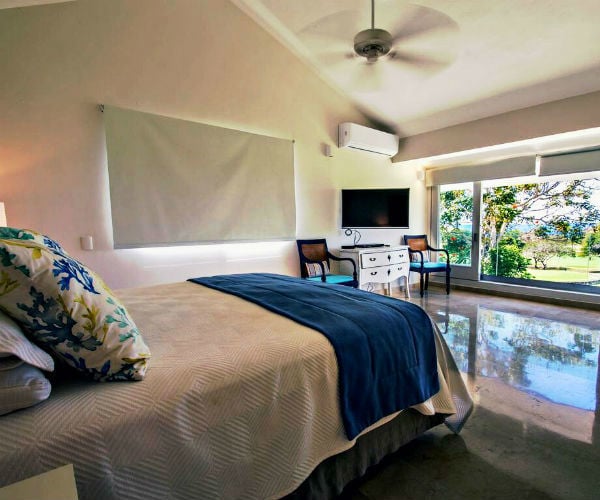 Feel more at home
A villa is truly a luxury home away from home, with all the convenience of a private home, and at a luxury resort, you can add the service touches of a top-rate hotel. Enjoy a private, comfortable living room and full kitchen where members of the group can chat, mix drinks, or cook in plenty of space and without strangers. Getting ready for a night out can be as shared or as private as you'd like, with everyone able to access their own bathroom as well as shared space.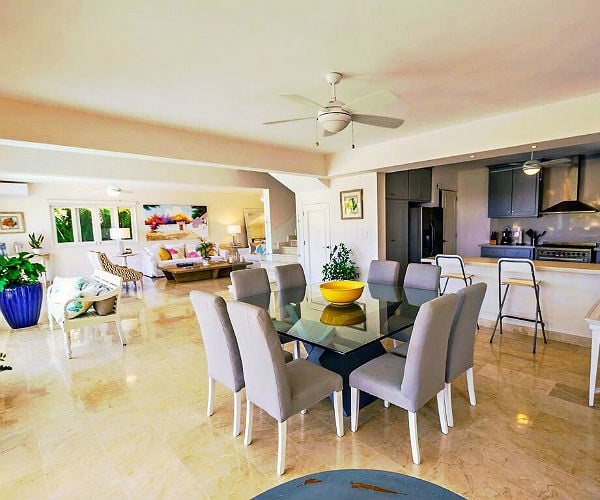 Personalize the experience with luxe extras
In addition to privacy, renting a villa affords guests the ability to custom-tailor their experience to their every need, especially at the higher-end resorts. Private chefs can be provided to allow for different tastes and dietary requirements. We can think of few experiences as mouth-watering as watching the catch of the day being prepared right in front of your eyes, specifically as you've asked for it. Fresh and local ingredients take center stage, giving guests an authentic culinary experience. Some resorts also offer in-room massages, golf packages, group fitness training, and other private experiences that you can enjoy in the comfort of your private luxury accommodation, simply by calling the concierge.
Better for small groups
There are villas of various sizes that can accommodate almost any small party, from a set of traveling couples to larger family groups or golf buddies. Villas provide intimacy for groups of up to 10 to engage in activities together while providing private rooms and bathrooms for guests. The aforementioned private pool and beach options are great for groups to spend time together while enjoying the Caribbean's warm sea breezes. Most of the villas, whether at a resort or off-site, also have sports equipment like bicycles, volleyball equipment, snorkel gear, or boogie boards for groups to further explore the neighborhood and the ocean. Grills, firepits, kitchens, and other additional conveniences also give you another opportunity to spend quality time with your friends and loved ones.
Set your own agenda
Although all-inclusive resorts offer many first-class amenities, the best part of renting a villa is doing what you want, when you want it. You don't have to worry about missing the breakfast buffet by a few minutes, or being unable to get a drink when the bar closes. Many of the villas offer private concierge services, private cleaning services, and personalized check-in so that you can schedule your day as you see fit. Several of the Dominican Republic's villas jut up against some of the best golf courses, allowing you to spend your days on the immaculate greens and fairways before retreating to the comfort and privacy of your secluded home away from home.
It's not too hard to find luxury homes that appeal to any guest's sensibilities in the DR, taking into account which courses you want to play as well as the needs of your party outside of golf. Beaches, nightlife, and day trips are easy to include in the consideration of which villa is right for you. Staying in a villa is the perfect way to experience the beauty of the Caribbean in a luxurious, glamorous environment.
Ravi Coutinho is Founder and Lead Golf Travel Expert at Worldwide Golf Adventures. Worldwide Golf Adventures is a luxury golf tour operator that arranges custom golf vacations for clients around the world.
If you would like to be a guest blogger on A Luxury Travel Blog in order to raise your profile, please contact us.