Turkey is re-emerging as a fantastic holiday destination and offers a taste of everything from the cultural treasures of Istanbul to the landscapes of Cappadocia, via centuries-old historic ruins such as Ephesus. And then there are its spectacular coastlines and beaches – discover the Bodrum Peninsula and set sail on your very own private gulet for a scenic and leisurely sailing holiday. Autumn is a fantastic time to visit too: the weather can still be balmy and there are fewer crowds to share its many attractions with. Here are our top five must-dos in Turkey.
Istanbul
In Istanbul, take in Turkey's intoxicating melting pot of cultures in the impressive mosques and palaces such as the dazzling Blue Mosque and the Dolmabahce Palace, and discover the delights of the bustling Grand Bazaar's covered streets and over 4,000 shops. Take a trip in a luxury yacht along the Bosphorus to enjoy city views from both sides of the river while sipping a glass of Champagne.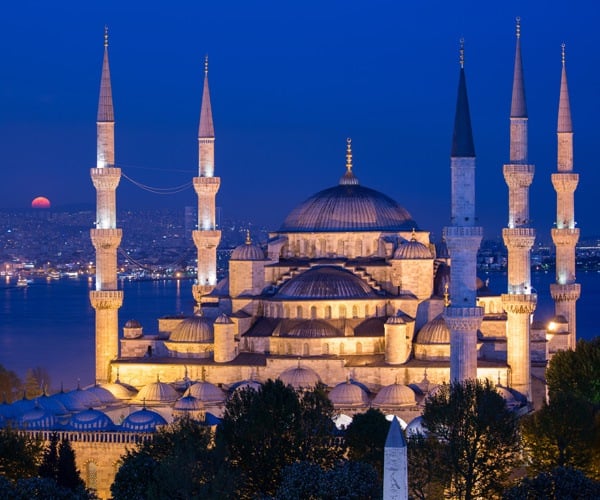 Back on shore, head underground to visit the Basilica Cistern, the largest of hundreds of underground cisterns that snake beneath the city. This impressive and atmospheric enclave of marble columns topped by arches dates from the 6th century, and more recently it has been popular with Hollywood, featuring in movies such as the James Bond classic From Russia with Love and Inferno.
Cappadocia
Cappadocia is certainly unique, and begs to be photographed. Go hiking among the honey-coloured rocks, and venture into houses and churches carved into the rocky landscapes of Cappadocia, and see these cone-shaped rock formations or 'fairy chimneys' from the skies in a hot air balloon as you soar over the mountains and valleys at sunrise.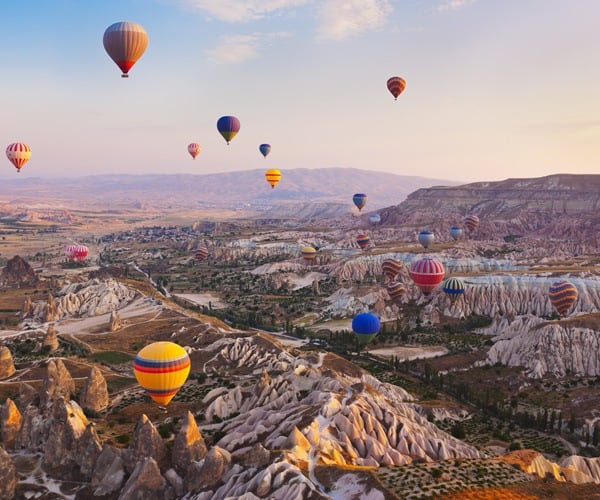 To really experience this region's distinctive atmosphere, stay in a luxury 21st-century hotel set into the ancient caves for a night full of historic character and charm.
Historic ruins
For a slice of Roman history, head to the UNESCO World Heritage-listed Ephesus, an ancient city on the coast near Sirince which dates from the 10th century BC. Here, you can see the remains of the Temple of Artemis, one of the Seven Wonders of the World, as well as Roman terrace houses.
Also worth a visit is the coastal city of Antalya, home to a wealth of ancient attractions such as Hadrian's Gate and the Apollo Temple, which is believed to be where Marc Antony met Cleopatra.
The Bodrum Peninsula
The Bodrum Peninsula, where the Aegean and the Mediterranean meet, was described by Homer as the 'land of eternal blue'. This is one of Turkey's most beautiful coastlines, its beaches fringed by pine forests and its seas dotted with islands.
Explore on foot or by bike, and unwind on the sands, before treating yourself to a stay in the kind of luxury hotels that are awe-inspiring both inside and out, with designer interiors, fabulous spas and gorgeous sea views. Our top pick is the Six Senses Kaplankaya, which has one of the biggest and most spectacular spas we've ever seen. Covering 10,000 square metres, it offers a wide range of facilities such as a salt grotto and a crystal steam room. This is a perfect place to relax on your terrace by your private pool and take in the sunshine.
Sailing adventures
With coastlines and seas like this, Turkey is ideal for a sailing holiday. Hire your own luxury gulet (a traditional Turkish boat), plus crew, for a trip around the coast, complete with spacious cabins and decks where you can relax in your Jacuzzi.
Your crew, including a captain and a chef, will cater to your every need, so all you have to do is soak up the views as you glide past ancient ruins and stop off in secluded coves. Tuck into a meal of freshly-caught fish on a beach you'll have all to yourself, and drop anchor at night in remote, moonlit bays.
Thomas Ryves is Marketing Director at Exsus Travel. Exsus Travel specialises in creating the very best luxury tailor-made holidays, honeymoons and family adventures in over 80 destinations worldwide.
If you would like to be a guest blogger on A Luxury Travel Blog in order to raise your profile, please contact us.