Native American buildings were the original architecture and building blocks of Brazil.  More colonial styles became prevalent with arrival of the Portuguese in the 1500s and these cobbled streets and ornate buildings remain well preserved.   However it was in the 1960s that Brazil entered the 'big league' of the world architecture scene with a modernist movement led by Oscar Niemeyer who's enduring masterpiece is Brazil's capital, Brasilia.  Niemeyer blazed a trail for other modern architects, landscape designers and contemporary artists to follow.  Their work can be found throughout Brazil.  Here we round up for you our 'must see' cities in Brazil for contemporary art and architecture.
Brasilia
Brasília is Brazil's futuristic federal capital and is the work of architects Oscar Niemeyer, Lúcio Costa and Joaquim Cardozo, along with landscape architect Roberto Burle Marx, who were united in their vision of simplicity and modernity.  Brasília was chosen as a UNESCO World Heritage Site due to its modernist architecture and uniquely artistic urban planning.  Highlights for visitors include the Palácio da Alvorada – the official residence of the president of Brazil. Inaugurated in 1958, it is of the first structures built in the republic's new capital city and gives the impression of being a glass box, softly sitting on the ground with the support of thin external columns.  Nearby is the National Congress building designed by Oscar Niemeyer in a modern Brazilian style, with two semi-spheres housing the Senate and the Chamber of Deputies that flank two vertical office towers. The building has been a UNESCO World Heritage Site since 1987.  Also worth seeing in Brasilia is the impressive JK Bridge that spans Lake Paranoá, famous for its three 60m tall asymmetrical steel arches that crisscross diagonally.
São Paulo
In São Paulo it's even possible to sleep in some of the city's most daring modern architecture.  Known locally as 'the Watermelon' for its striking crescent shape, Hotel Unique has visually stunning design crafted by Brazilian architect, Ruy Ohtake, who intended the 95-room hotel to look like the curved hull of a ship, complete with porthole windows.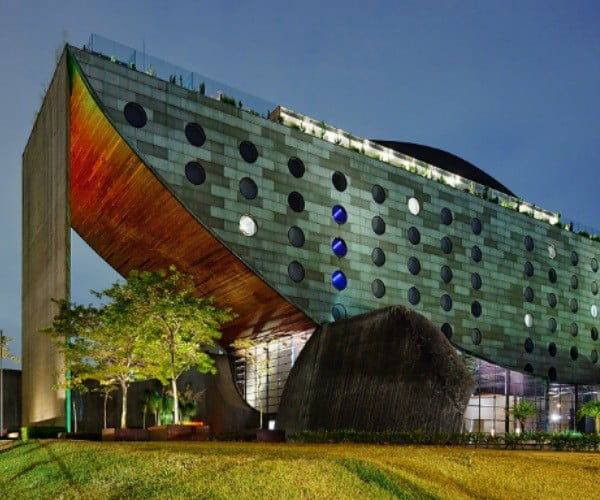 Also in the city next to Burle Marx Park is Palácio Tangará hotel, which has an open-air contemporary art gallery that is free to enter. This summer, the gallery is featuring the work of Brazilian artist and sculptor, Caciporé Torres, winner of three editions of the International Biennial.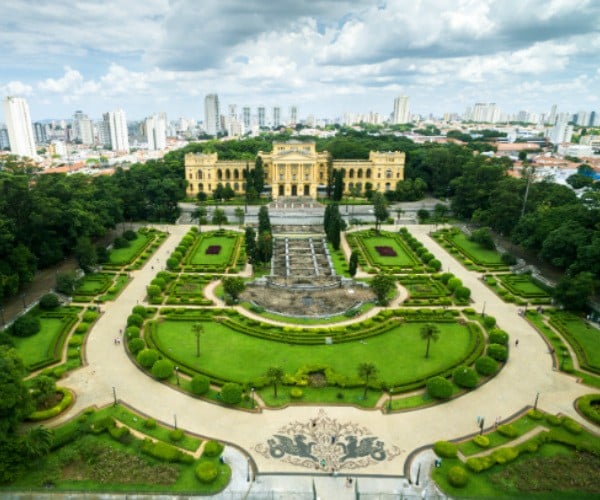 Close by Palácio Tangará is the Museum of Art São Paulo (MASP), which has a collection of iconic artworks by the likes of old world masters such as Goya and El Greco. MASP is notable for its concrete and glass entrance hall designed 1968 by Lina Bo Bardi.  Two lateral beams support the main body of the structure over a 74 metre freestanding space.  It is considered a landmark of the city and a main symbol of modern Brazilian architecture. Stepping up to the 21st century, São Paulo's Museum of Image & Sound (MIS) is currently showing a digital exhibit by the Icelandic singer Björk.  On display in São Paulo until 18 August 2019, the exhibition Björk Digitalis divided into six areas composed of virtual reality and immersive audio-visual elements illustrating in an interactive way the poetic images of songs by the artist.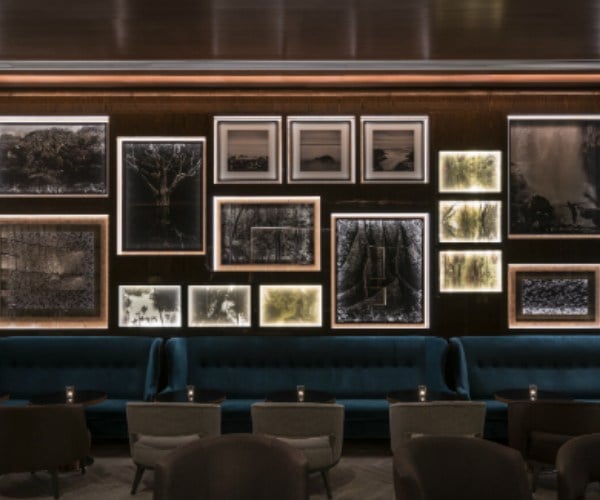 Belo Horizonte
When flying into Belo Horizonte, contemporary art lovers should drive straight to the Inhotim Institute 60km away.  Nothing quite prepares you for Inhotim and it is often described as Disneyland for art lovers!  Inhotim is a beautiful farm in the Atlantic Rainforest, with incredible landscaping by Brazil's most famous landscape architect, Roberto Burle Marx.  It is home to the largest collection of contemporary art in Latin America, with over 20 galleries and pavilions, each dedicated to different artists, both Brazilian and International. The best way to explore the complex is to lose yourself amid the beautiful park and visit the galleries at your own pace over two days. If you are bringing children don't worry, they will love it to!
Rio de Janeiro
Rio de Janeiro has been inspiring artists and architects for over a century.  At the centre is the Art Deco masterpiece, Belmond Copacabana Palace, and having a caipirinha poolside at the 'Copa' is still a must do for all visitors to Rio.  Commissioned in 1922 to celebrate a century of Brazilian independence, the hotel's Golden Book overflows with the names of famous faces who've visited, from Brigitte Bardot to Justin Bieber; Walt Disney to Diana, Princess of Wales.  It was even immortalised in film in Ginger Rogers and Fred Astaire's 1933 hit, Flying Down to Rio.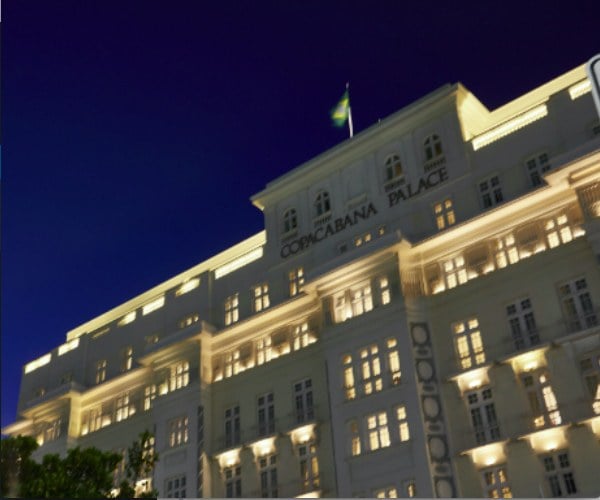 Over on Ipanema Beach, the Fasano Hotel Rio de Janeiro was the first building in Brazil designed by Philippe Starck.  It's architecture and interior design pay homage to the spirit of Brazilian design of the 1950's and 1960's and the glorious Bossa Nova era.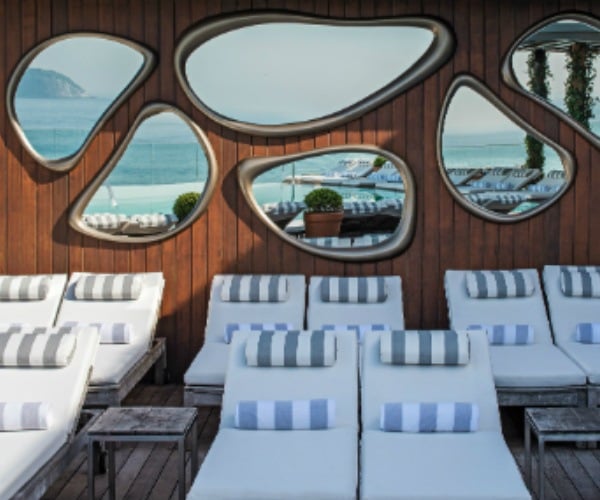 In the heart of Rio's West Zone is the former residence of the architect and landscape designer, Roberto Burle Marx, which is home to one of the most significant collections of tropical and subtropical plants in the world.  The property was designed and built by Burle Marx as a framework for his collection that contains over 3,500 species, replicating Brazilian habitats such as mangroves, sandbanks and the Atlantic Forest.  Visitors can take guided tours to discover the architecture, studio paintings and personal collections of Burle Marx. There is also the Burle Marx House museum, which preserves 3,125 pieces, including rare objects of art and crafts gathered through his life.
Niterói
When staying in Rio de Janeiro, it's worth dedicating a day to catching a boat across the Guanabara Bay to Niterói, home to the Museum of Contemporary Art (MAC), another iconic building designed by Oscar Niemeyer and opened in 1996.  The MAC dominates the Niterói skyline, set on a cliffside with a 16-metre high, 50-metre diameter saucer-shaped modernist structure, which has been likened to a UFO.  In the film Oscar Niemeyer, an architect committed to his century, Niemeyer is seen flying over Rio de Janeiro in a UFO that then lands on the site, suggesting this to be the origin of the museum.
Simone Scorsato is Executive Director of Brazilian Luxury Travel Association. BLTA's main objective is to promote and strengthen Brazil as a travel destination to the global luxury market.
If you would like to be a guest blogger on A Luxury Travel Blog in order to raise your profile, please contact us.