By
Michael Edwards
on Jun 27, 2019 in
Accommodation
,
Europe
,
Food and Drink
,
Health & Safety
,
Hotels
,
Leisure Travel
,
Portugal
,
Regions
,
Spas & Pampering
,
Speciality Travel
,
Travel Miscellany
,
Western Europe
Join a Pilates class, take the shuttle to Vilamoura's marina, opt for a personal training session and then spend time in the relaxation room before dinner. All this plus a staff as warm and welcoming as the Algarve sun.
There's a luxurious freedom to life at Longevity Cegonha Country Club (LCCC). Many guests are taking time out from busy lives putting together a "me-time" programme of massages, meditation and sunbathing: looking to rebalance, recharge and relax.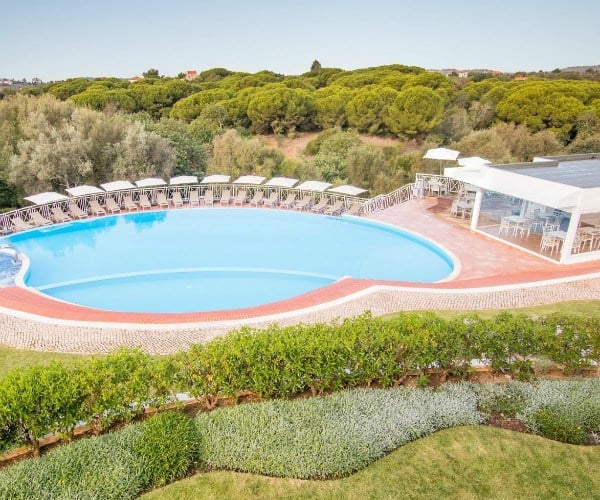 Alternatively, Longevity Cegonha  Country Club can be a boot camp, with a rigorous regime to get back in shape. Start with the energising "Shot of the day", something like ginger, lemon and vinegar before moving onto the breakfast smoothie.
The welcome
With just six rooms and 26 suites, by a process of elimination, the reception staff usually know who you are as soon as you arrive.
Then there's a tour of the club. Imagine a quintessential Portuguese village – pastel pink and pale yellow houses, green wooden shutters, those Algarve fluted chimneys, vivid red bougainvillea contrasting with white walls, traditional-style gas lanterns perched on posts and a lily pond – then you've got the oasis of the rural calm that is LCCC.
The rooms
Tiled with cooling ceramic tiles, made from local materials, the rooms are comfortable, simple and spacious 4* accommodation. Ground floor rooms have gardens, all with patio furniture and a lawn, some with flourishing blue and white agapanthus.
Suites have two bedrooms and a lounge with a dining area. They are popular with friends travelling together or mother / daughter trips. A kitchen, with fridge, is appreciated for cooling drinks. If you want to self-cater there is a four ring hob. But why would you with the Cafe on hand?
The bathroom
Bathrooms are light and spacious with plenty of room to spread out your toiletries around the wash-basin. If you've had a tough day in the gym – or with your personal trainer – there's a deep, wide bath for a restorative soak. Obviously, there's a shower too and a generous supply of fragrant toiletries.
The facilities
There's a crescent-shaped pool, with a jacuzzi, for gazing out over those pine forests. Tennis court too.
The Iyashi dome, a high-tech Japanese sauna, is probably the headline grabber. It's a cross between an MRI scanner and tandoori oven which detoxes, purifies, removes up to 600 calories and trims your waist in 30 sweltering minutes. Sauna, sensations shower and relaxation room are all based around the Spa and it's treatment rooms.
Everyday there's a full programme of dancing, Pilates, stretching and yoga in a studio next to a small gym.
The location
An easy 20 minutes transfer from Faro airport, LCCC is inland from Vilamoura and runs a shuttle into the marina. Alternatively you can hire bikes to explore.
LCCC is at the heart of Vilamoura's golf-landscape and guests can book tee-times, club-hire and buggy at the Dom Pedro Old Course as part of their package. Celebrating its 50th birthday, this mature course is just a 5 minute shuttle journey away.
Other nice touches
It's well worth doing an initial and detailed Wellness Evaluation. Discovering your metabolic age can be life-changing.
The osteopathy session will also pick up problems waiting to happen: backs compensating for a weak shoulder, knees working overtime to make up for a damaged ankle. Don't worry they will break the bad news gently.
The best bit
The Cafe is at the hub of LCCC life with a sun-soaked terrace overlooking the azure pool and woodland.
Food at the cafe is an education in nutrition. Yogurt, fruit, nuts, eggs and a little bread are a surprisingly filling breakfast.
Guests on full-board meet again for lunch, along with LCCC's black cat. For both lunch and dinner, soups such as broccoli, pumpkin, vegetable, tomato and basil are simply superb. Then it may be fish, steak or veal with salad and vegetables. For vegans there's the renowned and ginormous house salad served in a cavernous bowl.
Many guests are solo travellers and the cafe creates a sense of community as they chat about their day's adventures. They can even socialise over a glass of organic red wine.
Cost
Longevity Cegonha Country Club offers the 5-night Longevity Feel Rebalance & Golf starting from 1,668EUR/£1,490 per person in a single classic room.
The final verdict
"It's so much more relaxed than most Wellness places," said one veteran of many a retreat. "You can dip in and out of the programme as you like. It's sociable but without the peer pressure of some health resorts. If you want a break from the dietary programme you can choose to have chicken with the salad. If you want an evening off find a restaurant by Vilamoura marina."
It is hard to leave Longevity Cegonha Country Club without feeling healthier for the experience and also without making some resolutions for a better future.
Disclosure: Our stay was sponsored by Longevity Cegonha Country Club.