Moscow is not inundated with skyscrapers like New York City, but it does have its fair share of rooftop bars, restaurants and lounges. Do not leave the city without having seen it from a bird's eye perspective at least once. Nothing's better suited to that than a classy, high-end rooftop bar. Here's my list of Moscow's best luxury rooftop bars.
Strelka Bar
You cannot visit Moscow without having been to Strelka Bar, which is located in the hip district around the former Red October chocolate factory. This is by far my personal favorite and many people agree with me.
Its rooftop terrace sits alongside the Moskva river and boasts the best view of the Christ-the-Savior church that Moscow has to offer. If you can spare the time to visit it outside the peak times in the evenings and weekends, you won't even have to reserve a table.
City Space Bar
This bar is located on the 34th floor of the Swissotel Krasnye Holmy. It isn't the highest bar on this list but I think it has the best view out of all of them. That is thanks to its round shape, which allows for a 360-degree view of the city.
You can sit back and enjoy their formidable cocktails in either one of the comfortable sitting booths and right at the bar itself. The Drinks International magazine agrees with me and included City Space Bar in its top 50 bars in the world.
Mercedes
The Mercedes Bar is located on the 31st floor of the former Hotel Ukraine, which is now the Radisson. It is part of a restaurant holding that owns many other upscale Moscow restaurants such as Sixty (located in a skyscraper itself) and Karlson (has its own excellent view of the Kremlin).
Mercedes Bar is purely a bar but one of Moscow's finest. Do not be surprised to occasionally meet the who's who of Russia's entertainment industry in here. Cocktails come at 750 Rubles a pop but are worth every penny.
O2
The O2 lounge is located on top of the Ritz Carlton hotel, a stone's throw away from the Kremlin. The prime location makes the hotel a favorite of many movie stars and famous politicians that are staying in Moscow.
While I cannot guarantee that you'll meet Robert DeNiro in the O2 lounge, I can tell you that you should bring deep pockets. This bar is quite expensive even for a high-end luxury bar. If you enjoy being treated like a VIP, however, you should afford yourself the luxury because the formidable service justifies the prices.
Insight
The last addition to this list is not a bar but a restaurant. However, for one simple reason, I couldn't leave it out. Insight is one of Europe's highest restaurants, being on the 84th floor of the Oko Tower in Moscow City. The "Ruski" restaurant is actually one floor higher but I like Insight more for its opulent interior and lavish design.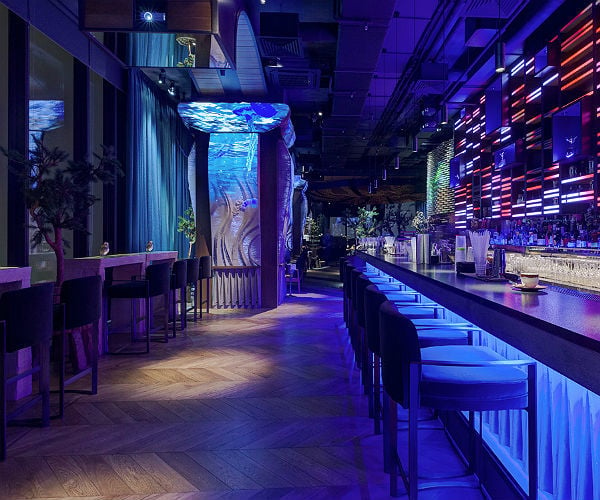 Food ingredients are specifically being imported from all over the world to guarantee complete authenticity. On weekends, the restaurant turns into a bit of a nightclub with a techno orchestra delivering grand shows that do not fail to impress the notoriously picky Moscow elite. As a luxury traveler, this one must not be missed.
Ivan Crnogatic is the Author of Moscownightguide. Moscownightguide is an expert guide to Moscow's high-end and nightlife scene.
If you would like to be a guest blogger on A Luxury Travel Blog in order to raise your profile, please contact us.