Tourism is an activity that affects the places where it is developed and is our duty as travelers to be as responsible as possible with the ecosystem.
The Galapagos ecosystem is one of the most fascinating places to be due to the unique experiences that it can offer. From fascinating encounters with wildlife and marine life, observing unique birds that can't be found anywhere else in the world, the only marine iguanas breathing out salt while resting on a rock, the only penguin that inhabits in the northern part of the equator just swimming next to you. The Galapagos transforms experiences that may look impossible at the beginning into daily experiences during your tour.
And that is why the Galapagos should be protected, not only by the government, NGO's, private companies and tour operators. It should be protected by the people who travel there in order to preserve this natural paradise.
Now, what can you do to travel more responsibly?
Pick a way to visit the Islands
The original way of visiting the Galapagos islands is on board a naturalist cruise. Cruises are strongly regulated by the Galapagos National Park, the number of vessels in the islands is limited and their itineraries are designed to have small groups on visitor sites during the day and avoid over crowded trails.
If you pick a naturalist cruise:
Keep in mind that smaller cruises fit up to 16 passengers on board: a smaller group means less impact. You will reduce the impact on land and will increase the quality time you spend with your guide and learn about the issues that the Galapagos is facing and your guide will be able to ensure that everyone follows the trails or get too close to the Galapagos wildlife.
Additionally, cruises use ocean friendly products on board and some of them offer refillable water bottles during your trip.
If you go on a land-based tour:
Although this tours are not strictly regulated yet, try to check on companies that work with local operators that work hard to lessen the environmental impact of their operation.
The groups can start from 12 to 25 people on board the tour.
Make sure that the hotel where you will stay has a proper management of all types of waste, uses friendly biodegradable products and avoids the use of single use plastic.
Avoid activities like fishing or water sports.
Once you picked how you will spend your time in the Galapagos here are some other recommendations:
Always keep your distance
As the Galapagos wildlife is not afraid of the human presence, this tends to become into a tempting opportunity for travelers to touch them in order to get some pictures. And as harmless as it may seem to pat them or get too close to cute seal pups, tortoises and other animals this may harm them in many ways:
Humans carry germs and diseases that the animals can't defend themselves from
Humans carry a foreign smell (no offense here) but it can harm populations of different species. For example: If you touch a seal pup, your smell will transfer to it and its mother will not be able to recognize and neglect him which means that the seal pup will have to live on its own (a nearly impossible task for that species at a young age).
So please keep your distance at all times!
Don't feed the animals
If you bring along food during your visit to the beach, always keep it in your backpack as some curious finches will take advantage of the opportunity and take some bites out of it.
No matter what, don't feed tortoises or any other wildlife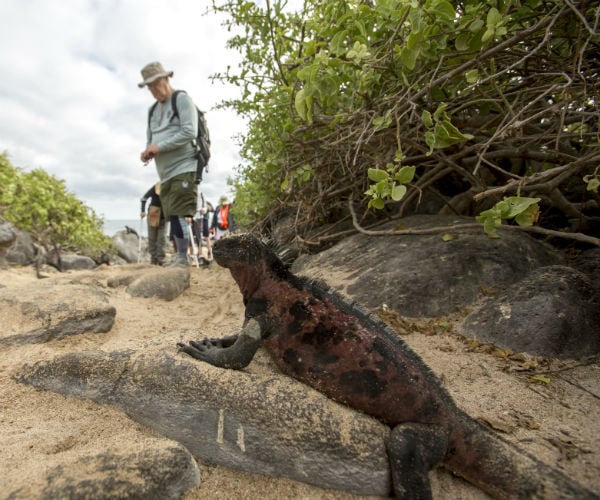 Avoid wasting
Get your own refillable bottle of water to avoid buying plastic bottles.
Use the necessary amounts of water and don't litter the beaches or parks.
Use a waterproof reusable dry bag.
Be careful while shopping
Don't buy souvenirs made from coral, rocks, tortoise shells. This encourages a faster destruction of the environment.
Remember that your visit to Galapagos plays an important role for the ecosystem and the local businesses. Enjoy this natural paradise and create unforgettable moments here and remember that supporting responsible tourism is the best way to protect the Galapagos Islands.
A small action can create big changes on the long run.
Carlos Beate is the Commercial Manager at Andando Tours. Andando Tours offers exclusive traveling experiences, specializing in sailing around the Galapagos Islands and overland along the magnificent Avenue of Volcanoes on the Ecuadorian Andes.
If you would like to be a guest blogger on A Luxury Travel Blog in order to raise your profile, please contact us.