Ecuador's proud capital city of Quito has many attractions; its unforgettable backdrop of Andean peaks and misty volcanoes, its beautifully preserved historic centre with elaborate churches and cobbled squares – not to mention the opportunity to travel a little further out of town for the experience of standing with one foot on either side of the equator!  However, Quito can often be overlooked by travellers not fully aware of how much the city has to offer. Often travellers choose to spend just one night in the city as a hop-off point for visiting the Galapagos Islands. The owners of Illa Experience Hotel felt this was a great shame and wanted to make the difference. It was their passion for the city and their desire for visitors to spend longer there, interacting with its people and cultural traditions. That's how they got inspired to open the hotel. Also a long-standing love affair with a very special community was the motivation to choose the place.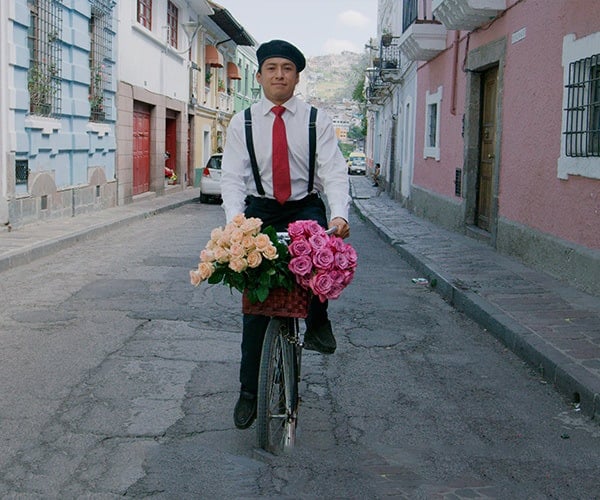 Despite being barely two blocks from Quito's main square with its hustle and bustle, the historic neighbourhood of San Marcos gives the feeling of stepping into another world – a traditional community where children still play ball games on the street, artisans showcase their works in open workshops and small galleries, and long-standing residents of the community gather in the small square after Sunday mass to catch up on local politics. Visiting this community regularly with their children and attending church weekly there first sowed the seed in the minds of the owners of opening a small hotel in that place. One thing was clear from the very outset – that the hotel needed to have a positive impact on San Marcos, and the community had to be involved from the very start.
Direct permission was sought from the residents of San Marcos themselves before the hotel project had even begun, long before the more official business of local authority approvals and paperwork had to run its lengthy course. But the community engagement at the Illa Experience Hotel did not just end when the hotel finally opened its doors in December 2017. Though offering all the comforts and amenities that travellers would expect of a 5-star hotel, choosing to name this an 'experience hotel' belies just a little of the very special interaction guests can expect here.
Illa's Experiences
Experiences are on offer throughout a stay at Illa, focusing around a complimentary cultural activity on offer to guests each afternoon. But whether this is ice cream making, traditional wooden toy making or water colour painting of the city skyline, the difference with the experiences on offer at here is that they are drawn right from the heart of San Marcos itself – quite literally the hotel's neighbours! They are proud to share these experiences with guests, getting the opportunity to demonstrate traditions and crafts that have in many cases been passed down through families across generations.
Illa's focus on experiences is the reflection of a deep interest on offering visitors much more than a regular trip to a foreign land. For Illa it is essential that guests become family members and that travellers have the possibility to experience a culture from the inside, that people become part of traditions so they can understand a place from a deeper perspective, not just from the most superficial characteristics which in many occasions contribute to destroy real meanings. Illa carefully chooses the best ways to put together authenticity from hard working locals with curiosity from adventurous visitors. Experiences have the power of not just presenting a final product, but also to value its process and the human side of it. Every artisan collaborating with Illa has a story behind their craft. Experiences are about taking a step further to offer better value.
San Marcos
The neighborhood seems to present the perfect picture that can transport its visitors to older times when the city was much smaller and traditional too. Its main street is called Junin, a long and quiet street where lifelong neighbors greet each other cordially, just as their families have for generations. Most of the buildings' architectural features are very interesting and worth to take some minutes to appreciate their details.  Many houses have been restored to their neoclassical design with facades painted in elegant blues, greens, yellows and reds.
Magnificent wooden, carved doors invite you into the several restaurants, museums and shops that dot Junin St., including the Muñoz Mariño Museum of Watercolors and Drawings (Muñoz Mariño Museo de Acuarela y Dibujo). This museum was begun by the famed Ecuadorian watercolorists and architect – Oswaldo Muñoz Mariño – who once lived in this building. One of the neighborhood's first structures, the museum displays Mariño's huge body of work that spans several decades from the 1950s to just before the artist died in 2016 and whose subjects depict the buildings and landscapes of the over 70 countries Mariño visited during his lifetime. One can take painting classes there, and enjoy a beer and delicious Ecuadorian dishes at the museum's restaurant.
Taking a walk can be a relaxing experience to feel the real essence of the Old Town, to dream about the past and to appreciate those details that make of Quito a city full of stories and hidden gems preserved by centuries.
Details that mark the difference
San Marcos has a growing number of elegant, intimate hotels, including the Illa Experience Hotel. Although the building went through a restoration, the most important features were preserved and many brought back to life. Most of the elements have a story behind and it is worthy paying attention around.
The hotel is distributed in three stories, each of them reflects the different eras of the neighborhood – colonial, independence and contemporary. The exquisite decoration goes accordingly and each room is unique. As with many houses at Quito's old town the facade might not tell you much about what you will find inside. It is like unfolding a box to present unique spaces and unexpected views. Heading to the terrace unveils an astonishing view of some of the mountains surrounding Quito and the most iconic landmark, the statue of El Panecillo. The terrace is one of the spaces that visitors can enjoy at any time just to get delighted with the view or even better the perfect place to have a meal in front of one of the most amazing views of the city. Look up to the room´s ceilings, the throw blankets, illumination, the doors. Nothing has been left to faith.
A features description is not enough to express the offer at Illa. The material beauty that displays is just a part of other immaterial characteristics responsible to shape Illa's identity. What is special about Illa is that this place not only offers the highest quality of services, it goes further and offers authenticity in a participative way. Illa cares about offering the best standards by working as part of a wide context. The quality of this hotel is not just reflected on a picture or a video, but as part of life and memories.
Marcel Perkins is CEO at Latin Trails. Latin Trails is an incoming destination management company specialized in bespoke tours, with a focus on offering unique experiences throughout Ecuador, the Galapagos Islands, and Peru.
If you would like to be a guest blogger on A Luxury Travel Blog in order to raise your profile, please contact us.