By
Nabeel Shariff
on Jul 24, 2019 in
Africa
,
Asia
,
Attractions
,
Australia
,
Featured
,
Going Out
,
Indonesia
,
Kenya
,
Leisure Travel
,
Oceania
,
Philippines
,
Regions
,
Speciality Travel
,
Thailand
,
Worldwide
For many countries around the globe, the summer holidays are just about to begin, while others have already begun. With the kid's off school, now's the best time to whisk your family off for the perfect Muslim friendly summer holiday. If you're aren't as lucky as other destinations that get to enjoy the sun almost all year round, we're sure the sun, sand, and sea are the 3 main things on your mind. For Muslim couples and honeymooners looking to make the most of their summer, treat yourself to the perfect beach destination for a holiday of a lifetime in one of the below pristine beach getaways ideal for beach lovers, surfers, and those simply looking to sit back and soak up the sun.
This Summer, it's all about enjoying the fresh sea breeze, the soft sugary sand, and the warm sunlight we wish we could have every day of the year. Below we've listed 5 beach destinations to die for that you may not have heard about! From down under in Australia, to the home of the Big 5 in Kenya, to the halal friendly countries of the Philippines, Thailand, and Indonesia, here's my pick on what you should have jotted down on your bucket list!
Whitehaven Beach, Australia
Perfect for: Relaxing and sunbathing
A beautiful beach all the way from down under. Whitehaven Beach in Australia stands up to its name. From the sugary white sand to the beach 'haven' you've been longing to explore, here you'll enjoy 7km of pristine sand and relaxing waters. Only accessible by boat, seaplane, and helicopter from Airlie Beach, as well as Hamilton Island, this pretty secluded island is a flawless hideout.
Being Queensland's cleanest beach, the award-winning beach is the ultimate spot for backpackers, and those stopping by just for the day. Offering a relaxing environment, green, blue, and turquoise waters, Muslim travellers can make the most of a peaceful day out under the sun as they sit back, relax and watch the waves gently go by.
Siargao, Philippines
Perfect for: Surfers & explorers
Over the last few years, tourists have started to discover some of the more hidden tourist attractions in the Philippines. While the Philippines is known for its award-winning Boracay Island, Siargao has become the #1 surfing destination in the Philippines, and it's definitely worth checking out if you're more of an adventurous one.
Still off the tourist radar, the teardrop-shaped island of Siargao isn't overrun by tourists, making it the best place to chill with the locals while enjoying the perfect waves and clear waters. Offering stunning white beaches, enchanting lagoons, caves, sand bars, coral reefs, exotic wildlife, waterfalls, and bizarre rock formations, this spectacular island is the perfect place to spend a week exploring while also getting to enjoy the breathtaking beach life.
Similan Islands, Thailand
Perfect for snorkeling scuba diving
If you're searching for turquoise waters ideal for exploring the underwater world, the Similan Islands in Thailand is the place for you. Muslim families that enjoy snorkeling and scuba diving will fall in love with the crystal clear waters that offer so many surprises down below.
The perfect stop off during a day tour of island hopping, Similan Island is just one of Thailand's many islands worth adding to your bucket list. The clear waters make it easier for both beginners and advanced swimmers to enjoy the waters as you slowly paddle off deeper into the sea. A Thai paradise and protected by the National Park of Thailand, I'm sure you'll enjoy visiting one of the many must-visits in halal friendly Thailand.
Malindi Marine National Park, Kenya
Perfect for marine lovers
When you think of Kenya the first thing that normally comes to mind is the wildlife and safaris. While Kenya is the perfect destination for a safari adventure, especially with it being home to the Big 5, Kenya is also home to a beautiful marine life which includes sandy beaches and relaxing turquoise waters! Malindi Marine National Park is home to three coral reefs making it a great place for scuba diving.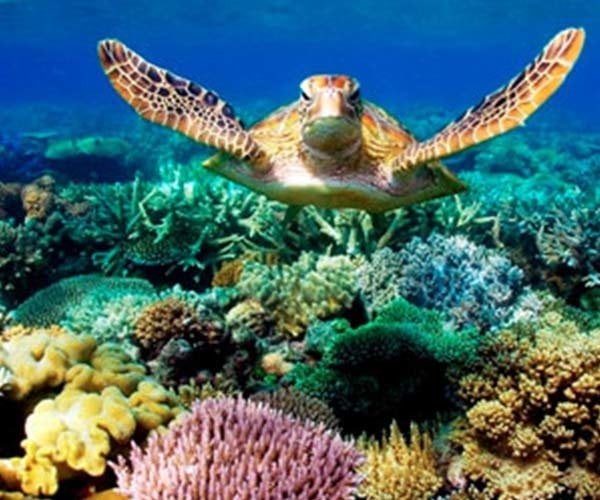 The waters are clear, the beaches are clean with golden sand and the marine life? Spot on breathtaking! With plenty of other activities available on site, Malindi Marine National Park is a great place for those looking to spend an adventurous few days getting up close and personal with nature, while also having the opportunity to enjoy the relaxing crystal clear and clean beaches.
Gili Trawangan, Indonesia
Perfect for turtle lovers
Are you a lover of sea turtles? You're in luck! Gili Trawangan in Indonesia is the perfect beach getaway for those looking to experience these beautiful creatures in their natural habitat. This entirely pedestrian island can only be accessed with the use of a bicycle or horse cart, making it a relaxing getaway minus the pollution and chaos. With a selection of cute little restaurants dotted along the beach, enjoy a snack or a full meal before relaxing in the sun and taking a dip in the deep blue sea.
The white sandy beaches and turquoise water is a paradise waiting to be explored, especially for those on the lookout for turtles living just off the coast. Being the ideal spot for a snorkeling trip, I'd recommend preparing to spend a full day at this breathtaking place.
With so many breathtaking beaches dotted around the globe, it's hard to actually pick the 'top ones'. The above selection is perfect for those looking to discover somewhere new, especially as many of us tend to forget that there are so many stunning destinations waiting for us to come and visit, and explore. After having a look at what I believe are must visits, what's your top pick from the above 5? Have you got any of the above beaches listed on your bucket list? Or, if you've been on holiday recently, or visited what you think is a 'beach destination to die for', leave us a comment below and let us hear what you have to say!
Nabeel Shariff is the Owner of Luxury Halal Travel. Luxury Halal Travel brings together some of the world's leading hotel brands to offer Muslim travellers incredible experiences whilst observing their Muslim faith.
If you would like to be a guest blogger on A Luxury Travel Blog in order to raise your profile, please contact us.