At 463 metres (1,519 feet), Kirkjufell mountain in Iceland is hardly a towering behemoth. (For reference, Mount Everest is 8,850 metres/29,035 feet.) This doesn't make it any less arresting, however.
What makes this Iceland's most photographed mountain? A combination of things. Its unique, pyramid-like shape. A landscape of ever-changing, always exquisite colours. The picture-perfect three-forked waterfall – Kirkjufellsfoss – near its peak. Or, if you time your visit just right, the magical display of the Northern Lights (Aurora Borealis), with Kirkjufell and Kirkjufellsfoss as a backdrop, that frequently occur between late September and early March.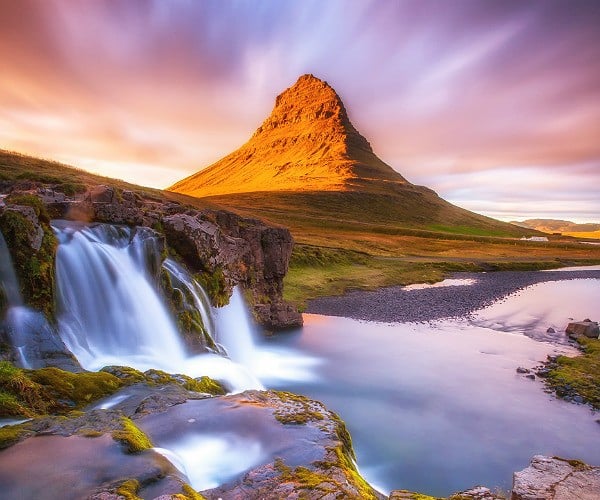 Located on Iceland's Snæfellsnes peninsula near the fishing town of Grundarfjörður, Kirkjufell has also been voted one of the top 10 most beautiful mountains in the world by a number of sources, including The Mysterious World, The Conservation Institute, and Travel Triangle, to name just a few. You might also recognize it from its starring role – as 'Arrowhead Mountain' – in the 6th and 7th seasons of the HBO original series, and cult classic, Game of Thrones.
While millions (yes, millions!) of ardent Game of Thrones fans will, no doubt, continue to think of Kirkjufell as Arrowhead Mountain, in Icelandic Kirkjufell actually means 'Church Mountain', named for its obvious resemblance, from certain angles, to a church steeple. Meanwhile, Danish sailors originally referred to Kirkjufell as Sukkertoppen, or 'The Sugar Top'. Whichever name you choose to call it, Kirkjufell remains a must-see on any trip to Iceland. It is both beautiful, and geographically fascinating. Formerly a 'nunatak', an exposed peak not covered by ice, protruding between two glaciers during the last Ice Age, the present day peak is a result of glacial erosion and volcanic activity, complete with sediments containing fossils on the lower layers, and rocky layers formed by lava higher up.
If you choose to see those lava layers close up by climbing to its peak, we recommend that you do so with a guide. While climbing Kirkjufell is considered by some to be no more than a scramble, it can be hazardous and fatal falls do occur. Another option? Embark upon a completely mesmerizing two-hour kayak trip that approaches Kirkjufell from the north.
Getting there is a straightforward 185 km (115 mi) from the capital of Reykjavík, or about 110 km (70 miles) from Borgarnes on the Ring Road. This makes Kirkjufell an easy day trip or you can stay in nearby Grundarfjörður and take the time to explore more of the area. In fact, you may want to go twice: once in summer and once in winter. In summer, Kirkjufell shows off for visitors with vivid shades of green and red foliage, and guided climbs and viewing visits happening at all hours, including under the midnight sun! In winter, it's easy to see why the snow-tipped Kirkjufell was once nicknamed Sukkertoppen. Whatever the season, you will find the mountain completely transformed, and undeniably magical.
If you have a really special photograph you would like to share with A Luxury Travel Blog's readers, please contact us.