The Silver Coast of Portugal, also known as the Costa de Prata is a region in Portugal that stretches from Lisbon to Figueira da Foz, though on some searches, the area can be defined as far north as Porto. It is a region where mass tourism has not taken hold, but is developing rapidly as one of the areas of Portugal where growth is at it's highest.
Pristine beaches, UNESCO heritage sites, golf, vineyards and gastronomy are just a few of the reasons to visit. If you are looking for a luxury holiday in Portugal away from the crowds, then the Silver Coast is for you and here are our top 5 reasons why
Golf
Whilst the Algarve has been well known for many years as the place to be for golfers, the Silver Coast is looking to take on this title, from beginners to professionals. There are a number of top courses, each with the back drop of the Atlantic Ocean and taking nature in to account with lakes, forests, sand dunes and spectacular scenery.
The 18-hole golf course, designed by the renowned American golf architect Cabell B. Robinson at Praia D'El Rey, was one of the first courses to open and has been in the top 100 golf courses regularly.
Severiano Ballesteros was involved in the design of the golf course at the Royal Óbidos Spa & Golf Resort, where he took advantage of the undulating terrain to produce a 6,400 metre course that incorporates the natural surroundings and amazing sunsets.
There are other courses and each are within easy distance of each other, meaning on a golfing break you can take advantage of different courses, and of course, the wonderful food and wine at the clubhouses.
Which ever course you choose you will be able to enjoy year round, top class golf with less crowds and 5-star accommodation, whether you choose the the royal Óbidos spa and golf resort Hotel or the 5-star beach front ocean view apartments. The silver Coast is the new name in luxury golf resorts.
Planet Golf lists 7 golf courses to visit: Oitavos Dunes, Praia d'El Rey, West Cliffs, Bom Sucesso Golf, Penha Longa Golf and Resort, Royal Obidos Spa and Golf Resort and Quinta da Marinha.
Beaches
Are you are looking for a glorious stretch of beach, with soft white sand and clear blue sea, or maybe you prefer the rugged wildness of a coastline with cliffs and rock formations? Or are you the type of person that prefers small, semi deserted coves where you can really lose yourself and get away from the crowds, if so, then the Silver Coast is ideal.
The coastline stretches for over 100 kms, from Lisbon to past Figueira da Foz and can provide for any type of requirement.
Far less crowded and developed than its more famous neighbour the Algarve, the Silver Coast has provided holidays to the Portuguese for many years, but now it is becoming more popular with international travellers looking for beauty without endless souvenir shops and bars selling cheap beer.
The choice is almost endless from Cascais, Lisbon where you can enjoy lazing by the ocean and wandering to the wonderful cafes, that will serve a delicious fresh seafood extravaganza with wonderful wines through to Nazaré,a traditional fishing village that still catches and dries sardines and other fish on the beach. You can see the old women of the town selling them in their traditional clothes.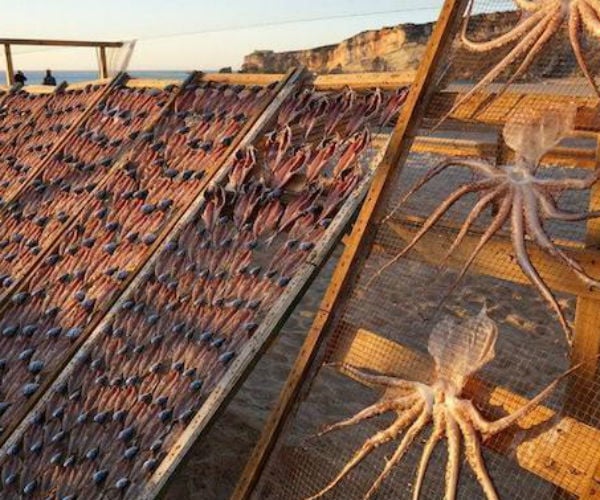 In Nazaré take the funicular from the beach up to Sitio where you can have the most wonderful panoramic views of the area.
Or just drive along the coastline, where you can find semi deserted beaches and coves to relax and soak up the sun without being disturbed.
If you would prefer more activity, some of the best surfing beaches are on the silver Coast, with the Big Wave Tour being held in Nazaré, which currently holds the world record for the largest wave ever surfed. Peniche is another famous surfing destination.
Sao Martinho do Porto is an excellent beach for child-friendly swimming, sailing, (kite) surfing, canoeing, etc. and the nautical club can offer lessons and equipment hire.
If diving is your chosen water sport, the Berlengas archipelago, a short boat ride from Peniche has some perfect diving spots with hidden caves. Or maybe you would like to go deep sea, big game or even shark fishing, all available from Cascais.
Whatever you are looking for from a beach holiday, the Silver Coast has it all.
Architecture and monuments
The Silver Coast of Portugal has no shortage of historical monuments, castles and palaces to visit. If you are looking for a break that can offer culture along with sunshine and relaxation this is the place to be.
All along this coast line there are impressive palaces, castles and monuments, some of which are famous worldwide such as Sintra, where nature mixes perfectly with the palaces and monuments, to make this one of the most impressive areas in Portugal, so much so the area, not just one building, was granted UNESCO world heritage status.
Start with a visit to the historic town centre where you can enjoy regional or international cuisine, then visit one of the many palaces such as Pena Palace, famous for its bright colours or Quinta da Regaleira.
The Quinta da Regaleira, is one of the most quirky palaces you can visit, with many follies' in the gardens and far reaching views. Designed and built Between 1898 and 1913 by Italian architect Luigi Manini, the building and gardens are more of a work of art than a traditional palace.
If you are in the Lisbon area a trip to Mafra to visit the impressive Palácio Nacional de Mafra is highly recommended.
A little further along the coast from Lisbon is one of the most famous cities, Óbidos, close to the golf and the beaches, one of the most well preserved and picturesque, medieval walled towns in Portugal. The streets are narrow and cobbled with an array of shops, restaurants and white washed houses.
The castle is intact and there is the opportunity to book your stay there, in the Pousada do Castelo de Óbidos, where you can enjoy regional gastronomy served in an atmosphere of grandeur, with breath-taking views. There are not many castles that provide accommodation to this standard.
Drive a little further and you will find Alcobaça with the UNESCO world heritage site of the Monastery of Alcobaça, the monastery is one of the most magnificent Gothic monuments in the country and is home to the tombs of Pedro and Inés, Portugal's famous and tragic lovers. This town has many fine buildings with a large square to sit and marvel at the monastery whilst enjoying a light lunch.
This is just a small selection of the stunning cultural and historical monuments, your trip to the Silver Coast will uncover many more.
Food and drink
Eating on the Silver Coast can be a culinary masterpiece, with freshly caught fish and seafood served directly to your plate or indulge in some of the traditional meat dishes, although vegetarian and vegan options are not totally mainstream (yet), many restaurants will have a dish available or be willing to assist.
The choice of restaurants on the Silver Coast is extensive, from restaurants in castles, small intimate eateries tucked away from the crowds or restaurants with far reaching ocean views, there is something to please every taste.
But if you are looking for something even more luxurious there are no less than 7 Michelin starred restaurants in Lisbon and Cascais such as Eleven, which is set high on a hill in Parque Eduardo VII. A sophisticated and contemporary restaurant that features beautiful views of Lisbon.
However, there are a couple of must eat foods on any visit and these are the Octopus (polvo) which can come in a variety of styles, a light lunch of octopus salad or as an evening meal, grilled and sautéed in olive oil.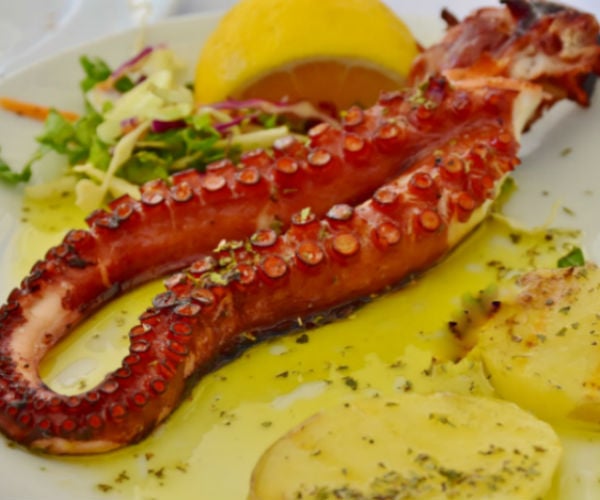 Many dishes in Portugal use an extensive amount of olive oil and there is a simple reason for this, the olive oil in Portugal is one of the best in the world.
The other food that you must try and it is simply the olive oil itself, the taste is sublime, whether you are eating a meal cooked in the oil or just enjoying petiscos with a glass of wine.
The olives are a speciality of each restaurant and will come with a great variety of flavourings, though just enjoying the locally produced olives in their own oil with a chunk of crusty bread is one of the biggest treats with a nice local wine.
Which brings us nicely on to the wine and speciality drinks in Portugal. No trip to the Silver Coast is complete without sampling the Ginja (a speciality of Óbidos, Lisbon and Alcobaça). This is a sour cherry liqueur, where the Ginja berries are infused in alcohol and then sugar added. The drink can be served with or with out the cherries and is often served in a small dark or white chocolate cup.
Portugal may not be the top of your list for vineyards, but there are many excellent wines in Portugal with many being produced on the Silver Coast.
As the Silver Coast is on the Atlantic, with many micro climates, the weather has helped to produce unique flavours of the grapes. Bringing with it some very special wines, but these are not produced in great amounts, such as the high quality and popular Bucelas and the Colares
Accommodation
No holiday is complete unless you have the perfect accommodation and on the Silver Coast, you will not be short of choice. But what sort of accommodation will suit you best? This will depend on your personal choice and circumstances, are you taking a trip alone, with a family or as a couple? As the Silver Coast rises in popularity, so does the choice of accommodation.
There is no shortage of 5 star hotels in the Lisbon area, but now you can move further afield and find 5-star luxury all along the Silver Coast with spa hotels, golf resorts, ocean view hotels or even manor houses and castles.
But often a great choice will be a private villa, if you are not a fan of catering for your self, many will offer full maid service, chef service and spa facilities. If you are looking for activities, many villas will also provide facilities for activities such as guided tours, yoga or water sports activities.
If you prefer a mixture, then there are boutique apartments/hotels available, where you can have a private apartment, in a very small complex, but with added benefit of meals provided (if chosen) and spa facilities available on site. But with private areas where you can relax away from other residents.
Jenny Lovett is the Founder of Portugalholidays4u.com. Portugalholidays4u.com is a website showcasing all that Portugal has to offer with an extensive collection of villas, apartments and holiday accommodation.
If you would like to be a guest blogger on A Luxury Travel Blog in order to raise your profile, please contact us.