Modernisme, or Catalan Modernism, came to Barcelona at the end of the 19th century. This architectural style, similar to the Art Nouveau movement, played a major role in indicating the social status of the then infamous bourgeoisie.
Rich clients used to employ well-known architects to design them a Modernista house, complete with the style's recognisable features: rich sculptural and wrought iron work, stained glass, floral decorations, undulating forms, sgraffito work, and ceramic details.
Barcelona's urban landscape is abundant in Modernisme creations, particularly in the Eixample neighbourhood, where these architectural gems often stand side by side. You simply need to walk around the city to understand just how important this cultural movement was to its inhabitants, and how Modernisme shaped Barcelona into the city that we know and love today.
The Barcelona Modernist Route
1. Park Güell
The Barcelona Modernist Route starts in the city's Gràcia neighbourhood, just above the Eixample barrio, with Antoni Gaudí's Park Güell. In 1899, Eusebi Güell first bought the land with the idea that his architect friend would design and create an urban park inspired by gardens in England. The finished creation has continued to charm its visitors ever since. The park is known for its Hansel and Gretel fairy-tale design, and stunning mosaic architectural details.
Antoni Gaudí played a huge part of bringing Modernism to life in Barcelona, and his short-term residence in Park Güell has since been converted into a museum with more information about the life and works of the incredible Catalan architect.
2. Casa Vicens
Further down from Park Güell, still in Gràcia, is Gaudí's first project of importance, Casa Vicens. The Catalan architect built this sensational house just after he obtained his architectural license in 1878, and many think that Casa Vicens was the first great work of Catalan modernisme. Although the Gràcia neighbourhood is now part of Barcelona city, it was previously a separate village, independent and with its own city council. Many rich bourgeoisie aristocrats took a liking to the barrio, like Manel Vicens i Montaner, for whom this house was built. More than 150 years later, Casa Vicens has been opened up to the public as a house museum, rich in Modernist design and history from this bygone era.
3. Hospital de la Santa Creu i Sant Pau
After leaving Gràcia and entering Eixample, the route continues to the Hospital de la Santa Creu i Sant Pau, the oldest hospital in Spain founded in 1401. The hospital was created as a result of six of the city's medieval hospitals merging together to combat Plague and famine. In 1930, the hospital closed its doors for a complete redesign; one of the last patients treated inside was Antoni Gaudí himself, fatally injured from a tram accident in 1926.
The architect in question chosen for this redesign was Lluís Domènech i Montaner, previously known for his other Modernist architectural feats. In time, the hospital became the first in Spain to have its own school of nursing, to enforce an institutional charter of patient rights (1976), to launch a customer care service (1979), and to offer bone marrow transplants (1976) and heart transplants (1984). Today, it is an essential modernist landmark in Barcelona.
4. La Pedrera/Casa Milá
The Modernist route then crosses through Eixample and over Avinguda Diagonal, one of Barcelona's most important main roads, to La Pedrera (or Casa Milá), the last private residence designed by Antoni Gaudí before he devoted himself to his extraordinary project of building the Sagrada Família. Intent on having their own Modernista residence, Pere Milà and his wife Roser Segimon commissioned Antoni Gaudí to build them a house incorporating this style in 1906. At the time, this construction was a controversial topic among those living in Barcelona due to the house's garish stone façade, and as a result, the structure earned itself the nickname La Pedrera, or the "stone quarry". In 1984, Casa Milà was declared a UNESCO World Heritage Site, and today it is one of the most visited tourist attractions in the city.
5. Casa Batlló
A short walk down the city's most iconic avenue, Passeig de Gràcia, is Casa Batlló: another of Antoni Gaudí's most stunning architectural feats. This landmark is sometimes referred to as Casa dels Ossos (House of Bones) due to the somewhat skeletal qualities in its design. Casa Batlló was first built in 1877, and then redesigned in 1904 after its owner, Josep Batlló, wanted a unique house that no other family member would be able to imitate. On special days in Catalonia, such as Sant Jordi in April, Casa Batlló is often decorated to mark the event. Last year the façade of the building was covered in hundreds of red roses to mark the celebration of Catalonia's patron saint.
6. Casa Amatller
The next modernista landmark on the route is Casa Amatller, the next-door neighbour of Casa Batlló. Under the commission of famous chocolatier Antoni Amatller Costa, the building was designed by Josep Puig i Cadafalch, another famous Catalan architect from the Modernisme era. As well as some key Modernista design aspects, Casa Amatller also incorporates Germanic and neo-Gothic elements. These days, visitors can only visit the ground floor of the building, home to one of the finest stained-glass windows of the modernisme era, as well as a café that serves drinking chocolate using the century old original Amatller recipe.
7. Palau de la Música Catalana
The Barcelona Modernist Route finishes with the Palau de la Música Catalana concert hall. This spectacular performance space was designed by Lluís Domenech i Montaner, known mostly for his work on the Sant Pau Hospital redesign. It was created upon the order of the Catalan choral society, and on its completion in 1908, the building was inaugurated as an auditorium for concerts of orchestral and instrumental music. Over the years, this concert hall has seen some of best international artists from all over the world perform on its stage and has since become one of the most representative buildings of Catalan modernism.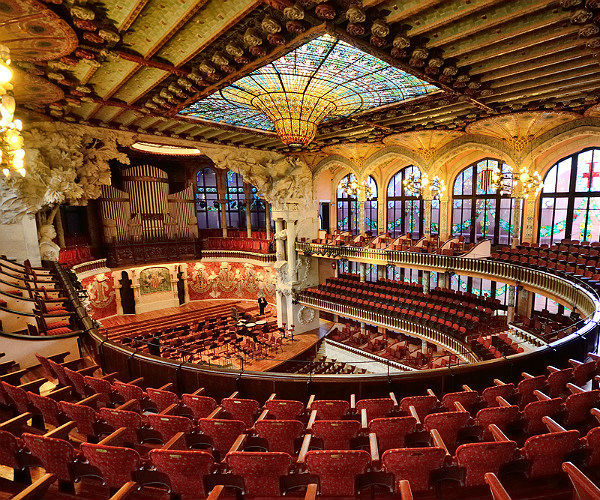 Sandra Roig is Marketing Director at AB Apartment Barcelona. AB Apartment Barcelona is an apartment rental agency offering over one thousand short and long term apartments across Barcelona.
If you would like to be a guest blogger on A Luxury Travel Blogin order to raise your profile, please contact us.